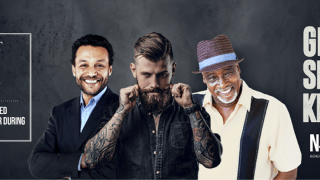 Prostate cancer is the second most common cancer among men in the United States and the most common cancer in men over 50 — about one out of seven men will be diagnosed with prostate cancer.

Every year, City of Hope hosts a NoShaver fundraising and awareness campaign in November. NoShaver is a month-long journey in which participants forgo shaving in order to evoke conversation, encourage testing for early detection and raise critical funds to continue leading-edge prostate cancer research and promising new therapies conducted at City of Hope.
With an estimated 3,120,176 men living with prostate cancer in the U.S., prostate cancer is the second most common cancer in American men.
Prostate cancer is the second leading cause of cancer death in American men, behind only lung cancer. If detected early, prostate cancer may be curable.
The average age of those diagnosed with prostate cancer is 66. The disease occurs mainly in men 65 or older, and it is rare before age 40.
Section Header Title Text
SHOW IT
Section Subheader
Top 5 Campaigns
Watch why Hugo became a City of Hope NoShaver fundraiser for prostate cancer research.
To help get you started, we've developed a toolkit for your use.

For more information or to speak with someone about NoShaver, please contact us at NoShaver@coh.org
GET INFORMED

City of Hope is designated as a comprehensive cancer center, the highest recognition bestowed by the National Cancer Institute and a U.S. News & World Report "Best Hospital" for cancer.
It is also a founding member of the National Comprehensive Cancer Network and a national leader in developing evidenced-based prostate cancer treatment guidelines for patients throughout the country.
Get informed about prostate cancer and screening options.