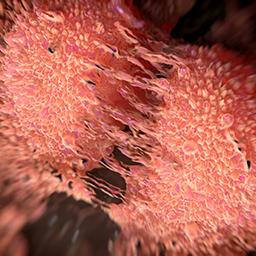 Prostate cancer cells
Internationally recognized prostate cancer researcher and associate professor of medicine in the Department of Medical Oncology & Therapeutics Research,
Tanya Dorff
, M.D., has focused heavily on developing and evaluating immunotherapy as a novel way to treat prostate cancer throughout her career. Although there are a number of treatments available for patients with metastatic castration-resistant prostate cancer (mCRPC), an advanced form of prostate cancer that no longer responds to hormone treatment, there is currently no cure and the cancer progresses rapidly. Hoping to bring forth a new treatment paradigm, Dorff is leading a Phase 1 clinical trial that is studying chimeric antigen receptor (CAR) T cells with specificity to prostate stem cell antigen positive (PSCA+) mCRPC.
To develop the PSCA-CAR T cells, researchers use a viral vector to transduce a CAR with specificity to PSCA into autologous T cells. The T cells are then able to express the PSCA-CAR on their cell surfaces, allowing them to specifically target and induce cell death in PSCA+ cancer cells. Streamlined development of the PSCA-CAR and genetic engineering of the T cells was made possible through two of City of Hope's onsite manufacturing facilities — the Cellular Therapy Production Center and the Center for Biomedicine & Genetics, respectively.
The primary objectives of this trial are to determine the safety and tolerability of PSCA-CAR T cells in patients with PSCA+ mCRPC and identify the recommended Phase 2 dose in the same patient population. Secondary objectives are to evaluate the expansion and persistence of the PSCA-CAR T cells, assess a number of patient survival outcomes, determine serum cytokine profiles in peripheral blood and analyze the PSCA expression level on tumor cells prior to the CAR T cell infusion.
Findings from the study, which is one of the first CAR T trials for prostate cancer in the nation, will be the first toward a reality of CAR T treatment for patients with prostate cancer.
Translating our successes with CAR T cell therapy toward solid tumor cancers
Our innovative cellular therapy program, which includes our work with CAR T cell therapies, has been successful in treating hematologic malignancies, such as lymphoma, acute lymphoblastic leukemia, acute myeloblastic leukemia and multiple myeloma. City of Hope's history with cell therapy dates back to 1976, which was built upon foundational research established by our world-class bone marrow transplantation (BMT) program.
In that time:
We've treated over 630 patients in nearly 80 CAR T cell trials (current or completed), targeting both solid and liquid tumors.
We were one of the first to spearhead CAR T cell therapy as a potential bridge therapy to BMT for patients with leukemia and lymphoma.
We've received several multimillion-dollar grants to explore CAR T cell therapies in multiple hematologic and solid tumors, including leukemia, multiple myeloma, lymphoma, glioblastoma, prostate and HER2-positive breast cancer with metastatic brain disease.
We developed a novel, highly specific chlorotoxin CAR T cell therapy to treat glioblastoma

City of Hope has licensed the CAR T cell therapy to Chimeric Therapeutics Limited, an Australian biotechnology company who will further develop the therapy for other cancers and extend the treatment to more patients.
As one of the few institutions with the capabilities and expertise to innovate CAR T cell technology on-site through our own research and clinical trials, we have been continuously leveraging our success with our blood cancer CAR T cell treatments to develop new CAR T cell therapies for solid tumors, including malignant brain tumors, prostate, breast and other cancers.
The power of CAR T cell therapy
In this animated video, we provide an overview of a T cell's role in fighting cancer, how scientists are able to genetically engineer T cells to make CAR T cells, how these CAR T cells target and eradicate cancer cells and information about our CAR T cell program.
To refer a patient, contact our dedicated CAR T referral line at 833-310-CART (2278), or visit
CityofHope.org/CAR-T
.