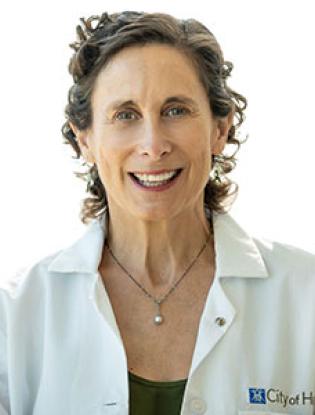 Chair, Department Of Medicine
Clinical Expertise
Infectious Disease Medicine
Adult Infectious Diseases (adult Cancer)
Appointments
Chair And Professor, Department Of Medicine
"Studying infectious diseases and its impact on both individuals and societies is my passion."
Randy A. Taplitz, M.D., traces her 30-year zeal to treat serious infections back to the AIDS epidemic of the 1980s. "I was drawn to medicine, and then to infectious diseases, with the hope of contributing to the science of understanding HIV and in helping to care for those suffering from the disease," she recalled.
She has carried that zeal across the U.S. and beyond, and into all her clinic and research work: from her work volunteering at a clinic in Tijuana, Mexico, and in Maputo, Mozambique, in teaching and lecturing in the health care setting and to the public, in developing programs and protocols for the care of infectious diseases in cancer patients locally in California as well as nationally and internationally on guidelines committees and through publications, and most important, being an active clinician and advocate for her patients. Her medical work has earned her "Top Doctor" honors yearly since 2013.
Dr. Taplitz earned her medical degree at University of California San Francisco and she continued her training with residency and a fellowship at UCSF, followed by a research fellowship at Tufts/New England Medical Center and UCSF. Before joining City of Hope, she served 13 years as clinical chief of Infectious Diseases and associate medical director of Infection Control and Epidemiology at University of California San Diego.
Dr. Taplitz plays a key role in the City of Hope mission. "City of Hope has a long history of excellence in both in research and clinical care of cancer, providing innovative therapies and compassionate care," she said. She hopes her expertise will aid in "caring for these patients and developing, participating and collaborating in research trials to improve both our understanding of the medical issues these patients develop and how to optimize treatment."
2006, 2018, Recertification in Infectious Diseases

1994, Infectious Diseases

1991, Internal Medicine
1988, M.D. University of California San Francisco, San Francisco, California

1983, A.B.-Physiology University of California Berkeley, Berkeley, California
1996-1998, Research Fellow, Departments of Pathology and Medicine, University of California San Francisco, San Francisco, California

1993-1996, Research Fellow, Infectious Diseases, Tufts University, New England Medical Center

1992-1993, Clinical Fellow, Infectious Diseases, University of California San Francisco, San Francisco, California
1988-1991, Internal Medicine, University of California San Francisco, San Francisco, California

1991-1992, Chief Resident, Internal Medicine, University of California San Francisco, San Francisco, California
2020-present, Chair and Professor, Department of Medicine, City of Hope, Duarte, California

2013-2020, Professor of Medicine, University of California San Diego, La Jolla, California

2007-2013, Associate Professor of Medicine, University of California San Diego, La Jolla, California

2006-2007, Associate Professor of Medicine, Oregon Health and Sciences University

1998-2006, Assistant Professor of Medicine, Oregon Health & Science University, Portland, Oregon

2000-2002, Associate Investigator, Portland VA Hospital, Portland, Oregon

1996-1998, Assistant Adjunct Professor of Medicine, University of California San Francisco, San Francisco, California

1995-1996, Assistant Professor of Medicine, New England Medical Center, Boston, Massachusetts
2013-2018, San Diego Magazine "San Diego's Top Doctors"

2010-2012, Listed in "Best Doctors in America" database

2007, Portland Magazine "Portland's Top Doctors"

1988, The Janet M. Glasgow Memorial Achievement Citation, American Medical Women's Association
Braga C, Taplitz R, Flowers C. Clinical Implications of Febrile Neutropenia Guidelines in the Cancer Patient Population J Oncol Practic 2019 Jan; 15: 25-26
Jenks J, Mehta SR, Taplitz R, Aslam S, Reed S, Hoenigl M. Point of Care diagnosis of invasive aspergillosis in non-neutropenic patients: Aspergillus Galactomannan Lateral Flow Assay vs Aspergillusspecific Lateral Flow Device test in bronchoalveolar lavage. Mycoses. 2019 Mar; 62(3) 230-236
Jenks J, Mehta S, Taplitz R, Law N, Reed S, Hoenigl M. Bronchoalveolar lavage Aspergillus Galactomannan lateral flow assay vs Aspergillus-specific Lateral Flow Device test for diagnosis of invasive pulmonary Aspergillosis in patients with Hematological malignancies. J Infect. 2018 Nov 2 epub ahead of Print
Taplitz R, Kennedy EB, Bow EJ, Crews J, Gleason C, Hawley DK, Langston AA, Nastoupil LJ, Rajotte M, Rolston K, Strasfeld L, Flowers CR. Antimicrobial Prophylaxis for Adult Patients With Cancer- Related Immunosuppression: ASCO and IDSA Clinical Practice Guideline Update. J Clin Oncol. 2018 Sept 4
Taplitz R, Kennedy EB, Bow EJ, Crews J, Gleason C, Hawley DK, Langston AA, Nastoupil LJ, Rajotte M, Rolston K, Strasfeld L, Flowers CR. Outpatient Management of Fever and Neutropenia in Adults Treated for Malignancy: American Society of Clinical Oncology and Infectious Diseases Society of America Clinic Practice. J Clin Oncol. 2018 May 10;36(14):1443-1453
Burel JG, Lindestam Arlehamn CS, Khan N, Seumois G, Greenbaum JA, Taplitz R, Gilman RH, Saito M, Vijayanand P, Sette A, Peters B. Transcriptomic Analysis of CD4+ T Cells Reveals Novel Immune Signatures of Latent Tuberculosis. J Immunol. 2018 May 1;200(9):3283-3290 (collaborative, original research, providing clinical specimens and clinical expertise/consultation)
Horton, L, Haste N, Taplitz R. Rethinking Antimicrobial Prophylaxis in the Transplant Patient in the World of Emerging Resistant Organisms-Where Are We Today? Curr Hematol Malig Rep. 2018 Feb; 13(1) 59-67
(literature review and writing opinion piece)