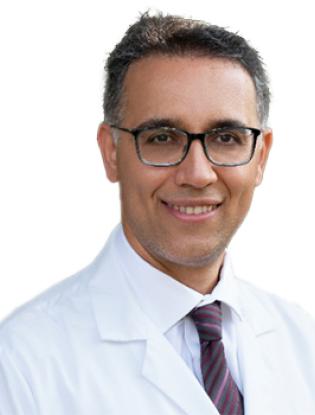 Hematologist-Oncologist
Appointments
Assistant Professor, Division Of Leukemia, Department Of Hematology & Hematopoietic Cell Transplantation
"I always carried within me the inspiration to help those most suffering to live lengthier and happier lives."
Salman Otoukesh, M.D., brings international stature and experience to his work at City of Hope. He is the former chief medical officer for the United Nations High Commissioner for Refugees, a post he held for two years in his native Iran.
Dr. Otoukesh specializes in the treatment of leukemia with added emphasis on the lifesaving potential of stem cell transplants. He relishes the challenges presented by this complex disease. "I enjoy thinking always out of the box to beat this disease in different ways," he said, "and adding more hope on the treatment horizon."
The bilingual (English/Farsi) Otoukesh received his medical degree from Tehran's Shahid Beheshti University of Medical Sciences. After six years in practice in Iran, he arrived in the U.S. where he advanced his training at Texas Tech University of Health Sciences Center in El Paso, Texas, Loma Linda University Health in Loma Linda, California, and most recently, completing a fellowship in stem cell transplantation at City of Hope.
In caring for his patients, Dr. Otoukesh follows the example of his father, "a passionate clinician and researcher in taking care of children with renal diseases." He is excited to be part of the City of Hope family and shares its "above and beyond" philosophy. "I am truly a believer of the connection between mind and soul during and after active cancer treatment," he said, "and I found City of Hope exquisitely modeling this."

2019, Hematology board Eligible

2016, Diplomat in Internal Medicine, American Board of Internal Medicine

2019, Diplomat in Medical Oncology, American Board of Internal Medicine
2019-2020, Adult Hematopoietic Cell Transplantation, City of Hope, Duarte, California

2016-2019, Hematology & Oncology, Loma Linda University Medical Center, Loma Linda, California
2015-2016, Chief Resident, Texas Tech University of Health Sciences Center, El Paso, Texas

2013-2016, Internal Medicine Resident, Texas Tech University of Health Sciences Center, El Paso, Texas
2020-present, Assistant Professor, Department of Hematology & Hematopoietic Cell Transplantation, City of Hope, Duarte, California
2013, Current American College of Physicians

2012, Current American Society of Clinical Oncology

2012, Current American Society of Hematology

2012, Current American Medical Association
Otoukesh S, Zhang J, Nakamura R, Stein AS, Forman SJ, Marcucci G ... Aldoss I. (2020). The efficacy of venetoclax and hypomethylating agents in acute myeloid leukemia with extramedullary involvement. Leukemia & Lymphoma, 1-4.PMID: 32191144
Mirshahidi S, de Necochea-Campion R. Moretta A, Williams NL, Reeves ME, Otoukesh S, Zuckerman LM. (2020). Inhibitory Effects of Indomethacin in Human MNNG/HOS Osteosarcoma Cell Line In Vitro. Cancer investigation, 38(1), 23-36. PMID 31770037
Otoukesh S. Salhotra A, Marcucci G, Forman SJ, Pullarkat V, Aldoss I. (2019). The feasibility of venetoclax and decitabine in therapy-related Acute myeloid Leukemia with concurrent advanced non-hematological malignancies. Leukemia Research, 106196. PMID:31377457
Otoukesh S, Sanchez T, Mirshahidi S, Wallace D, Mirshahidi H. (2019). ASCEND-8 Pharmacokinetic, Safety, and Efficacy Data for Ceritinib 450 mg With Food in Patients With Anaplastic Lymphoma Kinase–Positive Non-Small Cell Lung Cancer: A Clinical Perspective. Cancer Treatment and Research Communications, 100149. PMID 31075537.
Lee EH, Otoukesh S, Nagaraj G. (2019). Hemolytic Anemia of Malignancy: A Case Study Involving Signet Ring Cell Metastatic Breast Cancer with Severe Microangiopathic Hemolytic Anemia. Case Reports in Oncology, 12(1), 104-108. PMID: 31043946.
Shaheen S, Otoukesh S, Jabo B, Kaur M, Wheeler N. (2018). Less is More: Video-Assisted Thoracic Surgery (VATS) vs. Open Thoracotomy (OT) in the Management of Resectable Lung Cancer. J Integr Oncol, 7(216), 2.
Nahleh Z, Otoukesh S, Mirshahidi HR, Nguyen AL, Nagaraj G, Botrus G ... Dwivedi AK. (2018). Disparities in breast cancer: a multi‐institutional comparative analysis focusing on American Hispanics. Cancer medicine, 7(6), 2710-2717.
Nahleh Z, Botrus G, Dwivedi A, Badri N, Otoukesh S., Diab N ... Elzamly S. (2018). Clinico-pathologic disparities of breast cancer in Hispanic/Latina women. Breast disease, (Preprint), 1-8.
Farrag SE, Dwivedi AK, Otoukesh S, Badri NJ, Sanchez L.A, Nahleh ZA. Prevalence of Low Vitamin D in Patients with Breast Cancer in a Predominantly Hispanic Population at the American-Mexican Border. (2017) Nutrition and Cancer,1-6.
Montoya A, Amaya CN, Belmont A, Diab N, Trevino R, Villanueva G, Rains S, Sanchez LA, Badri N, Otoukesh S, Khammanivong A. Use of non-selective β-blockers is associated with decreased tumor proliferative indices in early stage breast cancer. Oncotarget. 2017 Jan 24;8(4): 6446.
Nahleh Z., Otoukesh S, Dwivedi AK, Mallawaarachchi I, Sanchez L, Saldivar JS, Heydarian R. American Journal of Cancer Research. Clinical and pathological characteristics of Hispanic BRCA-associated breast cancers in the American-Mexican border city of El Paso. 2015, Jan; 5(1): 466-471.
Nahleh Z, Otoukesh S. Journal of Psychology & Psychotherapy. Celebrating Cancer Survivorship- A focus on Breast Cancer. 2015, May; 5(3): 182-82.
Otoukesh S, Mojtahedzadeh M., Figlin RA, Rosenfelt FP, Behazin A., Sherzai D, Nahleh, ZA. (2015). Literature Review and Profile of Cancer Diseases among Afghan Refugees in Iran: Referrals in Six Years of Displacement. Medical science monitor: international medical journal of experimental and clinical research, 21, 3622.
Al-Bayati I, Otoukesh S, Fernandez FT, Mojtahedzadeh M, Al-Obaidi S, Nawar Hakim MN, Davis HE. American Journal of Case Reports. Diabetic Muscle Infarction: A Missed Diagnosis and Complication of a Common Disease. 2014, Nov; 1(1): 50-53
Cooper CJ, Otoukesh S, Mojtahedzadehb M, Galvisa JM, McCallumn RW. Gastroenterology Research. Subtotal Gastrectomy as "Last Resort" Consideration in the Management of Refractory Rumination Syndrome. 2014, Aug; 7(3): 98-101.
Nasrazadani A, Dwivedi A, Otoukesh S, Arenas J, Padilla O, Alvarado A, Sanchez L, Tfayli A and Nahleh Z. Annals of Hematology & Oncology. Accuracy of Ki-67 with Recurrence Score and Recurrence Score –Pathology – Clinical Assessment in Early Stage Breast Cancer. 2014, Sep; 1(3): 1011-1017.
Ortega L, Cooper CJ, Otoukesh S, Mojtahedzadeh M, Didia CS, Torabi A, Nahleh Z. Rare Tumors. Metacentric Castleman's Disease and Kaposi's sarcoma in a HIV-Positive Patient on Highly Active Antiretroviral Therapy. 2014, Aug; 6(3): 5480.
Otoukesh S, Cooper CJ, Lou W, Mojtahedzadeh M, Nasrazadani A, Wampler M, Nahleh Z. American Journal of Case Reports. Combination chemotherapy regimen in a patient with metastatic malignant pheochromocytoma and neurofibromatosis type 1. 2014, May; 25(15): 123-127.
Otoukesh S, Mojtahedzadeh M, Cooper CJ, Tolouian R, Said S, Ortega L, Didia SC, Behazin A, Sherzai D, Blandon P. Medical Science Monitor. Lessons from the Profile of Kidney Diseases among Afghan Refugees. 2014, Sep; 20(1): 1621-1627.
Otoukesh S, Arenas J, Mojtahedzadeh M, Popp M, Bright T, Nahleh Z, Didia CS. Medical Science Monitor. Graves 'Disease and Pancytopenia: An Unusual Presentation. 2014, Jul; 1(1): 25-28.
Jones L, Bazargan M, Lucas-Wright A, Vadgama JV, Vargas R, Smith J, Otoukesh S, Maxwell AE. Ethn Dis. Comparing perceived and test-based knowledge of cancer risk and prevention among Hispanic and African Americans: an example of community participatory research. 2013, Feb; 23(2): 210-216.
Mojtahedzadeh M, Otoukesh S, Shahsafi MR, Tahbaz MO, Rahvari SK, Poorabdollah M, Sajadi MM. American Journal of Tropical Medicine and Hygiene. Case report: portal hypertension secondary to isolated liver tuberculosis. 2012, Jul; 87(1): 162-164.
Otoukesh S, Mojtahedzadeh M, Sherzai D, Behazin A, Bazargan-Hejazi S, Bazargan M. Int J Equity Health. A retrospective study of demographic parameters and major health referrals among Afghan refugees in Iran. 2012, Dec; 20(11): 82.
Khodadad K, Daneshvar Khaki A D, Mojtahedzadeh M, Otoukesh S, Taheri Z M, Monfared Z E. Tanaffos Journal. Solitary fibrous tumor of the Pleura- a case report and review of literature. 2009, Aug; 8(3): 69-76.
Ratings and reviews below are gathered from the Press Ganey Clinician and Group Consumer Assessment of Healthcare Providers and Systems (CG CAHPS) survey. CG CAHPS is a standardized survey that is used to measure a patient's experience in the physician office setting. Ratings are an average of all responses to questions about a provider's care, with 5 stars being the highest.
Ratings
4.9
Know important info medical history
4.9
Show respect for what you say
4.9
Recommend this provider office
4.9
Provider listen carefully to you
4.8
Provider explain in way you understand
4.7
Spend enough time with you
---
Reviews
Very good everything.
- Verified patient
Since we arrived we went out my wife and I were treated very well.
- Verified patient
Felt slightly judgmental towards my skin issues and was asking loaded questions.
- Verified patient
Doctor was very nice and explained test results. I would highly recommend him.
- Verified patient
Dr. Otoukesh is probably the probably one of the best, NO, THE BESTof all (hundreds) of doctors I have seen, with my many COMPLEX MEDICAL ISSUES
- Verified patient