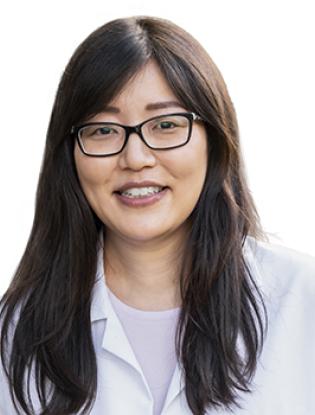 Radiologist
Appointments
Associate Clinical Professor, Division of Nuclear Medicine, Department of Diagnostic Radiology
Susan Cha, M.D., is an associate clinical professor in the Department of Diagnostic Radiology at City of Hope, who is double boarded in radiology, as well as nuclear medicine, and is an expert in positron emission tomography imaging. Dr. Cha received her undergraduate degree from Cornell University and was on the Dean's List for her exemplary academic record. She obtained her medical degree from Penn State University, where she was inducted into the Alpha Omega Alpha Honor Society and won a number of awards recognizing her academic achievements. She completed an internship at Leigh Valley Hospital and a diagnostic radiology residency at Thomas Jefferson University. She went on to the University of California San Francisco to complete a fellowship in nuclear medicine. Dr. Cha is a diplomate of both the American Board of Radiology and the American Board of Nuclear Medicine.
Before joining City of Hope, Dr. Cha worked at Bay Imaging Consultants, based in Northern California, where she served as radiology medical director of John Muir Health Foundation's cancer program, Diablo Valley Oncology Imaging, Contra Costa Oncology Imaging and Epic Care Imaging.
Basic Text Field
2005, M.D., Alpha Omega Alpha Honor Society, Pennsylvania State University College of Medicine, Hershey, PA
2000, B.A., Cell and Molecular Biology, Dean's List, Cornell University, College of Arts and Sciences, Ithaca, NY
Basic Text Field
2005-2006, Lehigh Valley Hospital (Transitional Year Resident), Allentown, PA
Basic Text Field
2006-2010, Radiology, Thomas Jefferson University, Philadelphia, PA
Basic Text Field
2010-2011, Nuclear Medicine, University of California San Francisco, San Francisco, CA
Basic Text Field
2022-present, Associate Clinical Professor, Division of Nuclear Medicine, Department of Diagnostic Radiology, City of Hope, Duarte, CA
Huang MC, Chao A, Kirwan R, Tschanz C, Peralta JM, Diersen-Schade DA, Cha S, Brenna JT. Negligible Changes in Piglet Serum Clinical Indicators or Organ Weights Due to Dietary Single-cell Long-chain Polyunsaturated Oils. Food and Chemical Toxicology 2002 April; 40(4):453-460'
Momen A, Leuenberger UA, Ray CA, Cha S, Handly B, Sinoway LI. Renal Vascular Responses to Static Handgrip: The Role of the Muscle Mechanoreflex. Am J Physiol Heart Circ Physiol. 2003 Sep;285(3):H1247-53
Cha SH, Romeo MA, Neutze JA. Visceral manifestations of Klippel-Trenaunay syndrome Radiographics. 2005 Nov-Dec;25(6):1694-7
Rhee K, Ko JP, Iyer RS, Cha S, Rusinek, H, Jacobowitz G, Naidich DP. Additional Benefit of CT Venography for the Diagnosis of Thromboembolic Disease in an Acute Tertiary Care Setting. 106th Annual Meeting of the American Roentgen Ray Society Contents: Volume 186, Issue 4 (Supplement), April 2006
Rhee KH, Iyer RS, Cha S, Naidich DP, Rusinek H, Jacobowitz GR, Ko JP. Benefit of CT venography for the diagnosis of thromboembolic disease. Clin Imaging. 2007 Jul-Aug;31(4):253-8.