LOS ANGELES — City of Hope, one of the largest cancer research and treatment organizations in the United States, has announced Chandana "Sandy" Lall, M.D., M.B.A., will join the organization as chair of Diagnostic Radiology and vice dean of clinical faculty affairs, effective July 1, 2023.
"Dr. Lall brings a wealth of experience and expertise to her new dual position at City of Hope," said Michael Caligiuri, M.D., president, City of Hope National Medical Center and Deana and Steve Campbell Physician-in-Chief Distinguished Chair. "Dr. Lall is a highly accomplished radiologist whose breadth of knowledge, talent and innovative approach to state-of-the art imaging will elevate the important work being conducted within the radiology department and bolster our commitment to providing the best patient care, science and medical training."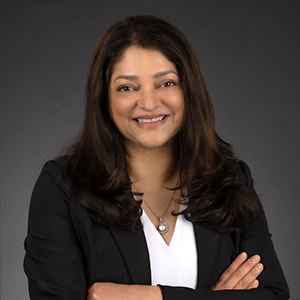 Lall has a distinguished career in radiology spanning more than 28 years, with a proven track record of excellence in advancing patient care, leading multidisciplinary teams and contributing to the advancement of the field of radiology, especially as it pertains to abdominal and pelvic oncologic imaging.  Lall currently serves as chair and professor of the radiology department at the University of Florida Jacksonville, and previously served as vice chair and professor of radiology and urology at the University of California Irvine.
"It is a great honor to join City of Hope's world-class diagnostic radiology department," said Lall. "I look forward to partnering with my colleagues to integrate the most sophisticated imaging technologies into City of Hope's clinical trials and cancer therapies. Advanced imaging techniques have revolutionized healthcare, playing a crucial role in improving outcomes, from the evaluation of new treatments to increasing efficiencies in patient care while reducing costs. My overarching goal is to advance the organization's leadership in imaging innovation, patient care and educational excellence."
Lall's research focuses on abdominal and pelvic oncologic imaging and the use of magnetic resonance imaging in accurate staging and detection of recurrence. She has published more than 480 peer-reviewed articles and scientific abstracts, often presenting her findings at national and international conferences. 
Board certified in radiology by the American Board of Radiology, Lall is an active member of numerous prestigious professional organizations, including the Radiological Society of North America, Society of Abdominal Radiology, Society of Chairs of Academic Radiology Departments and American College of Radiology. 
For her significant contributions to the radiology field, Lall has received more than 60 awards and recognitions, including being named a fellow of the Society of Abdominal Imaging and earning the honored educator award from the Radiological Society of North America.
Lall graduated summa cum laude from the University of Delhi, where she earned her medical degree and pursued a radiology residency, followed by a radiology residency and fellowship in abdominal imaging, respectively, at Maimonides Medical Center and Beth Israel Medical Center, both in New York. She earned her master's degree in business administration from the University of California Irvine, Paul Merge School of Business in 2016.
William D. Boswell Jr., M.D., who has chaired the Department of Diagnostic Radiology since 2011, will continue to serve the department, including providing support to Lall as she transitions into her new role, and continue in his role as president of City of Hope Medical Group. Boswell has held many critical roles throughout his impressive 12-year tenure at City of Hope, including serving as president of City of Hope Medical Group for more than 10 years, chief medical officer and as a member of the enterprise leadership team.
About City of Hope
City of Hope's mission is to deliver the cures of tomorrow to the people who need them today. Founded in 1913, City of Hope has grown into one of the largest cancer research and treatment organizations in the U.S. and one of the leading research centers for diabetes and other life-threatening illnesses. City of Hope research has been the basis for numerous breakthrough cancer medicines, as well as human synthetic insulin and monoclonal antibodies. With an independent, National Cancer Institute-designated comprehensive cancer center at its core, City of Hope brings a uniquely integrated model to patients spanning cancer care, research and development, academics and training, and innovation initiatives. City of Hope's growing national system includes its Los Angeles campus, a network of clinical care locations across Southern California, a new cancer center in Orange County, California, and treatment facilities in Atlanta, Chicago and Phoenix. City of Hope's affiliated group of organizations includes Translational Genomics Research Institute and AccessHope. For more information about City of Hope, follow us on Facebook, Twitter, YouTube, Instagram and LinkedIn.