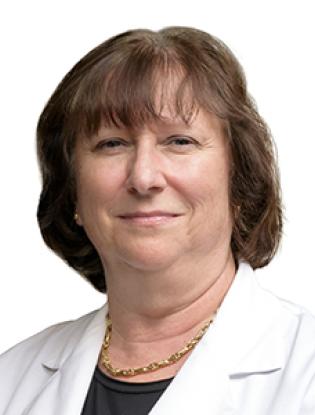 Radiation Oncologist
Clinical Expertise
Radiation Therapy For Breast, Gastrointestinal And Lung Malignancies
Genitourinary Cancers
Appointments
Assistant Clinical Professor, Department Of Radiation Oncology
Janet Hocko, M.D., brings 30 years of experience to City of Hope. A board-certified radiation oncologist, she has treated patients throughout Southern California, most recently in the Riverside community, where she also worked to increase awareness of radiation cancer treatments available to patients.

Well-versed in all forms of radiation therapy, Dr. Hocko specializes in radiation therapy for breast, gastrointestinal and lung cancer.

Dr. Hocko received her medical degree at University of California Irvine after earning a B.S. in microbiology at University of Maryland and an M.S. in pathology at University of California Los Angeles. She completed her internship and residency at Loma Linda University Medical Center.
1988, M.D., University of California Irvine, Irvine, CA

1984, M.S., Pathology, University of California Los Angeles, Los Angeles, CA

1980, B.S. Microbiology, University of Maryland, College Park, MD
1988-1993, Intern and Resident, Loma Linda University Medical Center, Loma Linda, CA
2018-present, Assistant Clinical Professor, Department of Radiation Oncology, City of Hope, Riverside, CA

2006-2018, Medical Director, Vantage Radiation Oncology Center Riverside, Riverside, CA

1993-2006, Radiation Oncologist, Loma Linda University Medical Center, Loma Linda, CA

1993-2003, Radiation Oncologist, White Memorial Medical Center, Los Angeles, CA

1993-2002, Radiation Oncologist, Glendale Adventist Medical Center, Glendale, CA
Riverside County Medical Association

American Society for Therapeutic Radiology & Oncology

Los Angeles Radiological Society

San Bernardino County Medical Society

American Medical Association
Wahlen SA, Slater JD, Wagner RJ, Wang WA, Keeney ED, Hocko JM, King A, Slater JM. "Concurrent radiation therapy and chemotherapy in the treatment of primary squamous cell carcinoma of the vulva." Cancer. 1995 May;75(9):2289-94.

Morrow CD, Lubinski J. Hocko J, Gibbons GF, Dasgupta A. "Purification of a soluble template- Dependent rhinovirus RNA polymerase and its dependence on a host cell protein for viral RNA Synthesis." J Virology. 1985 Jan;53(1):266-72.

Morrow CD, Hocko J, Navab M, Dasgupta A. "ATP is required for initiation of poliovirus RNA synthesis in vitro: demonstration of tyrosine-phosphate linkage between in vitro-synthesized RNA and genome-linked protein." J Virology. 1984 May;50(2):515-23.

Morrow CD, Navab M, Peterson C, Hocko J, Dasgupta A. "Antibody to poliovirus genome-linked protein (VPg) precipitates in vitro synthesized RNA attached to VPg-precursor polypeptide(s)." Virus Research. 1984;1(2):89-100.

Rathlev T, Hocko JM, Franks GF, Suffin SC, O'Donnell CM, Porter DD. "Glucose oxidase immunoenzyme methodology as a substitute for fluorescence microscopy in the clinical laboratory." Clin Chem 1981 Sep;27(9):1513-5.

Suffin SC, Prince GA, Hocko J, Chanock RM. "Immunoenzymatic examination of autopic tissues from the outbreak of fatal infantile disease in Naples in 1978-1979." Ann Ist Super Sanita. 1981;17(4):777-81.
Ratings and reviews below are gathered from the Press Ganey Clinician and Group Consumer Assessment of Healthcare Providers and Systems (CG CAHPS) survey. CG CAHPS is a standardized survey that is used to measure a patient's experience in the physician office setting. Ratings are an average of all responses to questions about a provider's care, with 5 stars being the highest.
Ratings
5.0
Show respect for what you say
4.9
Spend enough time with you
4.9
Recommend this provider office
4.9
Provider listen carefully to you
4.8
Provider explain in way you understand
4.7
Know important info medical history
---
Reviews
They are very professional
- Verified patient
Dr. Janet Hocko presented herself as very knowledgeable and professional. She was/is appropriately concerned, but I would have liked to see her demonstrate a measure of 'warmth' in interaction with patients. In initial visit, she covered a vast amount of information, but was 'distanced', recited from memory, but did not engage with patient.
- Verified patient
Dr. Hocko was very nice, professional and thorough. She explained in detail about my condition, treatment available, possible complications and prognosis. She listened and answered my questions and did not rush during my first appointment.
- Verified patient
Dr. Janet Hocko was the consummate professional; she was honest, direct and comforting.
- Verified patient