A young woman is shocked to receive an advanced lung cancer diagnosis. Her luck changed when her care team found a targetable genetic mutation. She will be riding on City of Hope's Rose Parade float in 2023.
When Shirley Munoz discovered she had Stage 4 lung cancer, the K-pop fan and avid world traveler thought it was a bad joke. She was only 34 and a nonsmoker, so she was shocked to learn she had anaplastic lymphoma kinase-positive (ALK-positive) lung cancer. This type of nonsmall cell lung cancer only occurs in approximately 5% of all lung cancer patients, many of whom are under 50. 
ALK-positive cancer refers to the rearrangement of two genes in a person's DNA, the EML4 gene and the ALK gene. This rearrangement can result in an oncogene, EML4-ALK, a mutated gene that has the potential to cause cancer. 
Before coming to City of Hope, Munoz was frustrated by her medical care. In early 2020, she began experiencing a bad cough and shortness of breath. "I felt like no one was taking me seriously," she recalled. "I was told that maybe it was pneumonia, maybe it was asthma, maybe it was COVID. No one could tell me for sure. But my symptoms continued for about a year."
As her condition deteriorated, Munoz underwent a computed tomography (CT) scan and a bronchoscopy to closely examine her lungs and air passages but, even then, her doctors couldn't give her a firm diagnosis.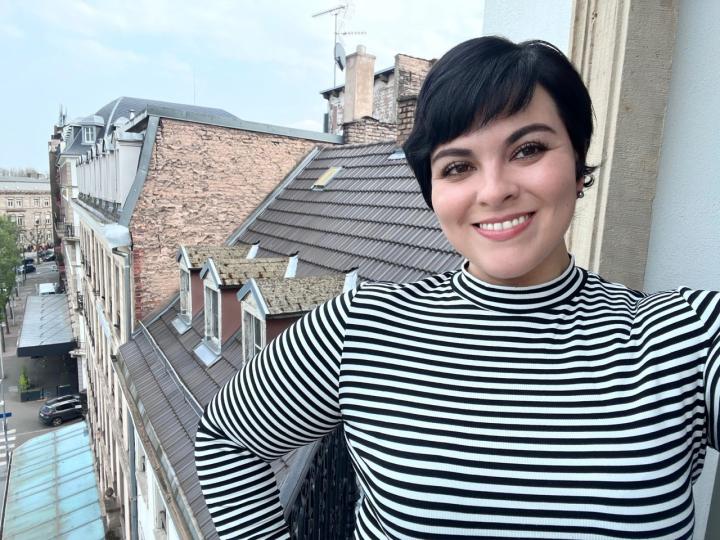 "Even after the CT scan, I was told that there was no way I had cancer. They even saw something on my CT scan, but they kept telling me it was impossible that I had lung cancer," Munoz said. "So, I was just left wondering what was wrong with me because I still had all these symptoms, and they weren't going away. They were getting worse."
As doctors tried to get to the bottom of Munoz's mystery illness, they conducted more tests, one of which was a lung biopsy.
A Shocking Phone Call
"I remember I was working from home one day and I got a phone call from a pulmonologist. He told me he had the results of my biopsy, and that I actually did have cancer, but he couldn't say what kind. He just said he didn't think it was lung cancer, and he didn't know where the cancer originated," Munoz said.
"They thought it might be ovarian cancer that spread or stomach cancer that spread. I was basically told that I had cancer all over my body and because they didn't know where the cancer was coming from, they couldn't treat it. I was given a horrible prognosis of less than one year to live."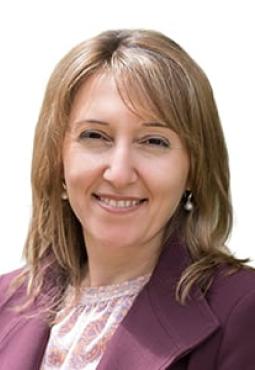 In the space of a few months, Munoz went from being assured she didn't have cancer to being told that she had terminal cancer and only months left to live. She was left devastated and completely hopeless.
While Munoz waited to undergo more diagnostic testing — this time full body magnetic resonance imaging (MRI) —she decided to take matters into her own hands.
"The wait for an MRI was very long, so during that time I bought a new insurance plan. The first thing I did was go to City of Hope," Munoz said. "And from the second I walked into City of Hope, I could tell everyone was smiling, even though they were wearing masks. Everyone was so warm and kind." 
Finally, Munoz felt like she was in caring, capable hands. After reviewing Munoz's medical records, her new oncologist, Erminia Massarelli, M.D., Ph.D., M.S., co-director of City of Hope's Lung Cancer and Thoracic Oncology Program, concluded that her cancer was only in her right lung and was treatable. 
"When I had my first appointment with Dr. Massarelli, I knew I was in good hands with her. The first thing she said was there is hope for me," Munoz recalled. "At that point, because of everything I'd been through, I felt like there was no point in even getting treatment. I thought maybe I should just see how long I lasted without any treatment at all. But she just kept telling me that I had options."
Targeting Her Mutation
Munoz started chemotherapy almost immediately, but soon switched to targeted therapy when her ALK mutation was discovered. 
"I had a lot of side effects when I was on chemo. I couldn't work. It was really hard," Munoz said. "I still technically have Stage 4 cancer because of the tumor's shape and where it's located, but with targeted therapy, I'm able to live a normal life. I take eight pills a day and have scans every three months to make sure my cancer is under control."
Throughout her journey, Munoz has relied on her husband, Richard, for support — they married about a year after her diagnosis — in addition to other ALK-positive cancer patients.
"I am part of a group of patients who have the same mutation as me. It's an online group called ALK Positive, but we actually met in person in Denver over the summer. So many people in the group have been living with lung cancer for over 10 years, and they're still enjoying life," Munoz said.
"I'm one of the youngest patients in the group. Some of them are in their 60s and 70s, and when I talk to them, I'm inspired. I want to be like them. I want to live every day as if it's my last. They give me hope."
With her flexible, noninvasive treatment plan, an inspiring and encouraging support system, and a renewed sense of hope, Munoz can finally do the things she loves again. She recently celebrated her 36th birthday on a trip to South Korea, and she's been going to concerts again to enjoy live music. After years of uncertainty and fear, Munoz is living her life to the fullest.
Main photo, above: Shirley Munoz with her husband Richard on their honeymoon in Alsace-Lorraine.