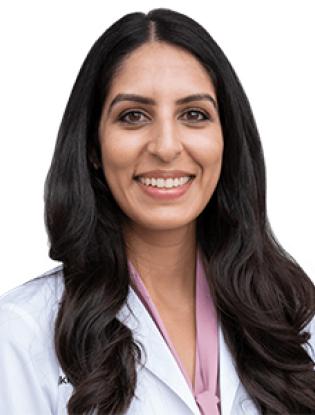 Breast Surgeon
Clinical Expertise
Breast Cancer
Breast Surgery
Appointments
Assistant Clinical Professor, Division of Breast Surgery, Department of Surgery
"As a breast surgeon, my responsibility is to advocate for my patients -- to ensure they are receiving the most up-to-date multidisciplinary oncology care in a compassionate manner."
Nikita M. Shah, M.D., cares about the vulnerable among us. She has traveled to Haiti to help set up primary care clinics near Port-au-Prince. She has done research on the special needs of elderly breast cancer patients and published work on strategies to safely treat cancer in pregnant women. At her core she is "driven by the values instilled in me by my upbringing. I wanted to become part of a profession that helped others and helped further the quality of lives of all, regardless of circumstance."
Dr. Shah earned her medical degree from University of Texas Southwestern Medical School in Dallas. She continued her training with residency at New York's Montefiore Medical Center/Albert Einstein College of Medicine and a breast surgical oncology fellowship at University of Michigan.
A native of Southern California, the bilingual Dr. Shah (English, Gujarati) is happy to be returning home and is excited to join City of Hope, "for both its commitment to patient care and to furthering the field of oncology."
American Board of Surgery – Certification #063161

Advanced Trauma Operative Management

Fundamentals of Laparoscopic Surgery

Advanced Trauma Life Support

Advanced Cardiovascular Life Support

Basic Life Support
2012, M.D., UT Southwestern Medical School, Dallas, Texas
2020-present, Assistant Clinical Professor, Division of Breast Surgery, Department of Surgery, City of Hope, Duarte, California

2019-2020, Program Director, National Accreditation Program for Breast Centers, HCA Clearlake Breast Program, Webster, Texas

2018-2020, Breast Surgical Oncologist, Texas Oncology, Webster, Texas
American College of Surgeons

American Society of Breast Surgeons

Society of Surgical Oncology
Shah N, Jeruss JS. "Young Women with Breast Cancer: Fertility Preservation Options and Management of
Pregnancy-Associated Breast Cancer." Annals of Surgical Oncology, vol. 26, no. 5, 2019, pp. 1214–1224
Shah N, Jeruss JS. (2019) "Oncofertility in the Premenopausal Breast Cancer Patient" in T. K . Woodruff
(ed), Textbook of Oncofertility Research and Practice. Springer International Publishing.
Ratings and reviews below are gathered from the Press Ganey Clinician and Group Consumer Assessment of Healthcare Providers and Systems (CG CAHPS) survey. CG CAHPS is a standardized survey that is used to measure a patient's experience in the physician office setting. Ratings are an average of all responses to questions about a provider's care, with 5 stars being the highest.
Ratings
5.0
Spend enough time with you
4.9
Provider explain in way you understand
4.9
Provider listen carefully to you
4.9
Show respect for what you say
4.8
Recommend this provider office
4.8
Know important info medical history
---
Reviews
I don't see could have been more professional, or nicer.
- Verified patient
In person is always best, but this was fine.
- Verified patient
Excellent! So impressed - kind, caring, professional.
- Verified patient
Excellent. Very impressed!
- Verified patient
It was my very first visit w/Dr. Shah - I was very impressed w/her!
- Verified patient