City of Hope Trial Evaluates Oncolytic Virus to Treat Metastatic Triple-Negative Breast Cancer
City of Hope's Department of Medical Oncology & Therapeutics Research opened a first-in-human clinical trial to evaluate the use of a novel cancer-killing oncolytic virus to treat patients with metastatic triple-negative breast cancer.
Early research shows oncolytic viruses can prime a person's immune system to more effectively fight cancer. The City of Hope-developed therapy, CF33-hNIS-antiPDL1, is genetically engineered from a chimeric oncolytic orthopoxvirus and is designed to infect, replicate and kill cancer cells while sparing healthy cells.
Metastatic triple-negative breast cancer is often resistant to hormone and targeted therapies, making it a challenging disease to treat. This study, led by Jamie Rand, M.D., is designed to determine the safety and optimal biological dose of CF33-hNIS-antiPDL1 to induce an immune response and treat and eradicate tumors in patients with this type of cancer.
The three-year, Phase 1 trial seeks to enroll patients who have experienced disease progression after standard-of-care therapies. Study participants will receive treatment through direct injection into the tumor on days 1 and 15, repeating every 28 days for up to three cycles in the absence of disease progression or unacceptable toxicity.
To refer a patient to this clinical trial call, 626-218-1133 or visit clinicaltrials.gov/ct2/show/NCT05081492.
Breast Cancer Survival Rates at City of Hope Exceed National Averages
As one of the top 10 cancer hospitals in the U.S., according to U.S. News & World Report, City of Hope delivers leading-edge treatment through groundbreaking evidence-based research, on-site clinical trials, and comprehensive and personalized care for each patient. Our breast cancer program is internationally lauded for advancing the field of breast cancer and delivers complex, subspecialized, collaborative care to treat all stages of cancer including advanced and recurrent disease.
Our experts measure outcomes to assess the quality of care we're providing to provide information to clinicians about our performance and to offer our patients transparency.
At City of Hope, our multidisciplinary breast cancer program, paired with world-class resources with state-of-the-art treatments and technology, has led to us exceeding the SEER National average for breast cancer survival outcomes at all stages.*
City of Hope Female Breast Cancer Adjusted† Overall Survival vs SEER National (2007-2016)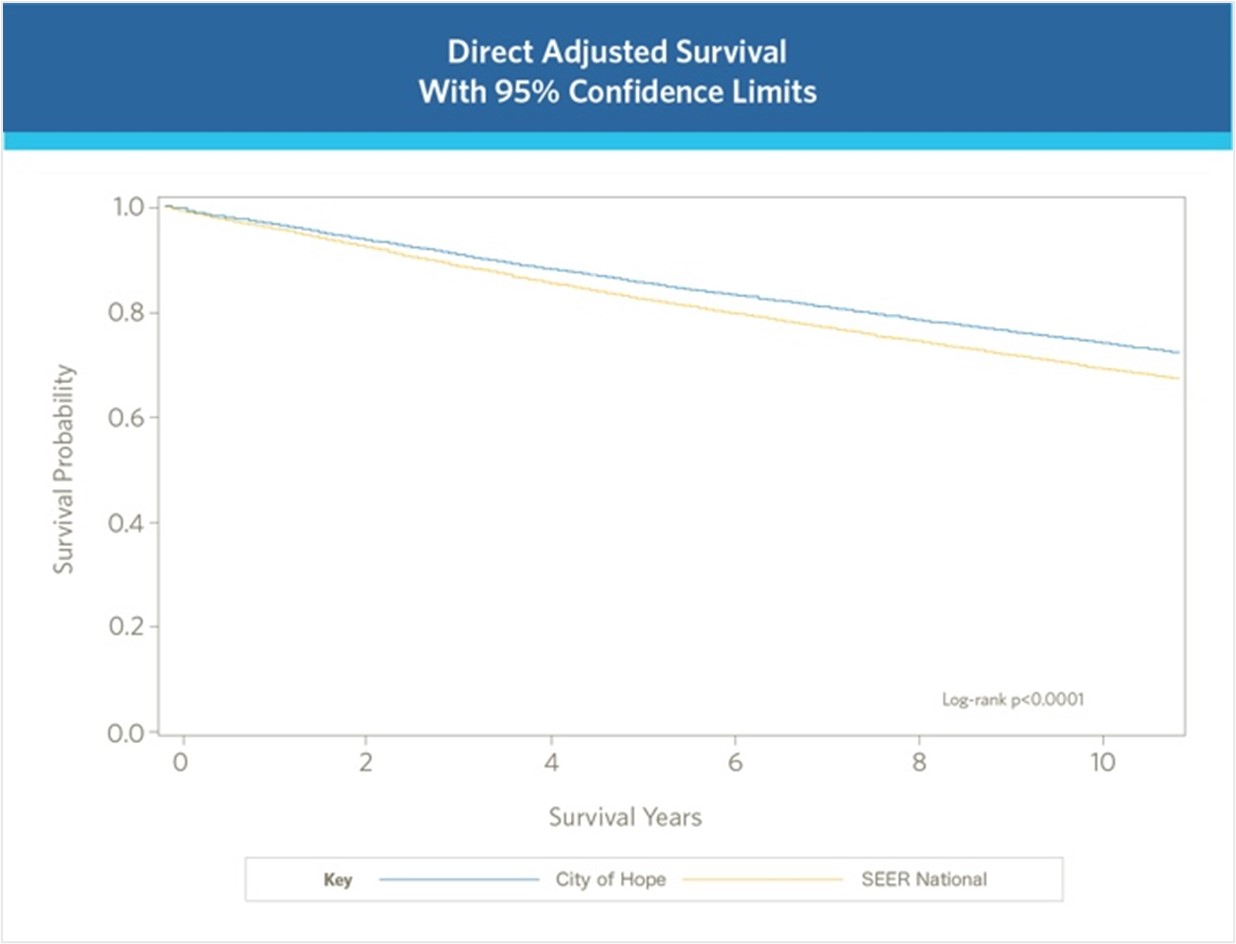 City of Hope Stage IV survival is 50% greater than the SEER National average 10 years postdiagnosis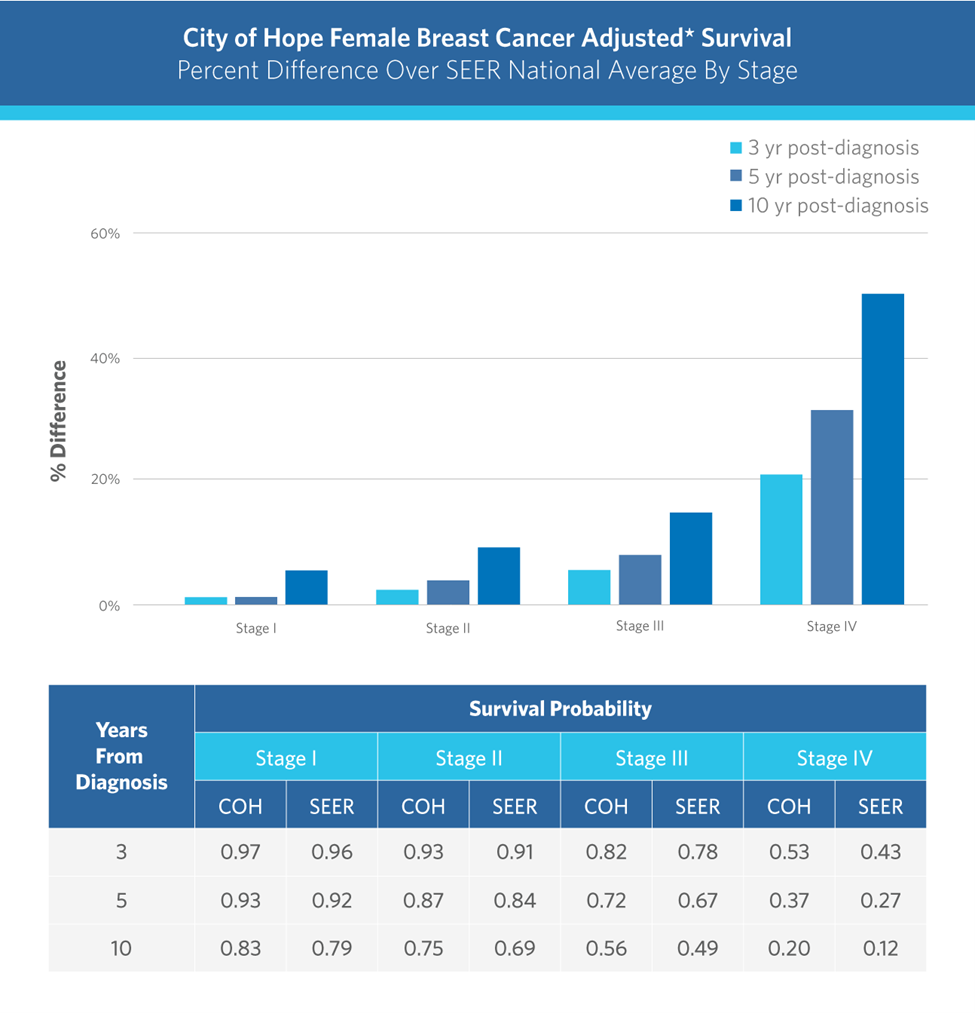 ‡Data were derived from the City of Hope Cancer Registry (CNeXT) and SEER November 2019 Research Data Files as the comparator. All City of Hope patients in Duarte, California, patients were diagnosed from 2007 through 2016, and City of Hope's follow-up cutoff date was 12/31/2017 to align with SEER data. Survival time was based on first occurring breast cancer diagnosis during the time period of interest.
The National Cancer Institute's Surveillance, Epidemiology and End Results (SEER) Program is an authoritative source on cancer incidence and survival and provides cancer statistics to reduce the cancer burden among the U.S. population. It is supported by the Surveillance Research Program, which provides national leadership in cancer surveillance using analytical tools and methodological expertise in collecting, analyzing, interpreting and disseminating reliable population-based statistics.
To learn more about our outcomes for cancer treatment, visit us at CityofHope.org/patients/outcomes.
Breast Reconstruction Day
This year, October 19, 2022, will be National Breast Reconstruction Awareness Day, or BRA. This purpose is to educate, engage and empower women on breast cancer treatment and reconstructive surgery options.
Wai-Yee Li, M.D., Ph.D., is one of City of Hope's skilled plastic reconstructive surgeons who gives patients hope and confidence after going through a breast cancer diagnosis and corrective surgery, which may include the removal of one or both breasts (mastectomy) or part of a breast (lumpectomy or partial mastectomy).
"Patients ask me, 'How will I look once my cancer is taken away?'" she said. "People want to look and feel as normal as they can after their cancer is removed surgically."
Li said she feels a profound responsibility to her patients. "I know how vulnerable they are feeling, so I walk them through their reconstruction options carefully and thoroughly explain the risks and benefits of each procedure," Li said. "I believe in providing optimal reconstruction in all my cancer patients. Every woman should be given all the information she needs to make an informed decision."
The third Wednesday of October each year is set aside as National Breast Reconstruction Awareness Day, created to honor women who have been diagnosed with breast cancer. Many patients are not aware that breast reconstruction is covered by their medical insurance after they receive a breast cancer diagnosis. In many patients, the best reconstructive results are achieved by doing reconstruction the same day as their mastectomy. All of our plastic surgeons work in close partnership with the many talented breast and surgical oncology surgeons at City of Hope.
Navigating care after a breast cancer diagnosis can be challenging. At City of Hope, we offer reconstruction to restore patients, following a lumpectomy or mastectomy. Our multidisciplinary team of highly trained board-certified plastic surgeons look forward to helping patients navigate their options for breast reconstruction.
Li will be presenting her recent work on breast reconstruction using the latissimus dorsi myocutaneous flap in at the American Society of Plastic Surgeons annual meeting in Boston later this month.
More information on National Breast Reconstruction Awareness Day, this year on October 19, is available here.