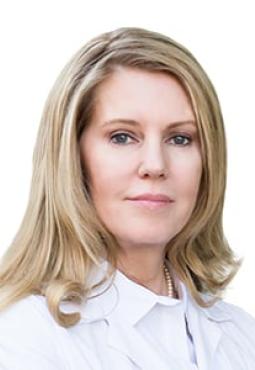 Linda Malkas, Ph.D., dean of translational science and the M.T. & B.A. Ahmadinia Professor in Molecular Oncology, never envisioned a life in cancer research for herself — she wanted to be an astronaut. But after attending engineering school, her plans changed. She abandoned her interest in going into space, and instead decided to "follow the science," as she puts it.
Malkas went on to receive her B.A. in chemistry and Ph.D. in biochemistry from the City University of New York, completed her postdoctoral studies at the Worchester Foundation for Experimental Biology in Massachusetts, and held faculty positions at the University of Maryland School of Medicine before landing at the Indiana University School of Medicine. It was there that a little girl named Anna would change the course of her career forever.
"She died when she was only 9 years old from neuroblastoma, a children's cancer that affects only 600 kids in America each year," Malkas said. "I met Anna's father when she was at her end stages. I sat him down for two hours in my office and showed him all of my data on this protein I had been studying in cancer cells."
At the time, Malkas was researching breast cancer, studying a protein found in cancer cells but not normal cells. Malkas eventually took Anna's father, Steve, and his wife, Barbara, to see her lab, where they could see firsthand the work that she did.
"[Steve] asked if I could do something about neuroblastoma and he wrote my lab a check for $25,000," Malkas said. "That was the moment that changed my life — my fork in the road. I knew I wanted to do something special for that little girl."
Following the Science
During her time at the University of Indiana, Malkas uncovered five small molecules that attack breast cancer cells but do not damage normal cells. It was an important discovery, especially since the therapies available currently cannot distinguish between cancerous and normal cells, resulting in the destruction of healthy cells.
Soon after her research into neuroblastoma began, City of Hope contacted Malkas and asked her to come and review their programs. Once she saw the facilities and potential at City of Hope, she knew she had found a place to further her research, and joined the team in 2012.
In a Town & Country podcast (listen here), Malkas said of City of Hope, "I call it the field of dreams. Because if you can dream of a therapeutic, be it a cellular, biologic or small molecule, you can make it right on campus, and give it to a patient."
That ability to speed drugs from the research phase to the treatment phase is unique to City of Hope, and is fueled by the generosity of more than 100,000 donors. Their support is essential to the work done and the lives saved.
"City of Hope launched because of the firm belief that all of us have the potential to change the fate of individuals even as we improve medical care overall," Malkas said at the summit. "It is through partnerships with people like you that we can change lives."
Innovation Everywhere
City of Hope has evolved from a mission to treat tuberculosis over 100 years ago to the comprehensive cancer and diabetes hospital it is today. After making numerous breakthroughs in both diabetes and cancer research, City of Hope will continue to make strides.
Recent innovations at City of Hope include the development of CAR T cell therapy, which involves genetically modified immune cells that attack cancer from the inside.
"We're going to push the frontier on what it is to treat disease," said Malkas regarding City of Hope's immunotherapy program. The advances in immunotherapy at City of Hope are one of our greatest contributions to cancer treatment."
The Future of Cancer Care
Malkas is looking toward the future of cancer care, which includes a more personalized approach to cancer. "We're moving away from thinking of cancer as a singular disease," she said, citing the importance of having different treatment approaches for different types of cancer and for different patients. She gave the example of two people who grew up in the same environment and have similar lives, but one may respond well to treatment, and the other may not. Malkas's new approach includes looking at the molecular mechanism of each person's cancer, which she said, "is almost as individual as their fingerprint."
"For the past century, we've thought of cancer as a single disease, focusing on finding a magic bullet that could be used to 'cure' cancer," Malkas said in her address. "We were so naïve. Today, we're thinking of cancers (plural) in ways we never thought about before."
In Memory of Anna
Throughout Malkas's career, Anna's memory has fueled her. Malkas and her team have developed a drug that targets a protein in all cancers — including the cancer that claimed young Anna. Malkas named the drug "AOH1996," for Anna Olivia Healy, born in 1996.
AOH1996 is going into clinical trials next year, and Malkas credited City of Hope's unique model for building the future for cancer therapeutics that led to the creation of AOH1996, saying, "We have the resources of people, the infrastructure for drug discovery and a credible regulatory understanding of what it takes to make a drug.
"We were too late to help Anna, but we could help others like her," Malkas said. "I always say when you see me, there's a small 9-year-old girl sitting on my right shoulder. She's my touchstone."