Tingting Tan, M.D., Ph.D.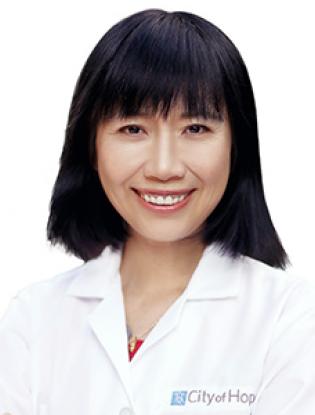 Medical Oncologist and Hematologist
Clinical Expertise
Breast Cancer
Medical Oncology
Thoracic Oncology
Appointments
Assistant Clinical Professor, Department of Medical Oncology & Therapeutics Research
Clinical Teams
Breast Cancer
Lung Cancer
Medical Oncology & Therapeutics Research
Tingting Tan, M.D., Ph.D., is internationally renowned for studying the molecular signaling pathways in tumor development and the mechanisms of chemotherapy resistance. She is board certified in medical oncology, hematology, and internal medicine.
Dr. Tan's research has been published in multiple medical and scientific journals, including Oncologists, Cancer Cell and Genes and Development. A graduate of the Beijing Medical University, Dr. Tan holds an M.D. from Peking University Health Science Center and a Ph.D. from Rutgers University. Dr. Tan's training includes fellowships at the University of California San Francisco Cancer Research Institute and the Fox Chase Cancer Center at Temple University.
Dr. Tan is dedicated to providing exceptional and compassionate care to her patients, whom she regards as family members.
"City of Hope brings every component of cancer care to each individual patient," she said. "It's not just the science behind it; it's also the compassion."
Dr. Tan is the recipient of numerous awards, including the Beijing Medical University Outstanding Graduate Award, The Lou Lehman Hospitalist Award for Excellence and the Cancer Center of New Jersey's Gallo Award for Outstanding Cancer Research.
1500 East Duarte Road
Duarte, CA 91010

1601 Avocado Avenue
Newport Beach, CA 92660

2015, Board Certified in Hematology

2014, Board Certified in Medical Oncology

2010, Board Certified in Internal Medicine
2001-2006, Ph.D., Rutgers University, State University of New Jersey, NJ

1998-2001, M.D., Internal Medicine, Peking University Health Science Center, China

1993-1998, M.D., Beijing Medical University, China
2011-2014, Fellowship, Hematology and Medical Oncology Fellowship Program, Fox Chase Cancer Center-Temple University, PA

2006-2007, Postdoctoral Fellow, UCSF Cancer Research Institute, San Francisco, CA
2007-2010, Residency, Internal Medicine Residency Program, Kaiser Foundation Hospital, San Francisco, CA
2020 - Present, Assistant Clinical Professor, Department of Medical Oncology & Therapeutics Research, City of Hope, Newport Beach and Duarte, CA

2014-2020, Associate Physician, Los Angeles Hematology/Oncology Medical Group, Los Angeles Cancer Network, Los Angeles, CA

2010-2011, Hospitalist, Cogent Healthcare St. John's Regional Medical Center, Oxnard, CA
2005, Gallo Award for Outstanding Cancer Research, The Cancer Institute of New Jersey

2010, The Lou Lehman Hospitalist Award for Excellence in Hospital Medicine, Kaiser San Francisco Department of Hospital Medicine

1998, Outstanding Graduate, Beijing Medical University

1998, Jian-Hao Chinese National Scholarship, Jian-Hao National Education Foundation
2012, American Society of Clinical Oncology
Plimack ER, Tan T, Wong Y, von Mehren M, Maizzia L, Roethke SK, Litwin S, LI, T, Hudes GR, Hass NB. A phase I study of Temsirolimus and Bryostatin-1 in patients with metastatic renal cell carcinoma and soft tissue sarcoma. The Oncologist April 2014 vol. 19 no. 4 354-355
Andreu P, Magnus Johansson M, Affara N, Pucci F, Tan T, Junankar S, Korets, L, Lam, J, Tawfik D. DeNardo DG, Naldini L, de Visser K, De Palma M, Coussens LM. FcRy Activation Regulates Inflammation-Associated Squamous Carcinogenesis. Cancer Cell 2010 Feb. 17; 17(2):111-2
Karp C, Tan T, Mathew R, Nelson D. Mukherjee C, Degenhardt K, Karantza-Wadsworth V, White E. Role of the polarity determinant Crumbs in suppressing mammalian epithelial tumor progression. Cancer Research 2008 Jun1;68(11):4105-05
Tan T, White E. Therapeutic targeting of death pathways in cancer. In: Programmed cell death in cancer progression and therapy. Series Editors: Khosravi-Far R, White E, The Netherlands: Springer, 2008 615:81-105
Johansson M, Tan T, De Visser KE, Coussens LM. Immune cells as anti-cancer therapeutic targets and tools. J Cell Biochem, 2007 July 1, 1001(4):918-26
Tan T, Coussens LM. Humoral immunity, inflammation and cancer. Curr Opin Immunol, 2007 Apr; 19(2):209-16
Tan T, Degenhardt K., Nelson DA, Beaudoin B, Nieves-Neria W, Bouillet P, Adams JM, White E. Key Roles of BIM-driven Apoptosis in Epithelial Tumors and Rational Chemotherapy. Cancer Cell, 2005 Mar: 7:227-238
Nelson DA, Tan T (co-first author), Rabson A, Anderson D. Degenhardt K, White E. Hypoxia and Defective Apoptosis Drive Genomic Instability and Tumorigenesis. Genes and Development 2004. Sep: 18:2095-2107
Guo LJ, Tan T and Mao JM, Zhonghua Yi Xue Za Zhi. Clinical manifestation and prognosis of the myocardial bridge (Chinese). 2003 Apr 83:553-555
Ratings and reviews below are gathered from the Press Ganey Clinician and Group Consumer Assessment of Healthcare Providers and Systems (CG CAHPS) survey. CG CAHPS is a standardized survey that is used to measure a patient's experience in the physician office setting. Ratings are an average of all responses to questions about a provider's care, with five stars being the highest.
Ratings
4.9
Show respect for what you say
4.9
Provider explain in way you understand
4.8
Know important info medical history
4.8
Spend enough time with you
4.8
Provider listen carefully to you
4.7
Recommend this provider office
---
Reviews
Dr. Tan is one of the best doctors I've ever seen.
- Verified patient
Staff encountered today acted pleasantly & professionally.
- Verified patient
Overall, everything is good and had a good experience
- Verified patient
So far, everything is good
- Verified patient
I am always amazed and pleased with how kind, thorough, clear everyone is.
- Verified patient