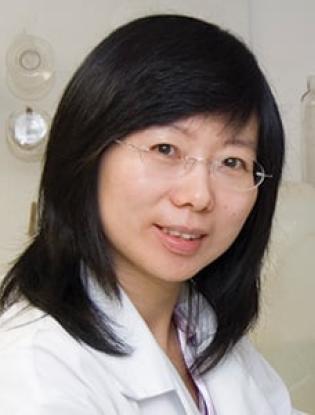 Professor And Chair, Department Of Neurodegenerative Diseases; Herbert Horvitz Professor In Neuroscience; Director, Division Of Stem Cell Biology Research, Beckman Research Institute Of City Of Hope
Research Area
Stem Cell Biology
Regenerative Medicine
Human IPSC-based Disease Modeling And Therapeutic Development
Aging
Alzheimer's Disease, Canavan Disease, And Cancer
Appointments
Chair, Department Of Neurodegenerative Diseases
Herbert Horvitz Professor In Neuroscience
Director, Division Of Stem Cell Biology Research
Director, Stem Cell Core
Yanhong Shi, Ph.D, is Professor and Director of Division of Stem Cell Biology Research and Director of the Stem Cell Core at Beckman Research Institute of City of Hope. Dr. Shi is also the Herbert Horvitz Endowed Professor in Neuroscience, a beneficiary of the Christopher Family Endowed Innovation Fund for Alzheimer's Disease Research in Honor of Vineta Christopher, and an elected fellow of the American Institute for Medical and Biological Engineering (AIMBE). The Shi lab at Beckman Research Institute of City of Hope is focused on human induced pluripotent stem cell (iPSC)-based disease modeling, drug discovery, and cell therapy development for debilitating diseases, including Alzheimer's disease, Canavan disease, and cancer. The Shi lab has developed cGMP-compatible manufacturing processes for human iPSC derivation, differentiation, and genetic engineering, has demonstrated robust disease-modifying effects of human iPSC-derived neural progenitor cells as a cell therapy for Canavan disease in preclinical studies, and is rigorously developing human iPSC-based disease models and cell therapies for Alzheimer's disease and cancer. Dr. Shi holds multiple patents on human iPSC-based technologies or cellular products and has published rigorously on human iPSC-related studies.
Ph.D., Northwestern University, Evanston, IL.
Postdoctoral Fellow, The Salk Institute, La Jolla, CA,
Research Areas
Project 1: Human iPSC-based disease modeling and drug discovery
Project 2: Human iPSC-based cell therapy development
Project 3: Immunotherapy and tumor-immune interactions
Project 4: RNA modifications and cancer stem cells of glioblastoma
George Sun, Ph.D.
Peng Ye, M.D.
Jianfei Chao, Ph.D.
Qi Cui, Ph.D.
Xianwei Chen, Ph.D.
Lizhao Feng, Ph.D.
Yue Qin, Ph.D.
Cheng Wang, Ph.D.
Tao Zhou, Ph.D.
Zhenqing Liu, Ph.D.
Jonas Cerneckis
Wei Liu, Ph.D.
Alicia Chavez
Qui Luong
Cerneckis J, Cui Q, He C, Yi C, and Shi Y. Decoding pseudouridine: an emerging target for therapeutic development. 2022. Trends Pharmacol Sci. doi: 10.1016/j.tips.2022.03.008.
Shi Y, Evans RM, and Gage FH. Oleic acid regulates hippocampal neurogenesis as a TLX ligand. 2022. PNAS 119: e2203038119. Doi: 10.1073/pnas.2203038119.
Cui Q, Yin K, Zhang X, Ye P, Chen X, Chao J, Meng H, Wei J, Daniel R, Li L, Qin Y, Sun, G, Zhang M, Klein J, Huynhle M, Wang C, Zhang L, Badie B, Kalkum M, He C, Yi C, and Shi Y. 2021. Targeting PUS7 suppresses tRNA pseudouridylation and glioblastoma tumorigenesis. Nature Cancer 2: 932-949. doi: 10.1038/s43018-021-00238-0. Featured in Nature Cancer 2021: doi: 10.1038/s43018-021-00255-z, Cancer Discovery 2021: doi: 10.1158/2159-8290.CD-RW2021-123, and The Stem Cellar.
Chen X, Sun G, Tian E, Zhang M, Davtyan H, Beach T, Reiman EM, Blurton-Jones M, and Shi Y. 2021. Modeling Alzheimer's disease using human iPSC-derived brain organoids. Advanced Science. 8: e2101462. doi: 10.1002/advs.202101462. Featured in the NIA Blog and The Stem Cellar.
Wang C, Zhang M, Garcia G, Tian E, Cui Q, Chen C, Sun, G, Wang J, Arumugaswami V, and Shi Y. 2021. ApoE isoform-dependent SARS-CoV-2 neurotropism and cellular response. Cell Stem Cell. 28: 331-342.e5. doi: 10.1016/j.stem.2020.12.018. Featured in ALZFORUM and The Stem Cellar.
E Tian, M Zhang, and Shi Y. 2021. Direct reprogramming of fibroblasts to astrocytes. Methods in Molecular Biology 2352: 45-55. doi: 10.1007/978-1-0716-1601-7_4.
Terajima H, Lu M, Zhang L, Cui Q, Shi Y, Li J, and He C. 2021. N6-methyladenosine promotes induction of ADAR1-mediated A-to-I RNA editing to suppress aberrant antiviral innate immune responses. PLoS Biol. 19: e3001292. doi: 10.1371/journal.pbio.3001292.
L Feng, Chao J, Tian E, Li L, Peng Y, Zhang M, Chen X, Cui Q, Sun G, Zhou T, Felix G, Qin Y, Meza ED, Klein J, Ghoda L, Hu W, Luo Y, Dang W, Hsu D, Gold J, Goldman SA, Matalon R, and Shi Y. 2020. Cell-based therapy for Canavan disease using human iPSC-derived NPCs and OPCs. Advanced Science 7: 2002155. doi: 10.1002/advs.202002155.
Li L and Shi Y. 2020. When glia meet induced pluripotent stem cells (iPSCs). Molecular and Cellular Neuroscience doi: 10.1016/j.mcn.2020.103565.
G Sun, F Chiuppesi, Chen X, Wang C, Tian E, Nguyen J, Kha M, Trinh D, Zhang H, Marchetto MC, Song H, Ming G-L, Gage FH, Diamond DJ, Wussow F, and Shi Y. 2020. Modeling human cytomegalovirus-induced microcephaly in human iPSC-derived brain organoids. Cell Reports Medicine 1, 1-15.
Wang D, Starr R, Chang WC, Aguilar B, Alizadeh D, Wright SL, Yang X, Brito A, Sarkissian A, Ostberg JR, Li L, Shi Y, Gutova M, Aboody K, Badie B, Forman SJ, Barish ME, Brown CE. 2020. Chlorotoxin-directed CAR T cells for specific and effective targeting of glioblastoma. Sci Transl Med. 12. pii: eaaw2672. doi: 10.1126/scitranslmed.aaw2672.
Zhang W, Yang SL, Yang M, Herrlinger S, Shao Q, Collar JL, Fierro E, Shi Y, Liu A, Lu H, Herring BE, Guo ML, Buch S, Zhao Z, Xu J, Lu Z, Chen JF. 2019. Modeling microcephaly with cerebral organoids reveals a WDR62-CEP170-KIF2A pathway promoting cilium disassembly in neural progenitors. Nat Commun. 10: 2612. doi: 10.1038/s41467-019-10497-2.
Li L, Tian E, Chen X, Chao J, Klein J, Qu Q, Sun G, Sun G, Huang Y, Warden CD, Ye P, Feng L, Li X, Cui Q, Sultan A, Douvaras P, Fossati V, Sanjana NE, Riggs AD, and Shi Y. 2018. GFAP mutations in astrocytes impair oligodendrocyte progenitor proliferation and myelination in a human iPSC model of Alexander disease. Cell Stem Cell 23: 239-251.
Cui Q, Shi H, Ye P, Li L, Qu Q, Sun G, Sun Gu, Lu Z, Huang Y, Yang C-G, Riggs A, He C, and Shi Y. 2017. M6A RNA methylation regulates the self-renewal and tumorigenesis of glioblastoma stem cells. Cell Reports 18: 2622-2634.
Shi Y, Inoue H, Wu, JC, and Yamanaka S. 2017. Induced pluripotent stem cell technology: a decade of progress. Nature Reviews Drug Discovery 16: 115-130.
Tian E, Sun G, Sun Gu, Ye P, Chao J, Warden C, Riggs AD, Shi Y. 2016. Small molecule-based lineage reprogramming creates functional astrocytes. Cell Reports 16: 781-792.
Murai K, Sun G, Ye P, Tian E, Yang S, Cui Q, Sun Gu, Trinh D, Sun, O, Hong T, Wen Z, Kalkum M, Riggs AD, Song, H, Ming G-L, and Shi Y. 2016. The TLX-miR-219 cascade regulates neural stem cell proliferation in neurodevelopment and schizophrenia iPSC model. Nature Communications 7:10965. Doi: 10.1038/ncomms10965.
Cui Q, Yang S, Ye P, Tian E, Sun G, Zhou J, Sun Gu, Liu X, Chen C, Murai K, Zhao C, Azizian KT, Warden C, Yang L, Wu X, D'Apuzzo M, Brown C, Badie B, Peng L, Riggs AD, Rossi JJ, and Shi Y. 2016. Downregulation of TLX induces TET3 expression and inhibits glioblastoma stem cell self-renewal and tumorigenesis. Nature Communications 7:10637. Doi: 10.1038/ncomms10637.
Murai K, Qu Q, Sun G, Ye P, Li W, Asuelime G, Sun E, Tsai GE, and Shi Y. 2014. Nuclear receptor TLX stimulates hippocampal neurogenesis and enhances learning and memory in a transgenic mouse model. PNAS 111: 9115-9120 (Featured highlight in Nature Review Neurosciences).
Zhang R-R, Cui Q-Y, Murai K, Lim YC, Smith ZD, Jin S, Ye P, Rosa L, Lee YK, Wu H-P, Liu W, Xu Z-M, Yang L, Ding Y-Q, Tang F, Meissner A, Ding C*, Shi Y*, Xu G-L*. 2013. Tet1 regulates adult hippocampal neurogenesis and cognition. Cell Stem Cell 13: 237-245. (*co-corresponding authors).