Bispecific antibodies are formidable options for patients with persistent blood cancers, without the side effects of chemotherapy. City of Hope is exploring their use in clinical trials
For many years, chemotherapy has been the standard treatment for most cancers. While these drugs are often effective, they can come with a host of side effects. Thankfully, City of Hope researchers and physicians are constantly seeking out new therapies that lead to fewer negative reactions and improve outcomes. For blood cancers, they have found a promising chemotherapy alternative in bispecific antibodies.
"The mechanism or action of this treatment is to harness the power of one's own immune system to take care of one's own cancer cells," says Elizabeth Budde, M.D., Ph.D., associate professor in City of Hope's Division of Lymphoma in the Department of Hematology & Hematopoietic Cell Transplantation, who is leading several clinical trials of bispecific antibodies. "Chemotherapy is nonspecific, meaning the drugs move through the whole body, causing potential side effects like hair loss and gastrointestinal issues. With bispecific antibodies, we can laser focus in on just the cancer cells."
Unlike conventional antibody drugs that only bind to one target or antigen, like bacteria or cancer cells, bispecific antibodies are engineered to bind to two targets: cancer cells and T cells. This remarkable type of immunotherapy engages the T cells to recognize and destroy the cancer cells, while also acting as a bridge between the two, pulling the tumor cells closer to the activated T cells, making it easier for them to seek out and kill the cancer. Because the process for destroying the cancer cells is so targeted, the rest of the body is often spared the kind of side effects one might experience with chemotherapies. 
"Bispecific antibodies will be able to work even in patients who are immunocompromised, as long as they still have immune cells," says Budde. "Bispecific antibodies have a way to really wake up those immune cells and ask them to execute the cancer."
Managing Multiple Myeloma
A handful of bispecific antibody treatments are in various stages of clinical trials at City of Hope. Amrita Krishnan, M.D., director of the Judy and Bernard Briskin Center for Multiple Myeloma Research at City of Hope, has been investigating three different bispecific antibodies for use in multiple myeloma, a currently uncurable type of blood cancer.
Teclistamab, a bispecific antibody recently approved by the Food and Drug Administration (FDA) for multiple myeloma, is currently being used in patients with relapsed disease who have tried four or more other lines of treatments and are still struggling. It targets the B cell maturation antigen, which is heavily present on myeloma cells and only minimally present on other cells.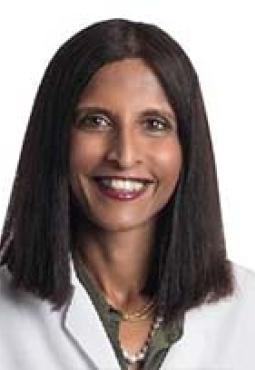 "This is filling a previously unmet need for that group of patients who have exhausted the other major classes of myeloma therapy," explains Krishnan, who led clinical trials of the drug at City of Hope. "And, unlike CAR T cells, which need to be manufactured, teclistamab is an off-the-shelf medication, giving us an immediately available option for patients with advanced disease."
Now, she and other researchers have developed a Phase 3 trial combining teclistamab with other drugs for use in newly diagnosed multiple myeloma patients who cannot receive or do not wish to undergo an autologous stem cell transplant as an initial treatment.
"I'm hopeful that we'll be able to use teclistamab earlier in the course of disease, when the immune system is healthier," says Krishnan, who aims to open the new trial this year. 
She was also part of a recent clinical trial of another off-the-shelf bispecific antibody developed by Janssen called talquetamab, whose target, a protein called GPRC5D, represents a new approach for destroying multiple myeloma cells. It was granted a Breakthrough Therapy Designation in 2022, which helps expedite the development and regulatory review of promising investigational medicines. Study data presented at the annual American Society of Hematology conference in December, including extraordinary response rates in patients with refractory disease, excited many of the attendees.
Talquetamab, if approved by the FDA, would give patients who have exhausted all their options yet another chance to prolong their lives, says Krishnan. 
"The responses to talquetamab tend to be rapid, and the responses also tend to be deep," says Krishnan, who notes that trials for the bispecific antibody are ongoing. "And we are starting to see durable responses. All that is very encouraging. It's very exciting to have many more options for our patients."
Defeating Lymphomas
For patients with relapsed or refractory follicular lymphoma, the most common slow-growing form of non-Hodgkin's lymphoma, a bispecific antibody made by Genentech called mosunetuzumab was approved in late 2022 by the FDA. Budde led clinical trials of the drug at City of Hope that showed mosunetuzumab to have paradigm-changing potential as a new treatment option for people with follicular lymphoma, with 80% of patients responding positively to the treatment.
Mosunetuzumab uses bispecific antibodies to act on two cellular targets: the CD3 protein on T cells, an immune cell that can help in the fight against cancer if engaged, and CD20, a protein commonly found on lymphoma cells. 
'Bispecific antibodies have a way to really wake up those immune cells and ask them to execute the cancer.'
Elizabeth Budde, M.D., Ph.D.
"A lot of patients with lymphomas, when you do a blood count, they still have different kinds of immune cells, like T cells, needed to fight disease, but those cells are allowing cancer cells to coexist for some reason," says Budde. "The immune cells are exhausted or suppressed. Once mosunetuzumab is administered, it finds the lymphoma cells and slaps the T cells, waking them up and directing them to kill the lymphoma cells." 
Budde started the City of Hope clinical trial of mosunetuzumab in 2015, offering it to patients like Juan Yee, who either had lymphoma that kept returning or disease that wasn't responding to other treatment options. After two previous rounds of chemotherapy, Yee was ready to give up. Now, he's been in complete remission for more than four years. 
"Thanks to Juan's participation, along with other brave patients, our study demonstrated that a pure immune therapy based on bispecific T cell-engaging technology is proving to work very well with high response rates — and safely — in blood cancer patients who need more effective therapies and with fewer side effects," says Budde. "It's a perfect therapy in my eyes — it really represents what immunotherapy could be."
In addition to being tolerated well with few side effects, mosunetuzumab is readily available off the shelf without a manufacturing wait time — a limitation of CAR T cell therapy — and can be given in an outpatient setting. This means that community oncologists can provide it to patients who might not be able to travel far to a designated treatment center.
Getting FDA approval for advanced patients was just the first step, says Budde. Now, she has her eye on newly diagnosed patients, with the hope that bispecific antibodies will be effective for this patient population, too. She is currently involved in a clinical trial testing mosunetuzumab in earlier stages of the disease. Additional trials are looking at combining the molecule with other nonchemotherapy drugs to further improve outcomes as well as testing the idea that the drug can be given as a subcutaneous shot instead of an intravenous injection, which would be a much more convenient method of administration.
 "At City of Hope, the integration of scientific research and clinical trials allows us to deliver groundbreaking science and treatments from laboratory to patient," says Budde. "We're providing access to tomorrow's medications."