Older patients battling cancer face unique challenges that must be clearly identified, addressed and accommodated
One of William Dale, M.D., Ph.D.'s, first patients at City of Hope was a 90-year old breast cancer survivor who needed help with pain management. She was so impressed with Dale, she made him her primary-care physician.
"He's really a great doctor," she said. "I've been a challenge. But Dr. Dale doesn't give up. He tries everything. He's so knowledgeable and caring. I trust him."
It would be a gross understatement to say that Dale, the Arthur M. Coppola Family Chair in Supportive Care Medicine and director of the Center for Cancer and Aging, takes the trust of senior patients seriously. In fact, he's made it a pillar of his career.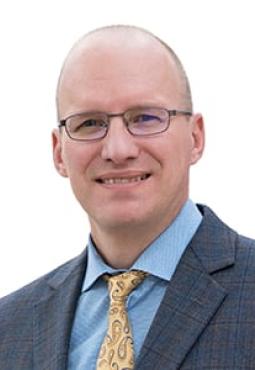 "Even when I was little, I preferred hanging out with adults and older people," he said. "My parents got quite a few comments about that." He remembers the fascinating stories told by grandparents and great-grandparents. "I have such reverence for their experience, their sense of history. And they had such great stuff to tell me."
As a medical student, he bonded with World War II vets at a VA hospital ("I felt privileged to be there, and I hated to leave for my next rotation"). At the University of Chicago, he created the first Specialized Oncology Care & Research in the Elderly (SOCARE) clinic (for frail patients over 75), then did the same as soon as he arrived at City of Hope.
Dale wants the rest of the world to see what he sees, to know what he knows: Older patients battling cancer face unique challenges that must be clearly and specifically identified, addressed and accommodated, or their treatment may be less effective and even possibly cause harm.
He relentlessly carries that message everywhere he goes, most recently to a gathering of the International Society of Geriatric Oncology at the United Nations' International Headquarters in Geneva, Switzerland.
The message is getting through, starting with the very bedrock of City of Hope.
"Cancer and aging was always listed simply as an 'area of interest' each time City of Hope applied to renew its status as a comprehensive cancer center," Dale explained. But the upcoming renewal application will highlight a much deeper commitment, embedding the treatment of senior patients as a basic component in every department of the institution.
The Geriatric Assessment
One driver of this new thinking is a powerful tool, pioneered at City of Hope, that is redefining senior care: the geriatric assessment.
All senior cancer patients complete a comprehensive survey that looks at multiple aspects of their lives, including their ongoing medical conditions, the medications they take, their relative independence, social and support networks and their treatment preferences (some may want aggressive measures aimed at longevity, others prefer a less harsh approach, emphasizing quality of life). 
"When you present this geriatric assessment to providers," explained Dale, "they start to think differently. They alter their decision-making, adjusting chemotherapy doses, for example. 
"Also, if we learn from the assessment that a particular senior is taking too many meds or is prone to falling, we can do interventions to fix that."
Sounds like simple common sense, but it's much more. Two recent clinical trials have demonstrated how valuable the geriatric assessment can be. The studies, published in JAMA Oncology and The Lancet, showed that seniors receiving extra services generated by the geriatric assessment experienced overall better outcomes. They had lower toxicity rates from chemo and their survivorship numbers did not go down, even if their chemo doses were reduced to accommodate age and other factors.
Dale and his team are pushing hard to make the geriatric assessment the new standard of care beyond City of Hope. It can be a tough sell. Dale says currently only about 20% of all oncologists make use of the assessment. Many complain it's too time consuming to absorb all the varied information. Dale is responding with an effort to create a shorter, streamlined practical geriatric assessment, which more institutions are likelier to adopt. It's important, Dale says, because the one-size-fits-all mentality simply doesn't work.
"The geriatric assessment tells us that you can't use one standard set of measurements to put people on the right path." he said. "There are fit seniors, frail ones and folks in the middle who are potentially vulnerable," and each group will react differently.
Aging and Wellness
Another effort, funded by a $2 million Rising Tide Foundation grant, will examine the geriatric assessment in five clinical trials, each focused on a different type of cancer. "We hope to learn what specifically this kind of intervention can accomplish for patients with lung, prostate, breast and other cancers," Dale said. 
The Rising Tide project is part of a larger program known as GOTO, the Geriatric Oncology Therapy Optimization, a national effort led by Dale, aimed at ending the practice of testing new cancer treatments exclusively on young, healthy people, ignoring the very seniors who will benefit the most. 
"These trials will work together in a new way, setting a new standard in the field of cancer and aging," said Steven Rosen, M.D., the Irell & Manella Cancer Center Director's Distinguished Chair, provost and chief scientific officer at City of Hope.
Yet another study will look at the value of bringing geriatric assessments to community facilities.
Putting all this research into practice, senior patients can now visit the new Aging Wellness Consult Clinic at the main City of Hope campus in Duarte. This is where patients over 65 who are about to begin chemotherapy can get their geriatric assessment and have their unique needs attended to.
"Oncologists send us their senior patients, and we know it makes a difference," said geriatric nurse practitioner Leana Chien. "Older people come in with many problems. If we didn't address them, their cancer treatments could make them worse."
Patients are grateful for this extra measure of attention.
"They can't believe our care is so comprehensive," continued Chien. "They see our clinic as the 'glue' that holds it all together, that makes sure everything gets done for them." Chien says much of that 'glue' will also be available via telehealth, for patients who can't get to the clinic, "because access can be a real problem" for many seniors.
Dale says he's "incredibly proud" of the work done by the Center for Cancer and Aging and the broader national Cancer and Aging Research Group, which has grown to more than 500 members. He feels he's on a critical mission at precisely the right time.
"I like being relevant," he says. "It's very exciting. I like that seniors are going to be treated better and that City of Hope is in exactly the right place for that effort."
The Department of Supportive Care Medicine at City of Hope was the first in the United States to fully integrate across supportive care specialties and into the patient's clinical care and is one of the largest programs of its kind today. The program provides cancer patients with comprehensive physical, psychological, social and practical support services, including care navigation; survivorship programs; specialists in cancer and aging; Child Life specialists; psychological and spiritual counseling; pain management; integrative medicine such as yoga, massage and meditation; and more — all with a focus on maximizing patient and family strengths, quality of life and the ability to best engage in their treatment journey and beyond. Thanks to a gift from the Biller Family Foundation, City of Hope is working to expand this offering across its cancer care system and to advocate for establishing supportive care as a standard best practice for cancer care in the United States.