Alpha Clinic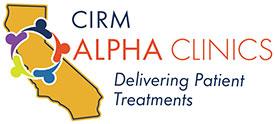 The mission of the City of Hope Alpha Clinic, part of the CIRM Alpha Clinic Network, is to deliver cellular and gene therapy clinical trials to patients, with the goal of putting patient-centered clinical trials within reach for as many people as possible in California and beyond. Strategic collaborations with medical centers throughout the state will leverage resources in cellular and gene therapies to promote efficiency and accelerate success.
Program Overview
Initially funded in 2015 and renewed in 2022 with a five-year, $8 million grant from the California Institute for Regenerative Medicine, the City of Hope Alpha Clinic is part of a statewide Alpha Clinic Network that works to accelerate the development of cutting-edge therapies and their delivery throughout California.
City of Hope has long been a leader in developing new therapies and has a large network of satellite centers throughout Southern California. This uniquely positions us to move groundbreaking new treatments into communities, delivering lifesaving care to patients closer to their homes.
To do this, the Alpha Clinic will build a clinical trials infrastructure throughout the City of Hope satellite network that facilitates enrolling underserved patients on clinical trials. First, the Alpha Clinic will work to increase capacity at every stage of our existing clinical trial pipeline in order to treat more patients expeditously, and to move them efficiently into the outpatient setting on our Duarte campus. Second, we will help train the workforce required to sustain these efforts over time. Finally, we plan to work with Alpha Clinic Network partners and private companies to incorporate and execute new concepts in clinical trial design and implementation. In order to meet the growing need for cell and gene manufacturing, the Alpha Clinic will collaborate with City of Hope's Center for Biomedicine and Genetics and Cellular Therapies Production Center and, for help with IND filing, we will work with the Office of IND Development and Regulatory Affairs. By partnering with patient advocates and community stakeholders we will meet the emerging needs of a diverse and decentralized patient population to provide cutting-edge care across our entire network.
For more information about this program, please email alphaclinic@coh.org.