The Wanek Family Project for Type 1 Diabetes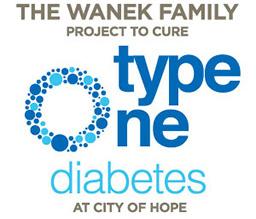 A comprehensive strategy to cure type 1 diabetes
At City of Hope, we are committed to designing highly effective treatments, preventions and cures for patients coping with type 1 diabetes. 
Building on the pivotal breakthroughs made in precision medicine over the last few years, our experts are creating powerful new approaches to treating type 1 diabetes — approaches that will move beyond just managing the disease to curing it. 
We now know that many patients with diabetes maintain a reserve of insulin-producing cells that may be reawakened. Moreover, a deeper understanding of the immune system and advances in immunotherapies for other diseases are helping us develop new methods to modulate the immune attack on the body and protect beta cells. 
Through a private partnership and significant commitment of institutional funds, we have brought together collaborative research teams, appointed world-renowned leaders and recruited top talent from around the world — and this is just the beginning.
Now, we will build upon revolutionary new insights to create cures.
The Wanek Family Project Newsletter
Research and News
See the latest research, findings and news about The Wanek Family Project for Type 1 Diabetes.