Automated High Throughput Screening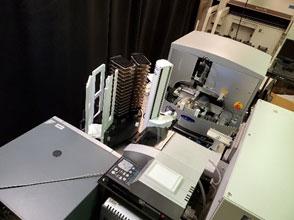 Overlord3 Scheduling Software, a special supervisory software, that allows the control of multiple instruments from one PC. Overlord3 operates in a Windows 10 environment with an easy-to-use drag-and-drop interface. Overlord3 utilizes the native software of ancillary equipment for maximum flexibility. It is easy to program the complex HTS method. In addition, the most complex instruments can be easily integrated with the scheduler. Device drivers for Overlord3 are available for more numerous instruments. We use the scheduling software to integrate all equipment, including KiNEDx Robot, Echo650T Acoustic Liquid Dispenser, PerkinElmer EnSight Plate Reader, BioTek Elx405™ Select Auto Plate Washer, LiCONiC Plate Incubator, BioTek µFill and MultiFlo FX. The major equipment is described in more detail below.
KiNEDx Robot
Programmable rotary robotic plate handler that shuffles microplates between specified instrument positions and plate racks.

Echo650T Acoustic Liquid Dispenser
Echo 650T from Beckman, offers accurate, precise transfer as low as 2.5nL with low CV values (<8% CV). No pins or tips are involved, which eliminates the potential contamination issue and the high costs of tip usage. The Echo "-T" version is the only model on the market that can transfer liquid from both a microtiter plate format as well as 2D barcoded tubes in 96-well format, and can dispense into any format of destination plates. This allows for a fully non-contact liquid handling workflow from sample storage to assay ready plates, which is ideal for both high throughput screenings as well as the post-screening hit pick for follow-up studies. This equipment can also be used for multi-well plate reformatting, cherry-picking and serial dilutions (for IC50) in and out of 384, 1536 and 3456 well plates. It fits the needs of high throughput biochemical and cell-based screening.
PerkinElemr EnSight Plate Reader
This reader allows readout of ultrasensitive luminescence, fluorescence intensity (FI, top and bottom measurements), multi-channel absorbance (filter based as well as monochromator), time-resolved fluorescence (TRF) and whole well-image cytometry. This reader is designed with revolutionary performance with Quad monochromators for Fluorescence and Absorbance technologies, offers true wavelength flexibility for consistent performance over the whole wavelength spectrum-improved sensitivity. Speed wise, it takes about 38 seconds to read a 96-well plate and 74 seconds for a 384-well plate. With EnSight's well-imaging module, we can bring greater physiological relevance to and gain new perspectives on our research. Image cytometry capabilities allow us to generate per-cell data quickly and easily, either fixed or live cells, performing end-point assay, or taking kinetic measurements over time. EnSight imaging module is equipped with 4 excitation LEDs, with a high performing, low noise 16 megapixal sCMOS camera, and 4x Objective lens. This sCMOS camera can read 100x faster than a comparable CCD camera, it can perform Digital Phase-contrast imaging which allows for imaging live cells that have not been labelled fluorescently at greater resolution than Brightfield. With a single-color image, EnSight can image an entire 384-well plate within 4.5 minutes, six/seven minutes for two-color or three-color image. This system's speed is ideal for our high throughput screening purpose. This plate reader Includes Kaleido data analysis software covering a wide range of Toolbox Tasks. This plate reader supports a broad spectrum of applications for primary and secondary screening; receptor-ligand binding studies and other molecular interaction assays, kinase assays, protease assays; G-protein-coupled receptor assays, cell-based assays, DNA/RNA quantification, and applications based on UV fluorometry.
BioTek Elx405™ Select Auto Plate Washer
A plate washer that is capable of washing 96- and 384-well microtiter plates. Users can adjust the flow rate, the dispense/aspiration volume and angle for applications from basic ELISA to cell washings.
 
LiCONiC Plate Incubator
Integrated incubator for a temperature-controlling reaction.
 
BIoTek µFill and MultiFlo FX
µFill is a high-speed 1-µl bulk reagent dispenser that precisely delivers microvolumes of 1-50 µl into 384- and 96-well microplates. This system performs direct, non-contact dispensing into 96- and 384-standard/deep well microplates. . The MultiFlo FX is an automated multimode reagent dispenser for 6- to 1536-well microplates, this system incorporates several unique technologies in its modular design, such as Parallel Dispense, random access dispense (RAD) and patented Automated Media Exchange (AMX) modules. Specifically, MultiFlo FX enable liquid handling applications from 2D and 3D cell culture.