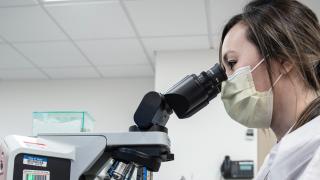 Sharing state-of-the-art equipment and resources, and the expertise to apply them to meaningful research, are crucial to the pursuit of new treatments and potential cures. They're key pillars of our status as an NCI-designated Comprehensive Cancer Center.
Available Shared Resources
City of Hope and Beckman Research Institute offer a host of resources meeting researchers' needs for specialized equipment, services or expert consultation. Search our available shared resources below.
Comprehensive Cancer Center Supported Shared Resources
City of Hope Shared Resources
Research at City of Hope
As an independent biomedical, treatment and education center, City of Hope is focused on basic and clinical research in cancer, diabetes and other life-threatening diseases.
Review credentials and background information for any of our researchers or faculty.
 
Our labs play a key role in our ability to move from bold, innovative concepts to powerful new treatments swiftly.
 
Join one of our forward-thinking, interdisciplinary teams of investigators, renowned researchers and postdoctoral fellows.