Drug Discovery and Structural Biology
The Drug Discovery and Structural Biology Shared Resource (DDSB-SR) collaborates with COHCCC Members to validate, develop, optimize, and translate novel therapeutics. To accomplish this, the DDSB-SR provides a comprehensive range of drug discovery services spanning computational modeling; high throughput screening (HTS); synthetic organic chemistry/medicinal chemistry, peptide synthesis, modified DNA/RNA oligonucleotide synthesis, and expertise in protein structure and biophysical methods. These highly specialized services provide COHCCC Members with a cohesive and comprehensive platform to rapidly and successfully translate their scientific discoveries to meaningful clinical outcomes.
Equipment includes liquid handling robots; peptide and oligonucleotide synthesizers; multiple incubators and fast protein liquid chromatography systems; analytical instrumentation to characterize molecular interactions (surface plasmon resonance [SPR], isothermal titration calorimetry, analytical ultracentrifugation, circular dichroism with thermal control, etc.); NMR and mass spectrometers for small molecules; and equipment for macromolecular determinations (crystallization and visualization robots and a diffractometer). The DDSB-SR is co-directed by
Drs. David Horne and John Williams, Professors in the Department of Molecular Medicine who are supported by a highly qualified staff. Since 2017, the DDSB-SR has synthesized more than 300 small molecules, 500 peptides, and 950 oligonucleotides (aptamers, GpC-conjugates, etc.). During that same period, >5000 crystallization and optimization trials were conducted, 1000s or crystals were screened for diffraction, >750 crystal structures/complexes were determined, and >600 SPR experiments, 35 in silico screening/molecular dynamics projects, and 23 HTS projects were conducted. DDSB-SR work has led to a significant technology portfolio involving 50 patents, 51 pending applications, and four exclusive licenses, as well as substantial sponsored research agreements (one valued at $876K) and royalty payments ($>1M).
Basic Text Field
Specific Aims of the DDSB-SR:
Aim 1. High throughput small molecule screening and fragment-based screening.
Aim 2. Medicinal chemistry and solid phase synthesis of custom peptides & oligonucleotides of high structural complexity.
Aim 3. Protein production and purification, molecular interaction analysis, and diffraction studies.
Aim 4. Cutting-edge computational methods to support the design new therapeutic agents.

Members Utilization by %Revenue 2017–21: 99.5 Total (33 MCBC, 17.1 DCT, 23.2 CI, 25.8 HM, 0.3 CCPS)
Publications by Members: 99, 36 with Impact Factor >10
Grants Supported: 46Total (1 ACS, 2 CIRM, 2 DoD, 1 LLS, 25 NCI of 36 NIH (28R01))
Contact the Team
To request or initiate services, please login or register via iLab Solutions. For any additional questions, please contact David Horne.
Using the Drug Discovery and Structural Biology Facility
Drug Discovery and Structural Biology Services
Basic Text Field
The core comprises four major service components:
These disciplines work together in a complementary and cohesive manner to provide a full array of early-phase drug discovery services and chemical probes for biological systems. The high throughput screening component of the DDSB, for example, provides unique opportunities for the discovery of small-molecule inhibitors of targeted proteins. Following such discoveries, lead compounds can be elaborated through medicinal chemistry and structural activity relationship studies. Once a good lead compound is developed in such a case, X-ray crystallographic analysis of the drug-protein complex begins. This analysis is an essential component of any drug development process since its observations are critical to understanding drug-protein interaction and facilitate the optimization of ligand binding by molecular design.
The general capabilities of the DDSB Core are significant and include the design and synthesis of highly specialized biopolymers, including siRNA-aptamers, DNA-peptide hybrid derivatives, and peptides >100 amino acids in length. In addition, the core maintains expertise in synthetic organic chemistry and is capable of synthesizing complex molecules and small-molecule agonists and antagonists, imaging agents, affinity ligands, nanoparticles, and focused combinatorial libraries. These compounds are used for mechanistic studies in chemical biology, in the generation of lead compounds for drug discovery, in drug optimization for preclinical evaluation, and, ultimately, in the development of new targeted cancer therapeutics.
The DDSB can synthesize all structural classes, from small to large organic molecules, including air- and light-sensitive materials. Additionally, the synthetic component of the DDSB works closely with the Chemical GMP Synthesis core facilities in developing good manufacturing practice synthesis processes for investigations of new drug submissions.
Another significant aspect of the DDSB lies in the structural characterization of drug-protein complexes by X-ray crystallography and other biophysical techniques, such as surface plasmon resonance, isothermal titration calorimetry and analytical ultracentrifugation.
Any subcomponent of the DDSB can be used on a stand-alone basis for a specific application.
Find a Clinical Trial
In a given year, City of Hope conducts more than 400 clinical trials enrolling more than 6,000 patients.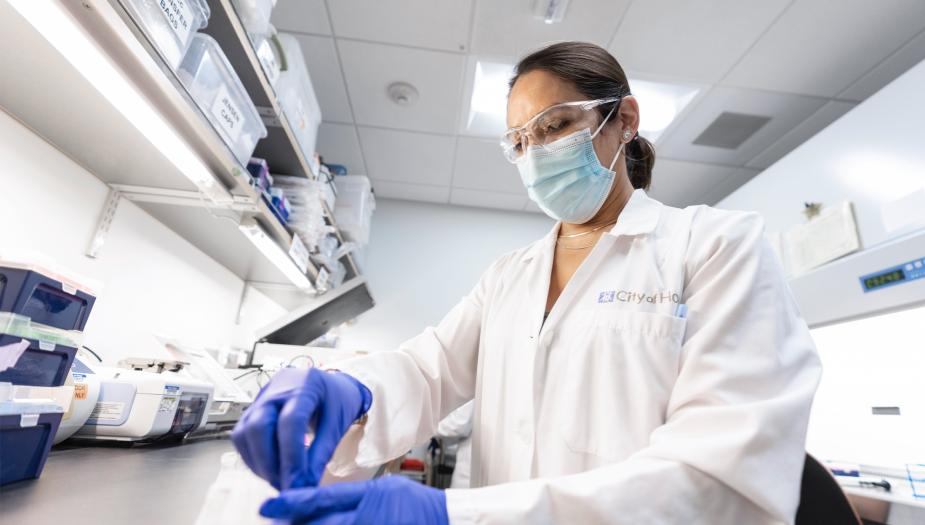 Research at City of Hope
City of Hope is focused on basic and clinical research in cancer, diabetes and other life-threatening diseases.