Integrated Mass Spectrometry
The Integrated Mass Spectrometry Shared Resource (IMS-SR) provides extensive mass spectrometry services to the City of Hope Comprehensive Cancer Center (COHCCC) Members. The IMS-SR operates across both COH and TGen sites under the leadership of Dr. Patrick Pirrotte. Dr. Pirrotte is a faculty member in the Cancer and Cell Biology Division at TGen, the Department of Immuno-Oncology at COH (Beckman Research Institute), and a COHCCC Member. IMS-SR offers a comprehensive roster of state-of-the-art, yet cost-effective services built on an extensive knowledge of mass spectrometry (MS) and its applications in cancer.
Projects initiate via interactive consultation with the IMS-SR Director and dedicated staff. The IMS-SR is structured around a proteomics unit and a metabolomics unit and houses expertise in acquiring/analyzing high-dimensional, multi-omics data in both units [i.e., (phospho)-proteomics, metabolomics, and lipidomics]. High-end instrumentation (e.g., 1x Orbitrap Eclipse, 2x Orbitrap Lumos, 1x Orbitrap Fusion, 3x triple quadrupole MS, 1x quadrupole time-of-flight, etc. totaling 11 instruments) are operated by highly trained staff with expertise in molecular and cancer biology, as well as analytical chemistry. Data acquisition is supported by robust analytical pipelines for streamlining data harmonization and integration, quality control tracking, and generating publication-quality data reports. IMS-SR also supports COHCCC investigators with incorporating their MS-based findings into grants and manuscripts. IMS-SR accelerates drug development at COH by offering cGMP services (FDA#3009323645) to characterize oligonucleotides, small-molecule active pharmaceutical ingredients, and peptide drugs. New services in high demand include targeted NAD/NAR and nucleotide profiling to dissect cancer metabolism through novel assays designed at IMS-SR. The resource also provides deep expression proteomics, proteogenomics, and extensive phosphoproteomic signaling assays, including kinome activity scoring of patient tumors to identify putative therapeutic targets. General administrative oversight is provided bi-annually by a faculty Advisory Committee and through the COH Shared Resource Steering Committee (SRSC), which meets bi-monthly.
Basic Text Field
Specific Aims of IMS-SR:
Aim 1. Provide oncology-focused, state-of-the-science MS measurement capabilities.
Aim 2. Provide COHCCC Members with expert QC/data analysis and multi-omic integration.
Aim 3. Education, reporting, and dissemination of results.
Members Utilization by %Revenue 2017–21: 72.2 Total (38 MCBC, 11.8 DCT, 10.4 CI, 11.6 HM, 0.4 CCPS)
Publications by Members: 63, 18 with Impact Factor >10
Grants Supported: 45 Total (2 CIRM, 4 DoD, 1 LLS, 17 NCI of 33 NIH (26 R01))
Basic Text Field
ESI mass spectrometry (nanoelectrospray) for determination of monoisotopic mass
ESI MSn analysis (nanoelectrospray) for structure confirmation
LC-MS analysis
LC-MS/MS analysis and quantitation of small molecules, metabolites, lipids and peptides.
Multidimensional peptide separations by HPLC with automatic fraction collection
Separation of proteins by off-gel electrophoresis, SEC or GelFree apparatus
GeLC-MS/MS: Sample preparation (reduction, alkylation and protein digestion) and proteomics analysis of Coomassie Blue and Silver-stained SDS-PAGE gels
Discovery Proteomics: Comprehensive characterization of proteome combining in-solution digestion, peptide pre-fractionation and mass spectrometry measurements on the Thermo Orbitrap Tribrid (Fusion, Lumos or Eclipse) or Bruker timsTOF Pro II platform.
Quantitative Proteomics: Comparative proteomics analysis using Label-Free Quantification methods, isobaric labeling methods (iTRAQ/TMT) or metabolic labeling (e.g. SILAC)
Targeted Proteomics: Highly sensitive, accurate and reproducible measurement of selected protein targets via MRM (QqQ platform) or PRM (Tribrid platform) method.
PTM Discovery: In-depth identification and analysis of various post-translational modifications such as phosphorylation, methylation, succinylation on proteins.
Mass Spectrometry based immunoprecipitation proteomics: Identification of protein-protein interactions and characterization of protein complexes
Targeted and untargeted lipidomics
Untargeted Metabolomics : Comprehensive metabolome profiling using hydrophilic and reversed phased chromatographic separation and measurements on the Thermo Orbitrap Tribrid (Lumos or Eclipse)
Targeted Metabolomics : Development of targeted and semi-targeted metabolite panels and quantitative measurements  in wide array of biological matrices in small to large cohorts
Protein identification using database search programs such as Proteome Discoverer, MaxQuant, PEAKS Studio, Byonic, SEQUEST and MS-AMANDA.
LipidSearch and MS-Dial/LipidBlast in silico database search for lipid identification
Compound Discoverer, MS-Dial, Progenesis QI and Elements data analysis and database search for metabolomics
cGMP ESI MSn analysis (nanoelectrospray) for peptide sequence confirmation.
Please note: All GMP work requires Quality and Service Agreements prior to analysis. Please contact the facility director for more information.
Melissa Martinez, M.Sc.
Research Associate III, Integrated Mass Spectrometry
Laboratory Manager, Collaborative Center for Translational Mass Spectrometry (TGen)
mmartinez@tgen.org
Contact the Team
To request or initiate services, please login or register via iLab Solutions. For any additional questions, please contact Patrick Pirrotte.
Thermo Scientific Orbitrap Eclipse with FAIMS Pro, ETD, APD and AcquireX coupled to Thermo Scientific Dionex Ultimate 3000 RSLCnano UHPLC with HPG
Thermo Scientific Orbitrap Fusion Lumos with UVPD, APD and AcquireX coupled to Thermo Scientific Dionex Ultimate 3000 RSLCnano UHPLC
Thermo Scientific Orbitrap Fusion coupled to Thermo Scientific EASY-nLC 1000 UHPLC
Thermo Scientific Orbitrap Fusion Lumos with FAIMS Pro, ETD, APD and AcquireX coupled to Thermo Scientific Dionex Ultimate 3000 RSLCnano UHPLC
Bruker timsTOF Pro II coupled to Bruker nanoElute UHPLC
Thermo Scientific TSQ Altis coupled to Vanquish Horizon UHPLC
Waters TQD triple quadrupole coupled to Waters H Class UHPLC
Agilent 6490 triple-quadupole mass spectrometer with iFunnel equipped with an Agilent 1290 UHPLC system for LC/MS/MS analyses for accurate quantitation
Dionex Ultimate 3000 UHPLC for metabolomics, lipidomics and for peptide fractionation with automatic fraction collection and with UV detection
Advion Triversa Nanomate-robotic nanoESI Chip Source for Orbitrap Lumos/Fusion for shotgun analysis of peptides, lipids and nucleotides
Other equipment
Agilent 3100 OFFGEL Fractionator for protein fractionation with in-solution recovery. Uses isoelectric focusing to achieve pI-based fractionation.
GelFree 8100 Fractionation System for mass spectrometry sample preparation partitions complex protein mixtures into user-selectable liquid-phase molecular weight fractions. Intact protein molecular weight fractionation, isolation and purification with liquid-phase recovery without band or spot cutting.
Workstations, Software and Data Storage
Eight workstation and virtual machines for data analysis
Database and de novo peptide search systems for protein identification running on in-house workstations: Proteome Discoverer (Thermo)/Sequest/Mascot (Matrix Science), Byonic (Protein Metrics), MaxQuant/Andromeda (Max Planck Institute), Progenesis QI for Proteomics (Waters), SIEVE (Thermo), PEAKS Studio (Bioinformatics Solutions Inc.) and Scaffold Q+S (Proteome Software).
Peptide fragment ion prediction and annotation software developed in house: Pep-O-Matic and Peptide Assistant
Software for metabolomics and lipidomic identification and quantification: LipidSearch (Thermo), Compound Discoverer (Thermo), Progenesis QI (Waters) and MS-Dial/LipidBlast (UC Davis)
Nucleotide fragmentation prediction and annotation: OMA and OPA (University of Bern)
Xcalibur (Thermo), MassHunter (Agilent), MassLynx (Waters) and Chromeleon (Thermo)
High performance computer cluster, 100TB All Flash DellEMC Isilon, 3280 computer nodes and 10GB Networking
PowerEdge T630 Server (Dell/Intel) with 54TB storage and PowerVault storage system (Dell) with 196TB data capacity
Find a Clinical Trial
In a given year, City of Hope conducts more than 400 clinical trials enrolling more than 6,000 patients.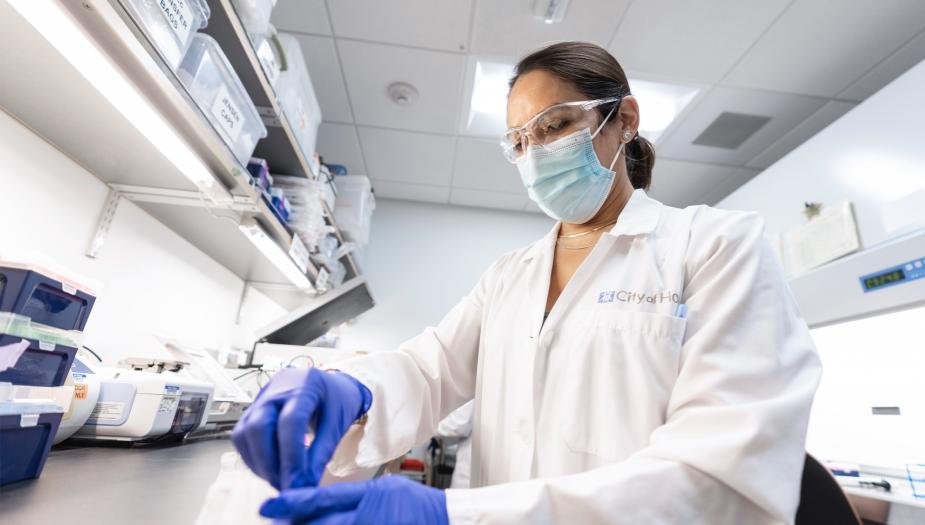 Research at City of Hope
City of Hope is focused on basic and clinical research in cancer, diabetes and other life-threatening diseases.