Best Breast Cancer Survival Results in Southern California
City of Hope provides innovative and groundbreaking techniques for the treatment of breast and gynecologic cancers. In fact, based on SEER results, City of Hope has superior breast cancer survival outcomes in the greater Los Angeles region, with a higher percentage of breast cancer survivors over the past 10 years.
These results are achieved with a holistic approach to treatment and comprehensive support, and an emphasis on delivering innovative screening, surgical, repair and reconstruction services along with world-class care.
Highlights
Highest breast cancer survival rates in the Los Angeles region based on SEER (Surveillance, Epidemiology and End Results) on Los Angeles regional cancer facilities
A National Cancer Institute-designated comprehensive cancer center
Patient-centered, customized treatment plans from diagnosis to remission and beyond
Extensive follow-up and ongoing support after treatment through City of Hope's Survivorship Program
 
In the graphs below, City of Hope's survival outcomes (in blue) are plotted alongside SEER results for other Los Angeles Regional Cancer Facilities (in orange). The results are dramatic. In fact, median survival time for City of Hope patients with stage IV breast cancer is nearly 50% better (or longer) compared to other Los Angeles regional cancer facilities.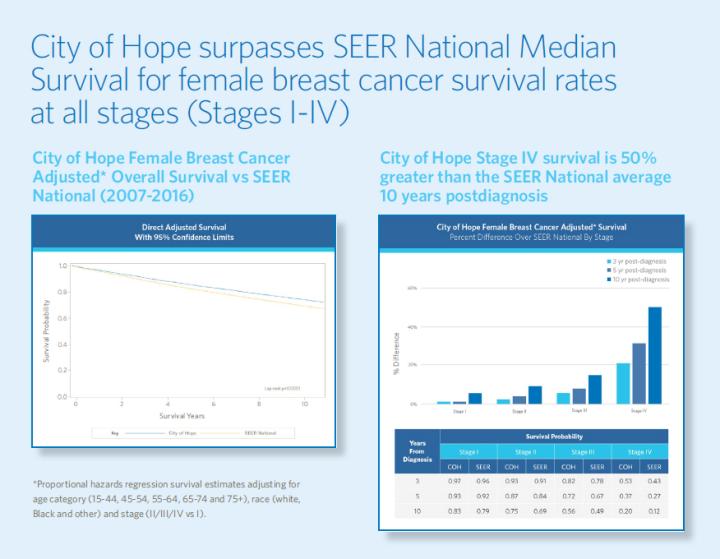 Request a consultation