About Rachmiel Levine, M.D.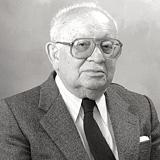 Rachmiel Levine, M.D., was born on Aug. 26, 1910 in Eastern Poland. At the age of 6, he suffered the loss of his mother and 10 years later, his father died in an anti-Jewish riot in the Ukraine. At the age of 16, Levine discovered that he had relatives who lived in America and attempted to relocate to the United States. Unable to obtain the visa to come to the United States, he emmigrated to Canada and was adopted by a Canadian physician. His first career choice was mathematics, but the depression of the 1930s influenced his decision to instead enter the field of medicine.
 
Levine received his undergraduate degree in 1932 and continued his education at McGill University, where he obtained his medical degree with honors in 1936. After medical school, he relocated to work in the field of diabetes research with Samuel Soskin, M.D., Ph.D., at Michael Reese Hospital in Chicago, Illinois. Levine completed his internship and residency training at the Michael Reese Hospital between the years 1936-1938. From the years 1942-1960, he served as director of the Department of Metabolism, chairman of the Department of Medicine and director of Medical Education at Michael Reese Hospital. He later relocated to New York Medical College, where he served as chairman of the Department of Medicine from 1960-1971.
 
In 1971,  Levine became the executive medical director at City of Hope in Duarte, California. He served as director for eight years and, in 1984, City of Hope honored him with the title, deputy director for research emeritus.
 
Levine's research strengths were initially illustrated in his first published paper with Soskin entitled, "The Effects of Blood-Sugar Level on Glucose Utilization." With this research study, he introduced the theory that the greater the amount of glucose present in the blood, the greater the amount that is used by the body. In 1946, he published a book entitled, "Carbohydrate Metabolism." The publication of this book helped lay the base for future diabetes studies through its concise basic science summary. In 1949, he gained the title, "Father of Modern Diabetes Research," by becoming the first scientist to discover the role of insulin in glucose metabolism. While studying at Michael Reese Hospital in Chicago, Levine and his colleagues, Soskin and Maurice Goldstein, M.D., determined "insulin's mechanical role in glucose metabolism." Contrary to the assumption that glucose molecules freely passed through the cell membrane, Levine's theory, known as the "Levine Effect" or transport theory, suggested that insulin served as the key regulatory factor for the transport of glucose into the cells. Levine theorized that insulin stimulates the transport of glucose from blood to fat/muscle cells and thus lowers blood glucose level.
 
Levine's greatest challenge was to prove his theory to the scientific community. To dispel the ideology that insulin only served in the chemical metabolism of glucose once inside the cell, he performed the following experiment. He injected dogs with galactose and then with galactose plus insulin, and measured the amount of galactose in the blood. Galactose is similar to glucose, in that it can be equally transported across the cell membrane. However, once inside the cell, galactose cannot be metabolized like glucose. If successful, the test would show that galactose could only be transported across the cell membrane in the presence of insulin. Levine's tests proved that galactose collected in the cells and, as a consequence, galactose levels in the blood dropped.

Although Levine and his colleagues were able to publish their theory, it took them years to thoroughly convince the scientific community. Once accepted, this theory opened up doors to a new era of hormone research.
 
Levine's research success continued at City of Hope as he developed the City of Hope Diabetes Program. In 1978, he encouraged Arthur D. Riggs, Ph.D., the Samuel Rahbar Chair in Diabetes & Drug Discovery, and Keiichi Itakura, Ph.D., to genetically engineer E. coli bacteria to produce human insulin. This led to the development of Humulin®, a new preparation of human insulin was the first genetically engineered health care product approved by the Food and Drug Administration, and is now used by millions of people worldwide.
Levine retired from City of Hope on Nov. 15, 1991, but continued to contribute to the scientific community until the last weeks of his life. He left behind a legacy of over 60 years of diabetes research and served as mentor and advisor to many. He set an example for all scientists with his concept of a good scientist: "In my opinion, a good research scientist needs to have endless curiosity and enormous amounts of patience, since answers in the field of research come slowly and most painfully."

Levine was married to the late Anne Gussack, a psychiatric social worker and is survived by his daughter, Judith Anne Feldman, M.D., a Boston psychiatrist, and his son, Daniel Saul Levine, a professor of psychology at the University of Texas at Arlington. Levine died in Boston on Feb. 24, 1998, but will be remembered for his great contributions to the scientific world. Below is a small sample of the awards and honors that he received over the course of his lifetime.
 
Executive Medical Director, Emeritus: City of Hope
American Diabetes Association's Banting Medal
American Diabetes Association's Charles H. Best Medal
Joslin Medal
Thompson Medal
President of Harvey Society
Member of American Association of Physicians
Member of the American Academy of Arts and Sciences
The Spirit of Life

®

 Award: City of Hope
Lydia and Paul Kalmanovitz Chair in the Biology of Nutrition at City of Hope
Honorary Doctorate of Science degrees: Northwestern and McGill Universities
1964-1965: President of the American Diabetes Association
1967-1970: President and currently Life President of International Diabetes Federation
1980: New York College of Medicine dedicates diabetes center in honor of Dr. Levine
1982: Elected into National Academy of Sciences
1986: W.D. Sansum Award
1995: City of Hope dedicated the Rachmiel Levine, M.D., Diabetes Reading Room in its Graff Medical and Scientific Library
References
R Levine, MS Goldstein, B Huddlestun, SP Klein. Action of insulin on the permeability of cells to free hexoses, as studied by its effect on the distribution of galactose. Am J Physiol 163:70-76, 1950.
R Levine, M Goldstein. On the mechanism of action of insulin. Recent Prog Horm Res 11:343-380, 1955.
R Levine. Insulin action: 1948-80. Diabetes Care 4:38-44, 1981.