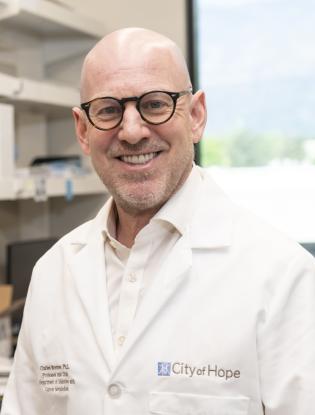 Alfred E. Mann Family Foundation Chair in Diabetes and Cancer Metabolism; Professor, Department of Diabetes & Cancer Metabolism
Research Area
NAD Metabolomics & Systems Biology
Coronavirus Biology
Postpartum, Lactation & Neurodevelopment
Diabesity & Fatty Liver
Genotype-specific Cancer Targeting
Appointments
Alfred E Mann Family Foundation Chair in Diabetes and Cancer Metabolism, Department of Diabetes & Cancer Metabolism
Professor and Chair of the Department of Diabetes and Cancer Metabolism
Charles Brenner is the Alfred E Mann Family Foundation Chair in Diabetes and Cancer Metabolism in the Department of Diabetes & Cancer Metabolism. His laboratory focuses on disturbances in nicotinamide adenine dinucleotide (NAD), the central catalyst of metabolism, in diseases and conditions of metabolic stress.
Among his most significant discoveries, he identified nicotinamide riboside as an unanticipated vitamin precursor of NAD. He also developed a quantitative metabolomic technology that allowed him to discover that the NAD system is disturbed by many diseases and conditions of metabolic stress including diabetes and cancer.
Specifically, Dr. Brenner and colleagues have found that in animal models of fatty liver, type 2 diabetes, diabetic and chemotherapeutic neuropathy, central brain injury, heart failure, postpartum and coronavirus infection, the NAD system is disturbed. In these models, provision of nicotinamide riboside is highly protective.
Dr. Brenner led the team that conducted the first clinical trial of nicotinamide riboside establishing safe oral availability and has participated in trials establishing safety and potential activities of nicotinamide riboside in clearance of liver fat and depression of common markers of inflammation. He continues to research how the NAD system is dysregulated as a function of postpartum, coronavirus infection, inflammatory conditions, diabesity and specific malignancies with the dual goals of defining mechanisms of biological regulation and developing safe preventative and therapeutic interventions for people.
1988-1993, Ph.D., Cancer Biology, Stanford University, Stanford, CA

1979-1983, B.A. with honors, Biology, Wesleyan University Middletown, CT
1993-1996, Postdoctoral Fellow with Drs. Gregory A. Petsko & Dagmar Ringe, Brandeis University, Waltham, MA
2020-present, Alfred E Mann Family Foundation Chair & Professor, Department of Diabetes & Cancer Metabolism, Beckman Research Institute, City of Hope, Duarte, CA

2009-2020, Roy J. Carver Chair & Head, Department of Biochemistry, Professor of Internal Medicine, Founding Director, University of Iowa Obesity Initiative, University of Iowa, Iowa City, IA

2003-2009, Associate Professor (2003-2007), Professor (2007-2009), Departments of Genetics and of Biochemistry, Director, Cancer Mechanisms Program (2003-2009), Associate Director, Basic Sciences, Norris Cotton Cancer Center (2008-2009), Dartmouth Medical School, Lebanon, NH

1996-2003, Assistant Professor (1996-2000), Associate Professor (2000-2003), Department of Microbiology & Immunology, Director (2000-2003), Structural Biology Program, Kimmel Cancer Center, Thomas Jefferson University, Philadelphia, PA

1986-1988, Research Assistant with Dr. Kunihiro Matsumoto, DNAX Research Institute, Palo Alto, CA

1983-1985, Research Assistant with Dr. Anthony J. Brake, Chiron Corporation, Emeryville, CA
2023, American Society for Biochemistry and Molecular Biology

2020, Mary Swartz Rose Senior Investigator Award, American Society of Nutrition

2019, Keynote Lecturer at Norway AGE Conference on NAD, Oslo

2018, Keynote Lecturer at 15th International Symposium on Milk Genomics & Human Health, Sacramento

2018, Dartmouth Technology Transfer Innovation and Commercialization Award

2018, Keynote, Nutritional Ingredients Association-West, Laguna Beach, CA

2017, Co-chair, FASEB Conference on NAD Metabolism and Signaling, New Orleans, LA

2016, Keynote, Lecturer, Des Moines University Regional Research Symposium

2016, CNIO Distinguished Lecturer, Madrid

2016, ASBMB Award for Exemplary Contributions to Education

2015, Keynote Lecturer, Annual Pathobiology Retreat, Brown University

2015, Ackerman Student Lecturer in Biochemistry and Redox Biology, University of Nebraska Lincoln

2014, State of Iowa Regents Award for Faculty Excellence

2012, Fellow of the American Association for Advancement of Science

2012, Holden Comprehensive Cancer Center Oberley Award

2012-2016, ASBMB Today, Chair, Editorial Advisory Board

2009-2012, ASBMB Publications Committee, Chair, 2011-2012

2009, Co-chair, FASEB Conference on NAD Metabolism and Signaling, Carefree, Arizona

2008, Lung Cancer Research Foundation Awardee

2007, William E.M. Lands Lecturer in Nutritional Biochemistry, University of Michigan

1998-2001, Burroughs Wellcome Foundation New Investigator in Pharmacological Sciences

1998-2000, Beckman Young Investigator, Arnold and Mabel Beckman Foundation

1998-2000, Basil O'Connor Scholar, March of Dimes Birth Defects Foundation

1994, Leukemia Society of America Short-Term Scientific Exchange Award, Max-Planck-Institut, Dortmund

1993-1996, Fellow of the Leukemia Society of America, Brandeis University

1988-1992, Program in Cancer Biology trainee, Department of Biochemistry, Stanford University

1979-1983, National Merit Scholar, Wesleyan University

1979-1980, Connecticut State Scholar, Wesleyan University
P. H. Ear, A. Chadda, S. B. Gumusoglu, M. S. Schmidt, S. Vogeler, J. Malicoat, J. Kadel, M. M. Moore, M. E. Migaud, H. E. Stevens & C. Brenner, "Maternal Nicotinamide Riboside Enhances Postpartum Weight Loss, Juvenile Offspring Development, and Neurogenesis of Adult Offspring," Cell Reports. v. 26 (4), pp. 969-983 (2019). DOI: 10.1016/j.celrep.2019.01.007
N.R. Fons, R.K. Sundaram, G.A. Breuer, S. Peng, R.L. McLean, A.N. Kalathil, M.S. Schmidt, D.M. Carvalho, A. Mackay, C. Jones, A.M. Carcaboso, J. Nazarian, M.E. Berens, C. Brenner, & R.S. Bindra., "PPM1D mutations silence NAPRT gene expression and confer NAMPT inhibitor sensitivity in glioma," Nature Communications, v. 10, 3790 (2019). DOI: 10.1038/s41467-019-11732-6
R. Parker, M.S. Schmidt, O. Cain, B. Gunson & C. Brenner, "The NAD+ Metabolome is Functionally Depressed in Patients Undergoing Liver Transplantation for Alcohol-related Liver Disease," Hepatology Communications, v. 4, pp.1183-1192 (2020) DOI: 10.1002/hep4.1530
T.S. Nam, D.R. Park, S.-Y. Rah, T.G. Woo, H.T. Chung, C. Brenner & U.-H. Kim. "Interleukin-8 drives CD38 to form NAADP from NADP+ and NAAD in the endolysosomes to mobilize Ca2+ and effect cell migration" FASEB Journal, v.34, pp. 12565-12576 (2020) DOI: 10.1101/2020.03.24.004739
C.D. Heer, D.J. Sanderson, L.S. Voth, Y M.O. Alhammad, M.S. Schmit, S.A.J. Trammell, S. Perlan, M.S. Cohen, A.R. Fehr & C. Brenner "Coronavirus infection and PARP expression dysregulate the NAD Metabolome: an actionable component of innate immunity" Journal of Biological Chemistry, v. 295, pp. 17986-17996 (2020) DOI:10.1074/jbc.RA120.015138
For a full list of Dr. Brenner's publications visit
here
.