City of Hope has unveiled dozens of pieces of inspirational art — and honored the artists from across Orange County who created them — at City of Hope Orange County Lennar Foundation Cancer Center's rotating art gallery.
The displays, featuring a wide range of styles and subjects — including beloved local landmarks — are refreshed twice yearly with new works that enhance the healing environment and uplift the emotions of patients, staff and visitors as they pass through the halls.
The latest collection of brilliantly colored, carefully curated artworks was celebrated with the artists, their families, members of the community, and grateful patients who said experiencing art on their journey to cancer survivorship has elevated their well-being.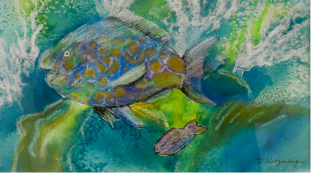 "On behalf of our patients, their families, and our staff, I want to thank you, our artists, for sharing your time and talents to help create a place of hope and healing," said Annette M. Walker, President, City of Hope Orange County. "Thank you for giving such a great gift to people and families who are so challenged during their cancer journey. When they pause before one of your creations, they will call to mind special moments, places and people or perhaps they will be looking forward. In all cases, their journey will be richer for it. This is what hope does."
Walker also thanked curator Nancy Harrell, who searches through hundreds of artists and finds those who best represent the message and experience City of Hope Orange County wants for their patients. "It means so much to every artist whose work is displayed here at City of Hope Orange County to be part of the gallery," Harrell said. "They often tell me how their own lives or the lives of their loved ones have been touched by cancer. The works we select offer people solace, confidence and hope, and I am proud that patients and their families are benefitting from the healing power of the art that surrounds them here."
The art has made a difference for Placentia resident and two-time breast cancer survivor Sheree Santos. Facing her second diagnosis, Santos came to City of Hope Orange County Lennar Foundation Cancer Center for advanced breast cancer care in 2022 when her local hospital could not perform the combination of surgeries she needed.
When Santos arrived for her first consultation with her breast surgeon, Jennifer Tseng, M.D., Medical Director of Breast Surgery, City of Hope Orange County, she was grateful to receive care in a peaceful environment filled with inspiring art.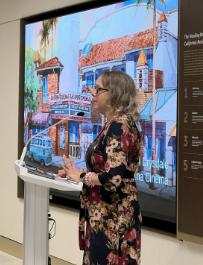 "I walked into the cancer center and immediately noticed all the artwork in the lobby. It was beautiful, and I remember feeling the calmness and healing immediately," Santos said. Then, to her surprise and delight, "I was watching the big screen that shows digital pictures of all the art here, and I saw artwork that my cousin, Denise Katzenberger, created. It brought back memories of our early years of family reunions. It was an emotional moment."
Santos's City of Hope team confirmed her diagnosis and went on to successfully perform her mastectomy and reconstructive surgery.
The art exhibits are a continuation of City of Hope's holistic approach to cancer care, a commitment to treating the whole person — mind, body and spirit. Designed for and with the community, every feature of City of Hope Orange County Lennar Foundation Cancer Center – from the gathering spaces and amenities to the lighting, wall color and choice of artwork — was carefully chosen to promote healing and comfort.
Top: Denise Katzenberger, Los Rios Street 
Also read: A beam of Hope rises: City of Hope celebrates "Topping Off" of Orange County's only specialty cancer hospital
Also read: Hope is where cancer loses and life wins.
To make an appointment at any of City of Hope's Orange County locations, call 888-333-HOPE (4673).