Section Header Title Text
Our Locations and Hours
Cards
Duarte Main Campus
Monday through Friday, 8:30 a.m. to 5 p.m.
1500 E. Duarte Rd.
Duarte, CA 91010
626-301-8304
How City of Hope's Specialty Pharmacy Enhances Patient Care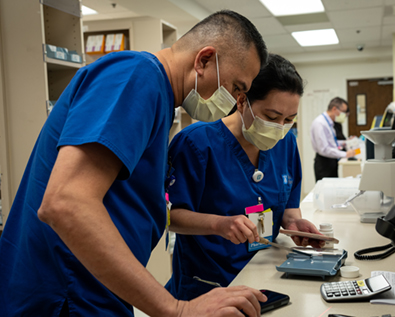 At City of Hope's Specialty Pharmacy, it is our mission to help you navigate the complex area of specialty medications, which are drugs used to treat certain conditions such as cancer and diabetes. These drugs often require a pharmacist's clinical knowledge and guidance to ensure they're used effectively. We aim to deliver safe, high-quality and cost-effective care from a team of pharmacy experts trained in your condition.
We recognize that each patient has a unique set of needs, and we strive to meet these needs by supporting you every step of the way. Our team works diligently to identify obstacles and develop solutions to barriers that may prevent you from getting the treatment you depend on. Every patient who uses City of Hope's Specialty Pharmacy is assigned a dedicated liaison as a direct point of contact and personalized resource.
Our Specialty Pharmacy operates out of our Outpatient Pharmacy, Geri & Richard Brawerman Ambulatory Care Center, at the main campus in Duarte, California, and at our South Pasadena and Upland clinical network locations. From providing additional supplies, including syringes, pillboxes and sharps containers, to making sure you have your refills on time, we have you covered.
Exceptional customer service 
Pharmacist consultation and medication follow-up
Copayment information 
Proactive refill coordination and reminders to minimize gaps in therapy 
Pharmacy benefit investigation
Prior authorizations for specialty medications (including patients who cannot fill their scripts at City of Hope)
Finding financial assistance programs for drugs prescribed
Rerouting prescriptions to a plan-preferred pharmacy
Free shipping or pickup
Getting Started With a New Specialty Medication Should Be Easy
At City of Hope's Specialty Pharmacy, we will answer any insurance questions you may have, provide you with financial assistance resources that may exist, and work with your doctor and pharmacist so you can start the therapy you need as soon as possible.
Contact Us
Medication Information