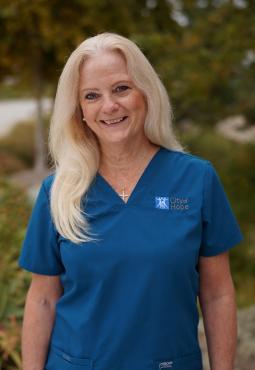 In honor of National Nurses Month, we thank and recognize each of our nurses who answered the call to care for our patients with expertise and compassion. Two City of Hope nurses recently were honored on the national stage as finalists for CURE's 2023 Extraordinary Healer® award. 
Kerry O'Neil, nursing manager at our Newport Beach locations, was nominated for the award by Cynthia Powers, D.N.P., M.S.N., R.N., CPHQ, vice president and associate chief of nursing, City of Hope Orange County. 
Below is the nomination letter Powers read at the award ceremony at the Oncology Nursing Society Congress in San Antonio. 
 
---

Recently, a 40-year-old mother of three with breast cancer was brought into one of the City of Hope Orange County clinics where Kerry O'Neil is the nurse manager. The cancer had metastasized to the woman's brain, leaving her blind. O'Neil did not know this when she opened the curtain to check on the woman and ask how she was doing.
"Kerry, I've been listening for your voice," said the woman, who was anxious and in pain. "I knew you were going to be here, and I just needed to hear your voice."
Sadly, the young mother died just before Thanksgiving. "It was very sad and that was hard," Kerry said. "You know you can't cure everybody, but you can help them. If you can make their journey a little bit lighter and a little bit easier for them, that's what you need to focus on." 
In her more than 40 years as an oncology nurse and supervisor, Kerry has eased the way for thousands of people with cancer and their families. Patients remember her professional expertise, compassionate listening, comforting touch and calm demeanor — and all the ways, big and small, that she makes a difference in their lives.
Kerry exemplifies all of City of Hope's values — compassion, service with a sense of urgency, integrity, intellectual curiosity, excellence and collaboration. Hundreds of patients provide feedback on her outstanding care. She sets the bar higher every day to do more for her patients, and she prides herself in demonstrating an exceptional level of both expertise and compassion. We need more Kerry O'Neils to be role models for the next generation of cancer care nurses and truly hope more nurses will follow in her footsteps.
A career of medical excellence and extraordinary compassion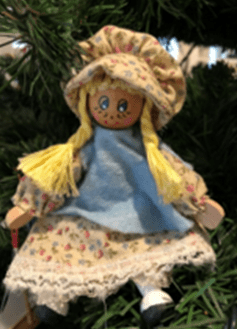 O'Neil recalls being out walking her dog Maggie when she was approached by a woman and her daughter. "You were my mom's favorite nurse 30 years ago," the woman said. O'Neil quickly realized who the patient was; she had made O'Neil a Christmas ornament. O'Neil shared that she thought of the woman every year when she put the ornament on the tree. The next time O'Neil saw the woman and her daughter walking, she gave them the ornament. 
"And they just broke down in tears," O'Neil said. "They said they couldn't believe I kept it. I said, 'Of course. It meant a lot. That's how she showed me that she appreciated me.'"
O'Neil says her proudest moments are when she could gain patients' trust, educate them about their disease, advocate for their care and serve as a healer who eases their journey.
With her extraordinary talent for compassion and brilliant expertise, it might seem O'Neil was destined for oncology nursing. However, as she tells the story, she found this specialty almost by chance. She says she followed a group of Fitchburg State Nursing School peers to California from Boston soon after graduation and quickly found a job. "They asked me to choose a medical unit, and I was caught off guard until I remembered that oncology was always my toughest class, so I said, 'Put me in oncology. Maybe I'll learn something.'"
Of course, O'Neil did more than learn something. She excelled. She says oncology is exciting to her because she enjoys the challenges of understanding nearly every system of the human body. And most of all, she believes that oncology patients truly appreciate the compassionate care and the connection they build with their nursing team. She says that joining the infusion team at City of Hope | Newport Beach Fashion Island as nursing manager was a natural fit, but she made one stipulation upon accepting a managerial role — she still wanted time to care for patients.  
Bringing hope and healing to patients with cancer
O'Neil is consistently looking for ways to make connections among patients and ensure they do not feel alone in their journey. During the pandemic, when a group of multiple myeloma patients came to City of Hope | Newport Beach Fashion Island to receive infusions, O'Neil introduced them to one another and arranged to have their infusion chairs turned into a circle so they could talk. The camaraderie and deep friendship among the self-named "Multiple Myeloma Squad" is still going strong. 
For O'Neil, accommodating and even laughing with the group at times are all part of the exceptional humanity and understanding she brings to her work. She says that one of the best parts of her job is when patients tell her they aren't scared anymore. Todd Kennedy, a member of the Multiple Myeloma Squad, attests "Kerry is an extraordinary healer with deep clinical expertise, a kind heart, a gentle touch and inspired leadership skills. When I was diagnosed, I expected I would dread my time at the infusion center. To my surprise, however, I look forward to the physical and emotional healing I receive during every visit with Kerry and the team she leads." 
It is no wonder that O'Neil, who raised five children, inspired her youngest daughter into nursing. In her nursing school application, her daughter wrote words that might have come from O'Neil herself: "Medicine only treats the illness, but nurses treat the person behind the illness." She also spoke to constantly running into her mother's patients around town and having them greet her with hugs and "enormous gratitude." "It is clear to see that the impact of a single nurse is far greater than that of the disease," her daughter wrote.
 
---

Join us in recognizing Kerry O'Neil and all of City of Hope's extraordinary oncology nurses. Their clinical excellence and compassion plays a vital role in bringing hope to patients who are relying on City of Hope to care for them at one of the most vulnerable times in their lives.
Main photo: Kerry O'Neil, left, with Cynthia Powers, right. Photo credit: Natalie Moser for CURE.
Also read: Oncology nurses honor the unique 'you' of every patient
To make an appointment at any of City of Hope's five Orange County locations, call 888-333-HOPE (4673).
City of Hope Orange County Lennar Foundation Cancer Center
City of Hope | Newport Beach Fashion Island
City of Hope | Newport Beach Lido
City of Hope | Irvine Sand Canyon
City of Hope | Huntington Beach