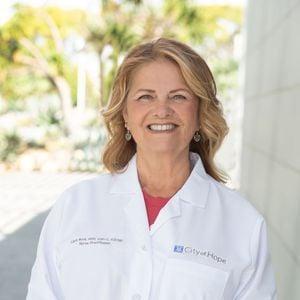 Nurse practitioner Linda Buck
When Linda Buck, N.P.,  began working as a nurse practitioner, she made it a habit to spend about an hour with each of her new breast cancer patients, discussing the ins and outs of their treatment. She spoke with an innate knowledge that transcended her clinical expertise — she's a breast cancer survivor who'd been on their same journey, too. 
"I'd tell them, 'I want you to know this about me so you'll feel truly free to express yourself. You can ask me anything. I know what it's like,'" Buck said. "I have the book knowledge, but I also have the personal experience. That was very meaningful. Some patients would start to cry when I told them, because it made them feel like, 'She gets it'." 
Buck practices at
City of Hope ǀ Newport Beach
, where she's involved in almost every aspect of her patients'
breast cancer care
, from answering questions about side effects or medication refills to reviewing scans or going on rounds. And she's happy to share advice when needed.  
"I frequently tell people that what they are feeling and experiencing is normal," she said. "They need to allow themselves to have their feelings, no matter what they are. I try to reassure patients their emotions are valid, and that helps them to relax and then move forward when they can." 
Those breakthrough moments inspire Buck. "It's amazing to see the growth that can come out of a person's journey," Buck said. "To be with them and see them gain inner strength that changes how they present themselves to the world makes me think, 'Wow, I need to stretch myself some more.'" 
  
Buck's own breast cancer diagnosis required a lot of stretching. An oncology nurse for three decades, she discovered she had early-stage HER2 overexpressed breast cancer in fall 2010, during the first semester of her nurse practitioner program. Buck navigated surgery, an intense four months of chemotherapy, and a year of maintenance while also keeping up with her coursework. 
"The fact that I was in graduate school helped me," she said. "I had a lot of support from friends and family. It helped me stay focused on what I needed to do and not get lost in what was going on with my health at the time." 
Buck recently marked her one-year work anniversary, but City of Hope has been part of Buck's career for many years. It's where she earned her first chemotherapy certification and found many learning opportunities. That's why it's special for her to be part of City of Hope's expansion into Orange County.  
"Patients who live in OC don't have to drive for hours to get the kind of care we offer at City of Hope," she said. "The Newport Beach location is beautiful and calming. It may sound unusual to say a person can relax while they're getting chemotherapy, but we have everything to help make that possible. We have chairs that vibrate for a little massage, and open windows where you can see outside; you're not stuck in a closed doctor's office. Our patients are grateful to have access to a wide range of services in one location and be able to put long commutes for treatment behind them." 
While Buck spends most of her working hours with breast oncologist 
Wade Smith
, M.D., and breast surgical oncologist Hang Dang, D.O., she has also supported the location's physicians who specialize in other forms of cancer. She found the opportunities to be "a beautiful learning experience." 
"City of Hope ǀ Newport Beach physicians are highly trained cancer specialists. They have a broad network of colleagues to consult with. And many of them are clinician-scientists whose research is leading to breakthrough treatments," Buck said. "The resources our patients have access to are almost endless, unlike anywhere else l know of in the Orange County area." 
The opportunity to offer support is especially meaningful to Buck. "It's a privilege and an honor to build relationships with patients and their families, because patients have a choice who they are going to see, and they keep coming back to us. Cancer, its treatment and survivorship, is not like having a one-time procedure where it's repaired, you're done, and you never see the surgeon again," Buck said. 
Buck believes that nursing nourishes relationships — it's in the nature of the profession, she said. And, grounded in the professional and personal wisdom Buck has gained as a practitioner and a survivor, it's evident that building common bonds helps her offer the best hope for patients.