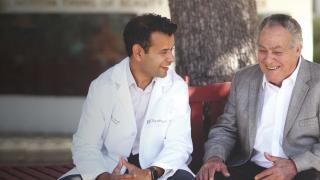 Prostate Cancer Care in Orange County
World-renowned prostate cancer treatment for Orange County

When you receive a prostate cancer diagnosis, you need the best, most innovative treatments and internationally recognized clinician-scientists by your side.
City of Hope is a National Cancer Institute-designated comprehensive cancer center with multiple Orange County locations ready to treat your prostate cancer.
The City of Hope Difference: Prostate Cancer Care
City of Hope is a National Cancer Institute-designated comprehensive cancer center that offers Orange County residents exceptional prostate cancer expertise and leading-edge prostate cancer treatments.
Next-generation genetic screening and prevention programs
Precision medicine and targeted therapies
Minimally invasive surgical techniques
Clinical trials of groundbreaking new treatments
Renowned Physicians and Researchers
Every year, thousands of people facing prostate cancer, from stage 1 to stage 4, are successfully treated at City of Hope. Our patients' five-year survival rate is very close to 100%.
Our interdisciplinary team works with you to develop an individualized and highly coordinated treatment plan based on your unique needs.
For more than a decade, U.S. News & World Report has named City of Hope one of the top cancer hospitals in America. Our highly specialized clinicians and scientists are focused solely on cancer, rapidly turning our innovative research into advanced treatments for patients across Orange County and beyond.
Listen to Our Prostate Cancer Doctors and Patients
We Specialize in State-of-the-Art Treatments
Our advanced cancer treatments include:
City of Hope is a leader in minimally invasive, robotically assisted prostatectomies, which use a surgical robot and smaller incisions to remove the diseased prostate and surrounding tissue
Image-guided external radiation systems, including TomoTherapy and TrueBeam combine detailed imaging and radiation delivery technologies, allowing our care team to "sculpt" radiation beams to the tumor site while avoiding nearby healthy tissue
MRI-guided focused ultrasound, a non-radiation technology, uses magnetic resonance imaging (MRI) to detail images of the prostate area, followed by highly focused ultrasound to heat up and destroy cancerous tissue
Brachytherapy places radioactive material next to or within the tumor site. Depending on the cancer stage, your needs and treatment goals, radioactive material may be low-dose and permanently placed (low dose rate / LDR brachytherapy) or high-dose and placed for only a few minutes (high dose rate / HDR brachytherapy)
Hormone therapy blocks production or activity of hormones – particularly testosterone and dihydrotestosterone (DHT) which fuel most prostate cancer growth
Chemotherapy targets all rapidly dividing cells, including prostate cancer cells
Targeted therapy selectively attacks prostate cancer cells based on specific characteristics – such as a gene mutation
Immunotherapy stimulates your immune system to attack cancer cells
Active surveillance is effective for early-stage, slow-growing prostate cancers. This approach includes regular monitoring of prostate-specific antigen (PSA) levels and digital rectal examinations of the prostate. If abnormalities or symptoms arise, you and your physician can discuss treating the cancer
Access to a wide variety of clinical trials, including new chemotherapy and targeted therapies, hormone therapies with fewer side effects, novel surgical techniques, innovative radiation approaches and new prevention strategies
A Second Opinion Should Be Your First Priority
If you have received a prostate cancer diagnosis elsewhere, ask for a second opinion from a City of Hope Orange County expert. An accurate diagnosis and individualized treatment plan are essential for the best outcomes.
Expert and compassionate care through our City of Hope network, including City of Hope Orange County Lennar Foundation Cancer Center and seven network locations in Irvine Sand Canyon, Newport Beach Lido, Newport Beach Fashion Island, Huntington Beach, Long Beach and Torrance