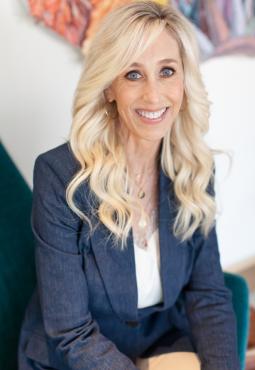 Heidi Paolone woke up from surgery to hear three shocking words: "You have cancer." 
During the procedure at a local hospital, the surgery team had discovered concerning signs and performed biopsies on what turned out to be tumors associated with a rare form of ovarian cancer.
When given referrals to cancer specialists, Paolone asked her physician who he would send his wife to if she was in Paolone's situation. His answer: Gynecologic oncologist Joshua Cohen, M.D., the medical director of the Gynecologic Cancer Program at City of Hope Orange County Lennar Foundation Cancer Center.
"The moment I walked in the door, I could tell this was a place of healing," Paolone said. "It felt calm, and everyone on staff was so kind. When I met with Dr. Cohen, he had already taken the time to go over my records. And what's more, he had a plan for me. He explained everything so well and so thoroughly and compassionately. I left knowing that I was in the right place."
Cohen is part of a multidisciplinary team at City of Hope that pursues an integrated approach to gynecology oncology and urogynecology, offering patients advanced and comprehensive care for women's cancers and related side effects that can affect quality of life, such as incontinence, pelvic floor disorders and fertility issues associated with gynecologic cancers.
Also read: Women's health: Let's talk about gynecologic cancers
Paolone successfully underwent cancer surgery (performed by Cohen and his surgical team) last Thanksgiving. After a postsurgical review by City of Hope's tumor board, Paolone was pleased to hear chemotherapy was not required; instead, she's receiving hormone therapy and following a regular schedule of blood work and advanced scans to closely monitor her progress.
Paolone is also grateful for the integrative care and supportive care services offered at the cancer center. She has met with a social worker, a clinical dietitian and a therapist who are working together to support her.
"It is wonderful to be able to provide comprehensive cancer care to our patients with a multidisciplinary team of dedicated subspecialists at City of Hope Orange County," said Cohen. "Ms. Paolone is an inspiration to us all."
There are tremendous benefits to having all the programs and services she needs in one location, Paolone says. "How can you concentrate on healing if you're stressed trying to schedule appointments and keep track of everything at multiple locations? Being a patient at City of Hope Orange County means I spend less time traveling for health care and more time with my family."
With the confidence and support she needs to take charge of her wellness plan, Paolone says she cherishes time spent with her husband, adult twins and teen son. She is training to run a half marathon in May with the girlfriends who have supported her throughout her cancer journey. And she sees herself working as a volunteer at City of Hope one day, so she can help others find reassurance, strength and support.
"I can't thank Dr. Cohen enough for where I am mentally and emotionally, because whenever I get scared, he's so positive. There's always light in the dark if you find the right doctor," Paolone said. 
"I never in my wildest dreams thought I would have cancer, but it's not as scary if you have people walking with you through it, and City of Hope is walking with you."
City of Hope Orange County offers renowned gynecologic oncology and urogynecologic care through City of Hope Orange County Lennar Foundation Cancer Center — Orange County's most advanced comprehensive cancer center — and our four-location Orange County regional cancer care network — two in Newport Beach, one in Huntington Beach and one in Irvine.
To make an appointment at any of our five Orange County locations, call 888-333-HOPE (4673).