Jim Madrid arrived at City of Hope Orange County Lennar Foundation Cancer Center on the first day of patient care at Orange County's most advanced cancer center.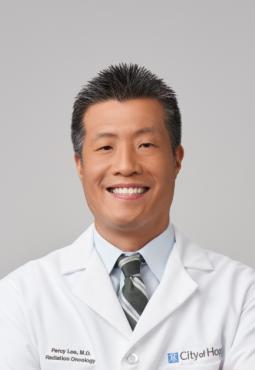 He met with Percy Lee, M.D., City of Hope's medical director of Orange County & Coastal Region Radiation Oncology, for the first time and left impressed with the expertise and compassion Lee and every employee who welcomed him provided that day.
"Patient care makes all the difference when you have cancer, and the word 'care' is highlighted throughout every experience I've had with City of Hope," Madrid said.
To Madrid's surprise, his radiation therapy was successfully completed in a single week.
"When people think of radiation oncology, they often imagine giant X-ray machines from the last century. So much has changed over the years. While our machinery is still large, it is more precise than ever and radically changing outcomes for cancer care," said Lee. "With enhanced precision
and accuracy, many treatments are reduced from many weeks to five or fewer. It's an exciting era for all of us in this field."
Embracing change
When Madrid learned he had cancer, one of the first steps he took was to get a notebook to start journaling his thoughts and listing everything he was grateful for. His first entry read:
"I accept this. Watch this. Watch what I do!"
There's never been any quit in Madrid. The founder of a mental fitness academy, Madrid is a sought-after leadership coach. His work focuses on building the cognitive and positive psychology that empowers people like athletes, coaches and executives to perform at their peak.
Madrid's cancer journey began in 2022 with what seemed to be acid reflux. However, a battery of tests at a local hospital resulted in a diagnosis of Stage 4 pancreatic cancer — the same disease that claimed his father's life.
The news came as a shock to the active and otherwise healthy husband and father. There were also masses found in his lungs and liver. But after the family shed tears together, Madrid's daughter said: "Dad, you have to remember one thing. You're Jim Madrid." His wife added, "Today's about crying. Tomorrow, we go to work to support your father to beat this thing."
Family members (including five adult children and six grandchildren) made posters promoting positivity, placing them around the house and in the front yard for the benefit of visitors and passersby.
All along, Madrid knew he needed a medical oncologist. A close friend who had recently had cancer told him he had to go to City of Hope.
Opportunity and action
Madrid met with Dean W. Lim, M.D., a pancreatic cancer expert at City of Hope's campus in Duarte, California. He was immediately struck by how much Lim cared about his patients. "He talked to both me and my wife in language we could understand," Madrid said. "He was just so reassuring."
Lim immersed himself in Madrid's case. Four weeks later, Madrid's life changed again.
"We had a call with Dr. Lim, and he said, 'Jim, good news. It's not pancreatic cancer, it's lung cancer. It was the best news I'd ever heard,'" Madrid recalled.
Lim introduced Madrid to Erminia Massarelli, M.D., Ph.D., M.S., co-director of City of Hope's Lung Cancer and Thoracic Oncology Program. Madrid began taking osimertinib, a targeted therapy for his specific type of lung cancer. Then in August 2022, the discovery of a small mass led Massarelli to recommend radiation therapy.
City of Hope had just opened its state-of-the-art cancer campus in Irvine, and Massarelli said Madrid could go there for his radiation, just 20 minutes from his home.
"I'm so glad that City of Hope is here — and I'm grateful," Madrid said. "Going to City of Hope is like being with friends who you trust and love, knowing they can help you save your life."
Also read: Precision medicine is the answer for this problem-solving lung cancer survivor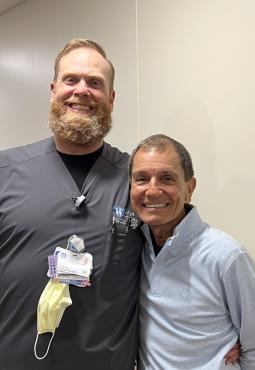 Where healing starts
Madrid has responded well to treatment. He has returned to playing pickup basketball and soccer — two goals that were a driving force in his recovery. He also pays attention to eating well and practices mindfulness twice a day.
It should come as no surprise that Madrid says the key to navigating his cancer journey has been to focus on embracing change, walking hand-in-hand with loved ones and cultivating a positive mindset.
"Healing starts in the five inches between your ears. You can do it. My family and I sure did it. And with City of Hope, we're going to keep doing it."
Also read: Surviving lung cancer with a flair for hope
City of Hope offers renowned lung cancer care in Orange County through City of Hope Orange County Lennar Foundation Cancer Center — Orange County's most advanced comprehensive cancer center — and advanced care at our four-location Orange County regional cancer care network — two in Newport Beach, one in Huntington Beach and one in Irvine.
To make an appointment at any of our five Orange County locations, call 888-333-HOPE (4673).