Frank B. Wilderson III has devoted his life to learning.
Wilderson's parents were academic psychologists who encouraged his intellectual curiosity. As a teenager, he saw how struggles for civil rights and human dignity were changing the world. As an adult, he moved to South Africa to advance the country's transition from apartheid, and he has penned several highly praised books on cultural studies, work he continues today as an award-winning author, activist, poet, scholar and Chancellor's Professor of African American Studies at the University of California Irvine.
At 66 years of age and facing a second prostate cancer diagnosis, it was only natural for Wilderson and his wife, the noted poet and writer Anita Wilkins, to ask a lot of pointed questions about how to approach his cancer treatment.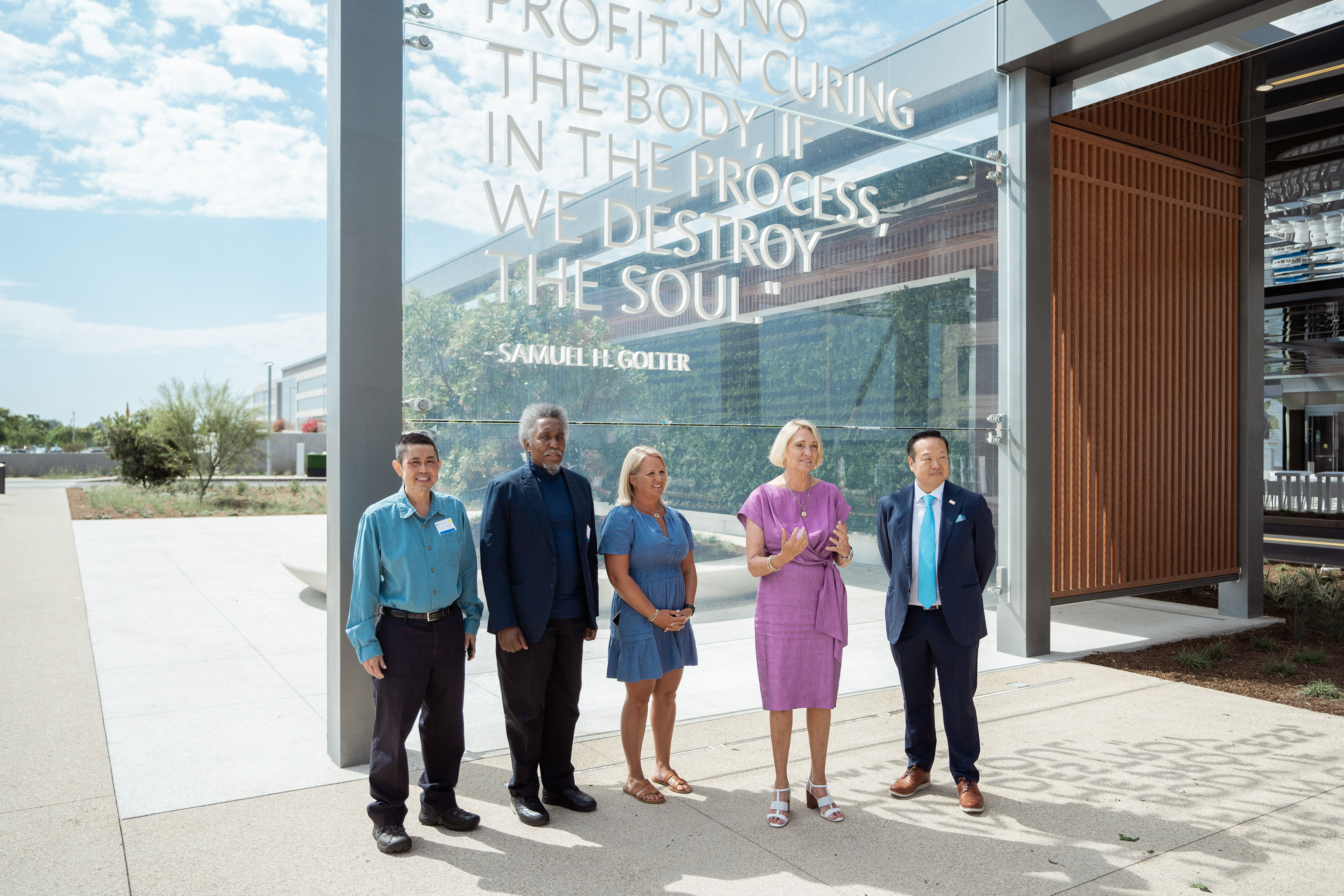 He found the answers at City of Hope Orange County. Wilderson is one of the first patients to receive care at the recently opened City of Hope Orange County Lennar Foundation Cancer Center, the most advanced cancer center in the region.
"I've understood for a very long time that the options first presented to you may not be the full range of options if your physician isn't an expert in your specific kind of cancer," said Wilderson. "I could tell right away that City of Hope Orange County is different. It's a place where, from day one, their experts knew about and considered every possible option to help get me better."
Very little of Wilderson's cancer journey has been what would be described as typical. He had no pain prior to his first diagnosis in 2014. A prostate-specific antigen (PSA) blood test reported his score at 181 ng/ml. Typically, a value that is above the reference range or increasing rapidly may suggest prostate cancer. Wilderson's result was extraordinarily high. After extensive treatment, he thought he had put prostate cancer behind him, but the remission did not last.
Individualized approach
When his cancer returned in 2021, Wilderson spoke with his primary care physician. He had chosen her in part because of her expertise in functional medicine, which focuses on a holistic approach to health. She recommended he meet with medical oncologist and hematologist Nishan Tchekmedyian, M.D., City of Hope Orange County's regional medical director. Wilderson quickly learned he had found a cancer-fighting expert who saw him as an individual and understood the type of comprehensive, personalized care he expected.
Tchekmedyian also secured Wilderson access to a highly advanced imaging technology that discovered previously undetected cancer cells in numerous locations distant from the prostate.
The scan likely saved Wilderson's life.
"They found that the rate of cell duplication was going so fast in two of my lymph nodes that, if we had not treated it, it would most likely have spread to the bone or vital organs," Wilderson said.
Integrated expertise
Like his patient, Tchekmedyian sees significant value in bringing together leading-edge cancer treatments and evidence-backed integrative therapies, such as supplements and mind-body techniques for managing pain and stress. "Medical oncologists increasingly recognize that as a profession we need to do a better job of caring for the whole person, centering care on who our patients are and what they need," Tchekmedyian said. "Integrative medicine can offer significant benefits to people with cancer, and City of Hope Orange County is pushing the field forward." City of Hope's integrative medicine program is led by physician leader Richard T. Lee, M.D., one of the nation's foremost experts in integrative oncology.
Knowing Wilderson wanted to explore every available option before considering radiation therapy or chemotherapy, Tchekmedyian recommended a new treatment — Orgovyx (relugolix), a hormone-targeting pill for advanced prostate cancer that works by lowering the amount of testosterone the body produces.
Previously, this required frequent and ongoing injections, but a pill would be more convenient, and its action would be rapidly reversible. In other words, if the side effects of low testosterone were overwhelming, stopping the pill would improve those side effects quicker than conventional therapies.
"This medication went through clinical trials and was approved by the FDA in 2020, but I was not aware of it," Wilderson said. "The fact that Tchekmedyian knew about this innovative drug and that it might be right for me has been life-changing."
"City of Hope brings a different level of care to Orange County," Wilderson said, "and I'm grateful they are walking with me. I have a lot of living — and a lot of learning — ahead to look forward to."
Learn more about City of Hope's world-renowned prostate cancer care in Orange County. To make an appointment at any of our five Orange County locations, call 888-333-HOPE (4673).