Inspired Costa Mesa mother raises awareness - and white ribbons - to fight lung cancer stigma
Diane Miller was looking forward to life in retirement with her husband, Mark, when her lung cancer diagnosis in 2021 put those plans on pause. Healthy her entire life, Miller said the news shocked and terrified her.
"I'd been exercising, and my back started hurting at my tailbone," the Costa Mesa resident said. "I thought it was plantar fasciitis, and my doctor thought it might be sciatica. I went to an orthopedic specialist, and after I had MRIs and CT scans, I was told I had non-small cell lung cancer."
Miller's path then led her to renowned thoracic oncologist and lung cancer researcher
Ravi Salgia, M.D.
, Ph.D., the Arthur & Rosalie Kaplan Chair in Medical Oncology & Therapeutics Research at City of Hope. And that is where she found her first thread of hope.
"Dr. Salgia came into the room and said, 'We have answers to your questions, and we have a treatment for you'," Miller said. "That's what started to change the tide for me. I went from feeling helpless to knowing that I had someone on my team that believed I could make it. And here I am, a year later, getting targeted therapy and doing great."
A multidisciplinary team
After coming to City of Hope, Dr. Salgia spotted precancerous conditions in Miller's breasts and kidneys that required close monitoring. Her City of Hope care team grew to include Hang Dang, D.O. and
Ali Zhumkhawala, M.D.
, highly regarded specialists in breast surgical oncology and urologic oncology, respectively. 
"Everyone I meet at City of Hope is committed to my healing, from the doctors and nurses to the receptionists and schedulers," Miller said. "All three of my physicians are working together to come up with the best possible plan for me. I'm not afraid, because I know they're going to take care of me."
City of Hope's focus on advanced and highly specialized cancer care made a vital difference in Miller's life. She believes it will do the same for many more people with the 2022 opening of
Lennar Foundation Cancer Center
in Irvine.
"Dr. Salgia doesn't just treat my lung cancer. This man is searching for a cure," Miller said. "I think all City of Hope physicians are working tirelessly toward that same goal — a cancer-free future. To have access to that kind of care here in Orange County is an incredible blessing and long overdue. Many people in our community don't have the ability to travel out of the area for treatment, so to have City of Hope in our own backyard will be tremendous. I believe it's going to save lives."
White ribbons raise awareness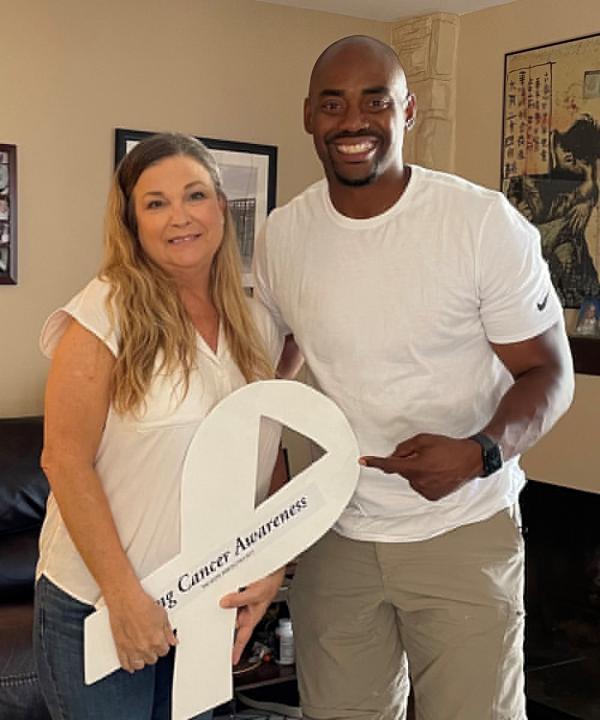 Miller's neighbor and a friend surprised her by making 65 white ribbons out of wood; Miller's husband hung one of the ribbons in the barbershop he owns.
And by sharing her story, Miller is finding her voice as an advocate.
"I don't want to be silent anymore; we cannot afford to be silent anymore, with so many people being diagnosed and lung cancer being severely underfunded.
"City of Hope is pioneering the next generation of cancer care and discovery; they and the nation's other top cancer centers depend on research dollars to turn science into cures. I want to do everything I can to help with that. I want to raise awareness and raise funds; I want to support cancer research and support cancer survivors. I want everyone facing cancer to live their best life."
Miller's life is no longer on hold because of lung cancer. She is looking towards the future—advocating for lung cancer awareness, spending priceless time with her family and even planning again for retirement.
"City of Hope gave me that hope," she said.