School Reintegration
Re-entering the classroom is an important and exciting milestone for children, teens and young adults after taking a medical leave of absence from school. It's where they'll resocialize and re-establish their identity with friends and classmates, and recover their sense of being normal again.
At City of Hope, we know just how important this event is, which is why our Academic Advocacy Program offers help so it can be a positive, energizing and self-esteem building experience for young patients.
Your medical team and Academic Advocacy Program coordinator can work with you to decide the best time for your young person to re-enter school, so he or she will enjoy the best possible transition.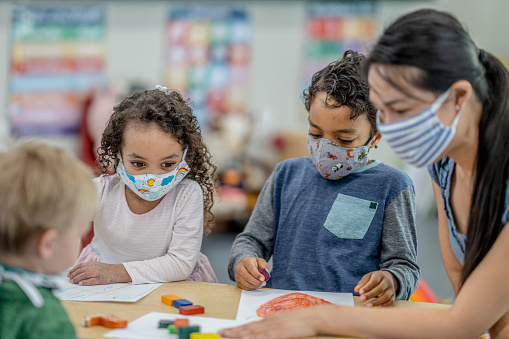 Support Services for Getting Back to Class
Some of the help we offer students (and their families) as they reintegrate into their school system includes:
Coordinating re-entry services between the hospital, school and family
Providing medical letters to schools
Educating school faculty about potential medical and psychological effects of treatment and recovery
Educating fellow students about cancer and other medical conditions through school presentations
Facilitating and attending special accommodation meetings at schools with family and school staff
What do I need to do in order to return to school?
Our Academic Advocacy Program coordinator can help you start this process. Often, patients need to re-enroll in their local school. If you have previously been in hospital tutoring or home instruction, the Academic Advocacy Program coordinator can help you and your family walk through the steps to return to your local school. Often, many students choose to inform their school administration of their previous medical treatment and how it currently impacts their school experience. If any special accommodations are needed, we can help advocate for these services as well.
My child doesn't want to go back to school. What can I do?
Finding excuses to miss school could be a sign that your child is struggling with some part of going back. If your child can tell you why there are problems at school, you may want to meet with the school teacher, counselor, and principal to see what can be done to address these concerns. For example, they might suggest shorter days for the child who has fatigue, or they might come up with a plan that combines time at school and home tutoring. It is best to find ways for your child to be in school at least part of the time, since school lets your child be with other kids and find a routine that works.
Older kids and teens may not want to go back to school because they look different, or because their long absences have changed their social standing with friends. If treatment has changed the way they learn, that can also be frustrating and hard to deal with. Again, extra support at home and at school can help with the transition back to school. City of Hope's Academic Advocacy Program coordinator, school nurses and school counselors can help prepare your child's teacher and classmates for a successful return to school.
When should I go back to school?
Treatment and healing are different for each patient. Our Academic Advocacy Program coordinator will consult with your City of Hope medical team to help you and your family decide when is best for you to return to school. We have found that most patients do best with a gradual, but prompt return to their local school, because it provides patients with socialization, normalcy, accomplishment and increased self-esteem.
My child isn't sure what to say to peers. How can I help?
Talk with your child about going back to school and about being ready for questions classmates may have about cancer. Explain to your child that friends may not understand much about cancer and may say and ask some strange things. Some typical questions are: "What is cancer?", "Are you going to die?", "Can I catch it?", and "Can you still play?" Talk with your child about how to answer each of these questions. City of Hope's Academic Advocacy Program coordinator is also available to speak with you or your child to help address these concerns and work with your child's school to assist with reintegration.
Some children are happy to know that they can respond to many questions without a long explanation. For instance, they may say:
Thanks for asking, but it's kind of hard to talk about this at school.
I don't know the answer to that question.
Maybe you can ask the teacher or the nurse about that.
Depending on the situation, your child might want to use one of these answers, then change the subject in a friendly way by maybe talking about school, making an offer to play or choosing another topic.
Some teens may want to know where they can go to take a break at school or get support if they need it. Others may not want to seem different from their friends, so they don't want to do anything that singles them out. As with younger children, it helps for teens to talk with a parent or counselor about answering questions in a way that feels right for them. Some may choose not to talk about their cancer at school, while others may want to be ready with quick and easy answers for common questions or comments. Every child has their own communication style. Helping your child figure out what feels best before returning to school will help your child deal with questions in his or her own way.
Additional emotional, social and spiritual support is available at City of Hope. We provide the following services and support:
For more information please contact, Joey Fredlund, L.C.S.W., Academic Advocacy Program coordinator, at 626-218-8125, or send an email to jfredlund@coh.org.