This Gift Establishes Lennar Foundation Cancer Center At City Of Hope Orange County, Bringing Groundbreaking Cancer Treatments To OC Residents
City of Hope Orange County has received a transformational $50 million gift from Lennar Foundation – the charitable arm of Lennar Corporation – to advance its plans for a nationally recognized cancer campus in Irvine and an Orange County network of cancer care.
 
The gift — the largest single philanthropic contribution to City of Hope Orange County – accelerates City of Hope's vision to eradicate cancer and create healthier communities. Responding to a pressing need, City of Hope plans to invest $1 billion to develop and operate a comprehensive cancer campus in Irvine and establish a network of advanced care in the county. It will bring best-in-class cancer care, pioneering research, and lifesaving treatments to Orange County's 3.2 million residents.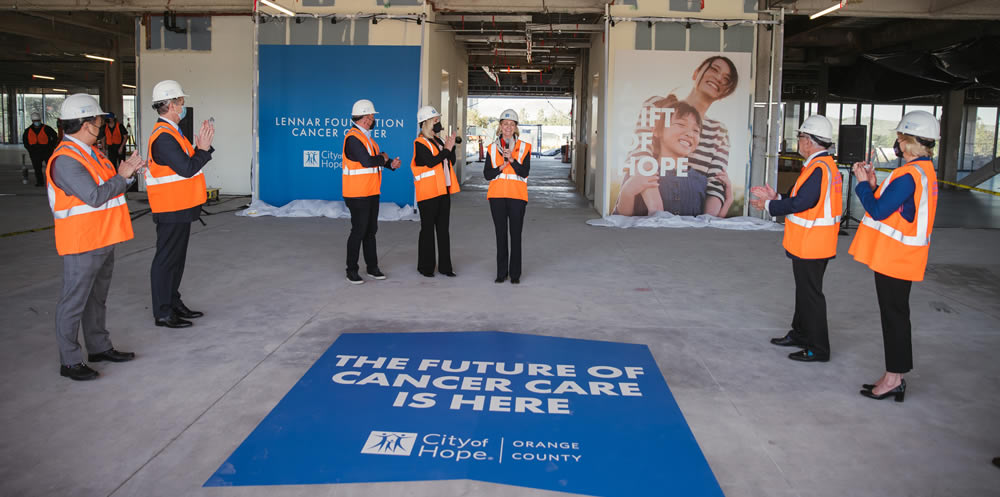 Currently, nearly 20 percent of county residents diagnosed with cancer travel outside the area in search of advanced care. Many travel to City of Hope's Duarte campus.
 
"Anyone who has heard the words 'You have cancer' knows how those words change your life and affect every piece of it," said Nicole Petersen Murr, an Orange County resident and City of Hope patient. "I want everyone who hears those words to have the same compassionate care and access to the latest treatments that I had. Having City of Hope in Orange County changes everything for cancer patients—present and future. I'm so grateful to have this world-renowned care in my own community."
 
The gift establishes the Lennar Foundation Cancer Center, a 190,000-square-foot facility located on 11 acres at Five Point's Great Park in Irvine. The distinguishing services that will be offered at the center include:
Local access to more than 1,000 physicians and researchers who transform laboratory breakthroughs into targeted treatments that offer the best hope for patients.
Access to hundreds of clinical trials that make 21st century treatments available to cancer patients meeting clinical criteria.
A range of treatment options — from chemotherapy to immunotherapy and more — for combatting even the most aggressive cancers.
New ways for preventing and treating cancer in its early stages, including highly targeted genomics and precision medicine breakthroughs.
Nationally recognized supportive care programs rooted in more than a century of compassionate caregiving to help patients and their families.
Construction is underway and the center is scheduled to open in 2022. The county's only hospital exclusively dedicated to treating and curing cancer will open in 2025. City of Hope Newport Beach, the first phase of City of Hope's Orange County expansion, opened in 2020, providing residents with first-time local access to City of Hope's world-renowned care. Plans are moving forward to open other clinical network locations across the region.
Annette M. Walker, president of City of Hope Orange County, said Lennar Foundation's contribution is a "historic moment for City of Hope."
 
"We are building a place of hope and healing that will serve residents of Orange County and beyond for generations to come," she said. "Every one of us has been touched by cancer and we want all who are impacted by this disease to know we are here for you, your family, friends and neighbors."
 
Learn more about how your generosity can help City of Hope Orange County fulfill its promise to provide world-class cancer care closer to home. If you need care now, schedule an appointment with a highly specialized cancer physician at City of Newport Beach. Call (949) 763-2204 or click here to make an appointment.