Collaborative Areas of Research
The Jacki and Bruce Barron Cancer Research Scholars' Program will foster collaborations across a wide scope of basic, translational and clinical research areas. Proposed projects must be focused on cancer. Program participants will have access to City of Hope's comprehensive range of scientific resources and interaction with faculty in numerous fields, including:
Comparative Medicine
Computational and Quantitative Medicine
Diabetes Immunology
Diabetes Translational Research & Cellular Therapeutics
Diagnostic Radiology
Medical Specialties
Molecular Immunology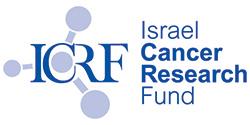 About the Israel Cancer Research Fund
Israel Cancer Research Fund, a 501(c)(3) organization, is the largest nationwide charitable organization in North America solely devoted to supporting cancer research in Israel. Since its establishment in 1975, ICRF has provided more than 2,200 grants to outstanding cancer researchers whose laboratories are located in all of the leading research institutions, universities and hospitals across Israel. For more information, visit www.icrfonline.org.