Collaborative Grants Program
The Jacki and Bruce Barron Cancer Research Scholars' Program will offer up to three one-year grants annually to support innovative basic, translational and clinical research into any type of cancer by scientists at City of Hope and collaborators in Israel. The intent of these grants is to fund promising new ideas and obtain the preliminary data needed to secure additional support from government and private sectors, including prevention, therapeutic development and early phase clinical trials.
City of Hope and Israel Cancer Research Fund will provide $150,000 for each partnership to be divided evenly between both institutions. Scientists in Israel will initiate interactions with City of Hope scientists by reviewing our areas of research and shared resources and submitting proposals to the program in accordance with the posted guidelines .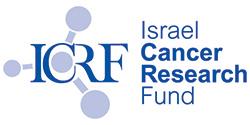 About the Israel Cancer Research Fund
Israel Cancer Research Fund, a 501(c)(3) organization, is the largest nationwide charitable organization in North America solely devoted to supporting cancer research in Israel. Since its establishment in 1975, ICRF has provided more than 2,200 grants to outstanding cancer researchers whose laboratories are located in all of the leading research institutions, universities and hospitals across Israel. For more information, visit www.icrfonline.org.