Nurse Residency Program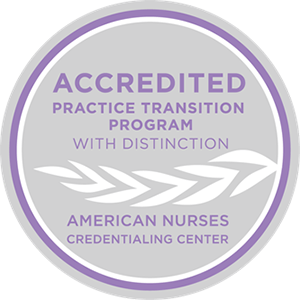 City of Hope's Nurse Residency Program is an ANCC PTAP (Practice Transition Accreditation Program) accredited 12-month transition to practice program for new graduate RNs. It incorporates the Vizient/AACN Nurse Residency Program™, a supplemental course focusing on leadership, quality outcomes and the professional role of the nurse.
The program begins with a structured 16-week intensive classroom and clinical curricula. The residency provides in-depth knowledge of acute oncology care and fosters the development of communication, critical thinking and clinical-reasoning skills. It additionally provides strategies for self-care and stress management and promotes career planning.
The program accepts new graduate BSN+ RNs for the inpatient and ambulatory settings 3 times a year.
In January 2020, City of Hope was awarded PTAP accreditation with distinction.  PTAP sets the global standard for residency or fellowship programs that transition registered nurses and advanced practice registered nurses into new practice settings.