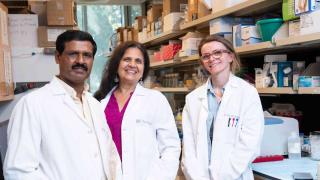 The overall goal of the research in the Vasavada laboratory is to understand the pathophysiology of type 1 and type 2 diabetes and identify therapeutics for its treatment
Enhance growth, survival, and function of pancreatic beta cells
Loss of functional pancreatic beta cells is the common cause of both type 1 (T1D) and type 2 diabetes (T2D). Our research has identified protein factors and signaling pathways (PTHrP, lactogens, OPG, RANKL/RANK and LGR4) that improve diabetes outcomes in mouse models and improve beta cell health in human islets from diabetic individuals. We use a multipronged approach to test our hypothesis. Through this approach we have discovered that an immune and bone-related pathway regulates beta cell health, leading us to test the potential of repurposing an osteoporosis drug for treating diabetes.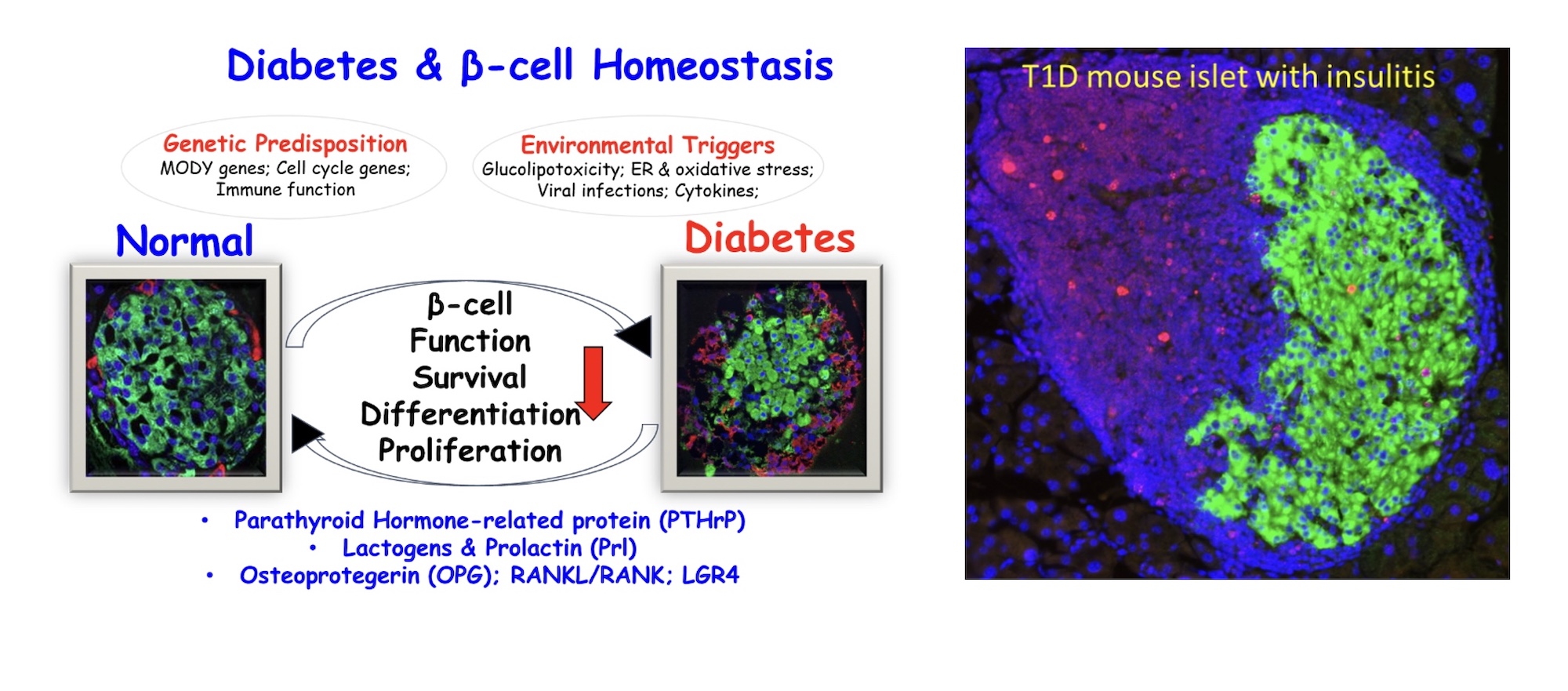 Approach

Role of extracellular vesicles (EVs) in the pathophysiology of diabetes
Our recent findings on plasma-derived circulating EVs as well as tissue-derived EVs implicate a role in the pathogenesis of T1D. We are currently examining the potential of EVs as functional and molecular biomarkers in the pathogenesis of T1D and eventually T2D.
This is being pursued with funding from the National Institutes of Health in collaboration with labs at City of Hope and elsewhere.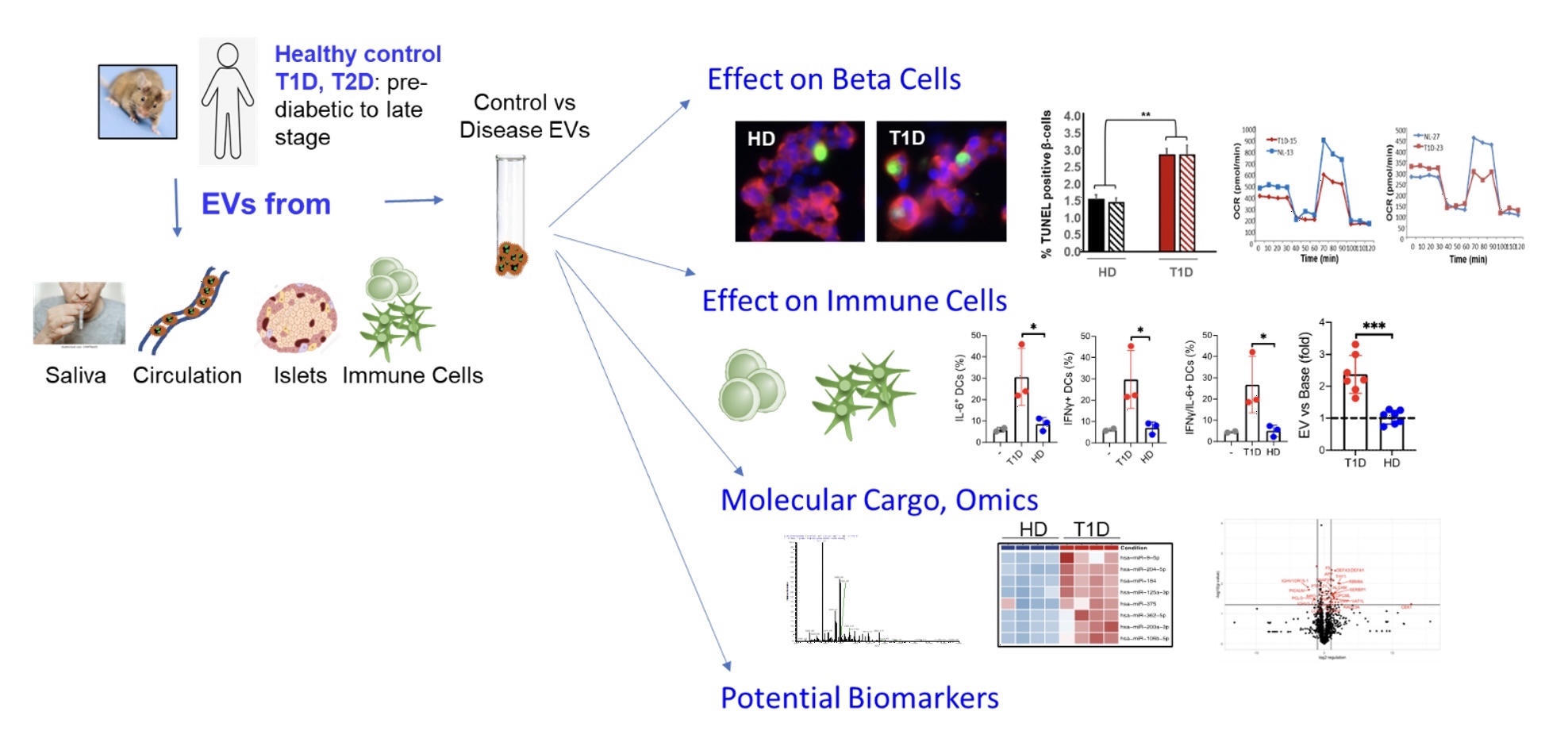 Principal Investigator: Rupangi C. Vasavada, Ph.D.
Rupangi Vasavada, Ph.D., is an associate professor in the Department of Translational Research & Cellular Therapeutics. Prior to joining City of Hope, Dr. Vasavada was at the Icahn School of Medicine at Mount Sinai in New York, and before that, at University of Pittsburgh in Pennsylvania. She received her Ph.D. in molecular biology from University of Pennsylvania and her Bachelor and Master of Science in zoology and endocrinology from Delhi University in India.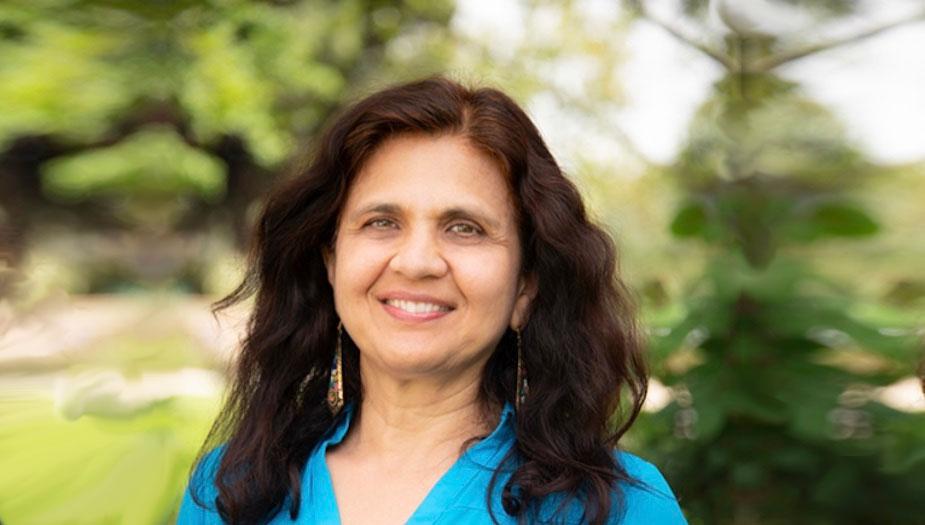 Cards
LGR4, a G Protein-Coupled Receptor with a Systemic Role: From Development to Metabolic Regulation
Filipowska J, Kondegowda NG, Leon-Rivera N, Dhawan S, Vasavada RC
Mapping and targeted viral activation of pancreatic nerves in mice reveal their roles in the regulation of glucose metabolism
Jimenez-Gonzalez M, Li R, Pomeranz LE, Alvarsson A, Marongiu R, Hampton RF, Kaplitt MG, Vasavada RC, Schwartz GJ, Stanley SA
Lactogens Reduce Endoplasmic Reticulum Stress-Induced Rodent and Human β-Cell Death and Diabetes Incidence in Akita Mice
Li R, Kondegowda NG, Filipowska J, Hampton RF, Leblanc S, Garcia-Ocana A, Vasavada RC
CDK4/6 Inhibition on Glucose and Pancreatic Beta Cell Homeostasis in Young and Aged Rats
Sacaan AI, Thibault S, Hong M, Kondegowda NK, Nichols T, Li R, Rosselot C, Evering W, Fenutria R, Vitsky A, Brown T, Finkelstein M, Garcia-Ocaña A, Khan N, Stewart AF, Vasavada RC
Parathyroid Hormone-Related peptide (1-36) enhances beta cell regeneration and increases beta cell mass in a mouse model of partial pancreatectomy
Mozar A, Lin H, Williams K, Chin C, Nagesha Guthalu NK, Stewart AF, Garcia-Ocana A, Vasavada RC
Rupangi C. Vasavada and Nagesha G. Kondegowda are inventors on two U.S. utility patents, No. 9333239, issued on 5/10/2016, and No. 9724386, issued on 8/8/2017, for "Use of Osteoprotegerin (OPG) to increase human pancreatic beta cell survival and proliferation".
A preview article "Felizitas Schmitz, Sara Roscioni, and Heiko Lickert. Repurposing an Osteoporosis Drug for β Cell Regeneration in Diabetic Patients. Cell Metabolism Previews. 22: 1-2, July 7, 2015." was published highlighting the findings from our study published in the same issue of Cell Metabolism.
Guthalu NK, Fenutria R, Pollack I, Orthofer M, Garcia-Ocaña A, Penninger J, Vasavada RC. Osteoprotegerin and Denosumab stimulate human beta cell proliferation through inhibition of the Receptor Activator of NF-κB Ligand (RANKL) pathway. Cell Metabolism 22:77-85 (2015). PMID: 26094891
1500 East Duarte Road
Duarte, CA 91010