Research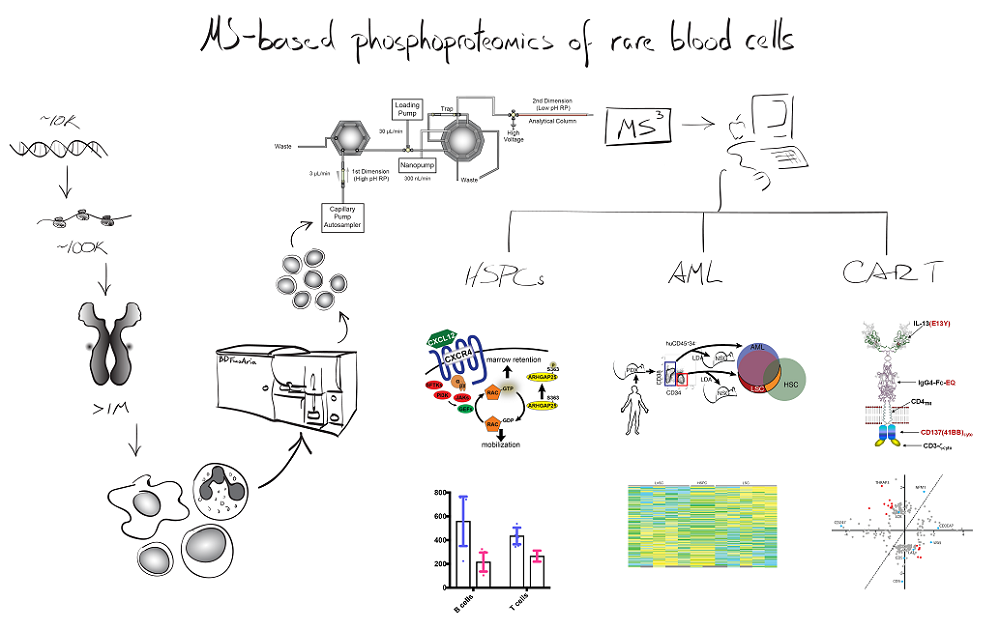 The overarching goal of our research is to understand blood development at a proteomic level, allowing us to design and implement novel therapies for cancer. We use protein-focused technologies such as flow cytometry and mass spectrometry, as well as basic molecular and cellular techniques to identify nongenetic determinants underlying functional differences in stem, progenitor, effector and engineered blood cells.
We validate our findings in faithful disease model systems to address fundamental biological questions about how cancer develops and how to treat it. We collaborate with many other labs at City of Hope and across the country in four main areas:
 
Small-scale mass spectrometry platform development
Chimeric antigen receptor (CAR) T cell therapy for brain tumors
The role of ARHGAP25 in hematopoeisis
Acute myeloid leukemia stem cells
Small scale proteomic discovery of activated pathways in blood cells
We work to develop and improve high-resolution proteomic and phosphoproteomic discovery platforms capable of identifying thousands of proteins from hundreds of thousands of cells. We use these platforms to identify protein pathways important for survival, function and persistence of leukemia stem cells and CAR T cells. Our proteomics efforts are a collaboration with
the group of Markus Kalkum, Ph.D.,
 at City of Hope.
Mass spectrometry-based profiling of tumor-responsive immune cells
City of Hope is a world leader in immunooncology, at the forefront of the CAR T cell revolution.
Although this powerful new therapy has had some remarkable successes, its use in solid tumors is limited by several factors, many of which we are addressing in our lab in collaboration with Christine Brown, Ph.D., and others.
We are working to:
Identify proteomic signatures of CAR T cell persistence and activation.
Understand the signaling pathways downstream of different CAR constructs.
Understand how binding avidity impacts CAR signaling.
Engineer more effective CAR T cells for solid tumor immunotherapy.
Clinical Trial
We have recently launched a new clinical trial using CAR T cells to treat pediatric patients (ages 4-25) with recurrent and refractory brain tumors.
Children with aggressive brain tumors have a very poor prognosis, and new therapies are badly needed. Researchers at City of Hope have developed a promising new CAR T cell therapy that has shown remarkable clinical efficacy (Brown et al., NEJM 2016), and we are excited that our clinical trial will extend this therapy to children with neuromalignancies including (but not limited to) glioblastoma, medulloblastoma, atypical teratoid/rhabdoid tumor, ependymoma, and diffuse midline glioma/DIPG.
Our trial uses lymphodepletion followed by autologous CAR T cells that target the brain tumor antigen IL13Rα2, after an initial safety lead-in in which patients will receive CAR T cells without lymphodepletion. For more information, please call 833-582-4673 (833-582-HOPE) or email PediatricTrials@coh.org.
Proteomic interrogation of human leukemia stem cells
In collaboration with
Guido Marcucci, M.D.,
 we are defining the phosphoproteomic features of adult and pediatric leukemia stem cells (below). This will make possible the proteomic profiling of individual patient samples, permitting the generation of unique patient-specific phosphoproteomic fingerprints and realizing the potential of precision medicine on a proteomic level.