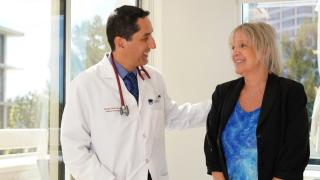 Gastrointestinal Cancer Care in Orange County
World-renowned GI cancer care treatments for Orange County

Many breakthrough treatments offer new hope for today's GI and colon cancer patients. You can access this level of world-class care in Orange County. Our top-ranked physicians and other specialists help patients navigate and manage their care, from diagnosis to treatment and transition to recovery.
Why Choose City of Hope Orange County for GI Cancer Care?
With leading-edge technology and surgical expertise, City of Hope physicians deliver outstanding outcomes that are difficult to achieve elsewhere.
Comprehensive, compassionate care from a GI cancer care team offering groundbreaking therapies for both early and late-stage disease.
Robotically assisted and minimally invasive surgery.
Leading-edge clinical trials offering patients access to promising GI cancer treatments before they are readily available elsewhere
A collaborative and caring multidisciplinary team of cancer experts that understands your needs and background to provide a whole-person approach to treatment
Access to a network of highly specialized physicians and researchers who focus on your specific type of GI cancer, esophageal cancer, gastric/stomach cancer, liver cancer, pancreatic cancer, and small intestine cancer
Long-term survivorship and follow-up programs focused on minimizing recurrence risk and improving quality of life
An expanding clinical network throughout Orange County that is bringing world-renowned physicians closer to homes in the region
Listen to Our GI & Colon Cancer Doctors
We Specialize in State-of-the-Art Treatments
Our advanced cancer treatments include:
The latest chemotherapy and targeted therapy drugs for treating colorectal cancer
Access to newly developed drugs and drug combinations through our clinical trials program
Utlra-precise radiation therapy including helical TomoTherapy and brachytherapy to target tumors and preserve healthy issue
Sphincter-saving surgery that drastically reduces the need for permanent colostomy
Expertise in cancer that has spread to the liver, including combination surgeries with our world-renowned hepatobiliary surgery team
Expertise in HIPEC, or hyperthermic intraperitoneal chemotherapy, a treatment that involves removing tumors, then delivering heated chemotherapy directly to the abdomen
Robotic-assisted surgery performed by leading experts in the da Vinci Surgical System
A Second Opinion Should Be Your First Priority
If you have received a gastrointestinal cancer diagnosis elsewhere, ask for a second opinion from a City of Hope Orange County expert. An accurate diagnosis and individualized treatment plan are essential for the best outcomes.
Expert and compassionate care through our City of Hope network, including City of Hope Orange County Lennar Foundation Cancer Center and seven network locations in Irvine Sand Canyon, Newport Beach Lido, Newport Beach Fashion Island, Huntington Beach, Long Beach and Torrance