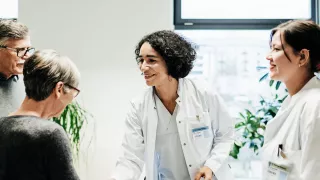 Aging And Blood Cancers Clinic
The Aging and Blood Cancers Clinic offers multidisciplinary care for patients with blood cancers before, during and after treatment. The team includes a hematologist, geriatrician, advanced practice geriatric nurse practitioner, clinical social worker, dietitian and nutritionist. If needed, it may include other experts, such as an infectious diseases specialist or occupational therapist.

The clinic specializes in evaluation and optimization of older patients before stem cell transplantation or cellular therapy, especially for patients 65 years and older who may pursue allogeneic (donor) stem cell transplant.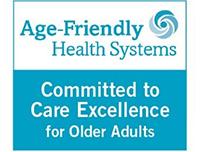 Age-Friendly Health Systems
All older adults deserve safe, high-quality health care that is based on what matters most to them as individuals. City of Hope's OASIS Program is leading the way in making sure that every day, every older adult receives age-friendly health care. As part of the Age-Friendly Health Systems movement, we are among the first cancer centers in the country implementing age-friendly health care.
Clinical Highlights: Comprehensive Approach To Transplant
A typical clinic visit includes a complete assessment by several specialists before transplant. The information collected will be used to set up care that can prevent or minimize problems during your cancer treatment.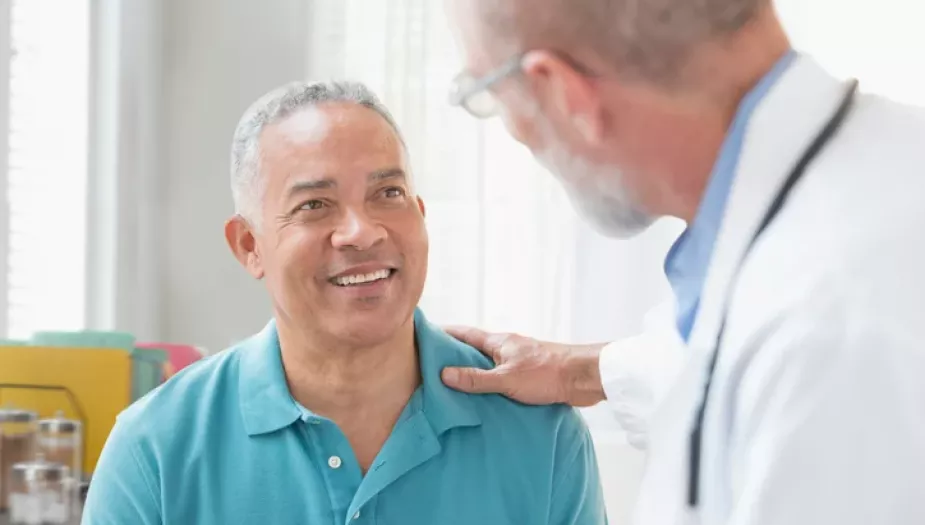 The Aging and Blood Cancers Clinic provides patients with a tailored care plan that fosters more successful transplant outcomes.
You will meet with several experts throughout the day as part of your visit to the ABC Clinic. Each team member has time reserved on Fridays to see ABC Clinic patients. It may be best to schedule other tests or visits with your regular doctor on a different day. If this full day visit will not work for you, we will work to make changes to the schedule. We can also offer some visits using telehealth through Hope Virtual, if needed. We feel that an in-person visit will work best whenever possible.
Before your visit, our team will review your prior treatment for the blood disease, pretransplant testing, medical history and planned transplant details. During your visit, we will review that information and go over your general function, social support, emotional health and overall symptoms. We will ask about your understanding of the need for transplant and the transplant process. Based on what you share, we will be able to focus our attention in the most helpful way.
Cards
Health Survey
We will ask you to complete a health survey online before you come to the clinic, so we have this information to plan your visit. This survey will give your team information about your overall health, physical function and activity, social support, nutrition, medications and health conditions that are common in older adults. When you are at the clinic, a team member will help guide you to perform several tests—usually a short walk, grip strength and a thinking test. Others may be requested as well.
Hematology Evaluation
You will meet with a hematology transplant physician. The physician will help personalize your treatment by weighing your planned treatment in line with your overall health. The routine testing before a transplant or cellular therapy procedure may be requested earlier to ensure any abnormalities can be addressed well in advance. This may include heart testing (often an echocardiogram) and breathing testing (pulmonary function testing).
Geriatric Assessment
You will meet with our Specialized Oncology Care and Research for Elders (SOCARE) Clinic team that is specialized in the care of older adults (age 65+) with cancer.
Dietitian
You will discuss your meal and snacking habits, assess your current intake of nutrition and calories, or you may go over food safety basics and get some personalized diet guidance. A plan will be developed on how to meet your nutrition needs through treatment.
Physical Therapy
A physical therapist will evaluate your balance, endurance and walking. You will learn how to make the most of your fitness leading up to transplant. You will also learn how to keep up your fitness and activity while in the hospital for your transplant.
Infectious Disease
If needed, a doctor that specializes in infectious diseases will meet with you to evaluate how to reduce the chances of infection during transplant or cellular therapy. The doctor may recommend additional testing or clarify the best medications to prevent or treat infection. The doctor will also offer strategies to improve your overall health to prevent infection.
Research
You may be asked to participate in research. Our program aims to advance research that ensures older adults with blood cancers are not excluded from therapies due to older age.
Occupational Therapist
If needed, a therapist will check how well you can do everyday tasks, your energy level and your cognition. They will teach you ways to cope with any distress and anxiety, and share lifestyle strategies to use during your hospital stay. The goal of this therapy is to optimize function and stay independent in doing what is important and meaningful to you.
Clinical Social Work
A clinical social worker (CSW) will be part of the team. The CSW can help to address caregiver needs, financial concerns and lodging options. Your CSW can also work with you on the best methods to cope with the stress of treatment.
Get Ready For Your Clinic Visit
Complete any surveys sent to you before your visit.
Dress comfortably (including comfortable shoes for your walking test).
Plan for your main caregiver to join you by phone.
Bring a lunch or snack.
Avoid scheduling other tests on the day of your visit, as the ABC Clinic evaluations will take most of the day.
Review your goals for pursuing transplant with your family before the visit.
Sign up for the patient portal: MyCityofHope Login
Get ready for your virtual visit: Hope Virtual
Frequently Asked Questions
Does this clinic decide if I can get a transplant?
Basic Text Field
No. This clinic does not make a yes or no decision on transplant. You and your primary oncologist will make this decision.
Why was I sent to this clinic?
Basic Text Field
There are criteria each patient must meet in order to ensure safety through transplant. For some patients, the doctor may have concerns that transplant may be more difficult. The ABC clinic visit assesses your health further to help you and your doctor make a more informed decision. We look at your mental and physical status to see how a transplant may affect you. With this information, we can offer suggestions about ways to address or prevent health issues that can cause problems with transplant.
Basic Text Field
No. Our team will make recommendations to you and your current doctor through a standardized assessment process. Patients may also be seen after transplant and given additional recommendations.
What is different about this from the testing I have already had?
Basic Text Field
The ABC Clinic team reviews the testing you have already had and then evaluates your health in a global way with a focus on how to prevent problems after transplant. The multidisciplinary clinic team works together to develop an individualized plan for every patient to support what your doctor has recommended.