Global Oncology Initiative
City of Hope launched the Global Oncology Initiative, which stems from our understanding that it will take "more than a village" to address the increasing burden on global health. The Global Oncology Initiative aims to organize City of Hope's researchers, clinicians and educators, and expand local and international partnerships to tackle current and impending cancer and global health challenges.
Global Collaborations
City of Hope has a long-standing history of mitigating the global cancer burden through collaborative research, training, clinical activities and capacity building.
From 2018-2021, 28 new and ongoing projects had:
A global oncology focus
A collaboration with an institution outside the U.S.
Between 2017 and 2021, 86% of peer-reviewed articles involved collaborators from institutions in 86 countries.
In 2021:
140 trainees completed their training and now work in global oncology.
344 international trainees completed training, and 56 trainees were from low-and middle-income countries.
Trainees included clinicians, researchers, nurses, social workers, chaplains, genetic counselors and clinical psychologists.
Global Oncology Forum and Symposium
As part of the initiative, Global Oncology Forum and Symposium cover various topics to help disseminate scientific findings to a broader audience and serve as a platform to engage with our communities, open barriers, and challenge boundaries.
The 2022 Global Oncology Symposium attracted registrants and audiences from 18 countries. The symposium hosted 20 speakers and chairs from the U.S., Brazil, China and Switzerland. Joseph Mikhael, M.D., TGen and City of Hope professor, and chief medical officer of the International Myeloma Foundation, gave the opening address. The keynote speaker was Benjamin O. Anderson, M.D., Global Cancer Control leader from the World Health Organization and director of the Breast Health Global Initiative, Fred Hutchinson Cancer Research Center.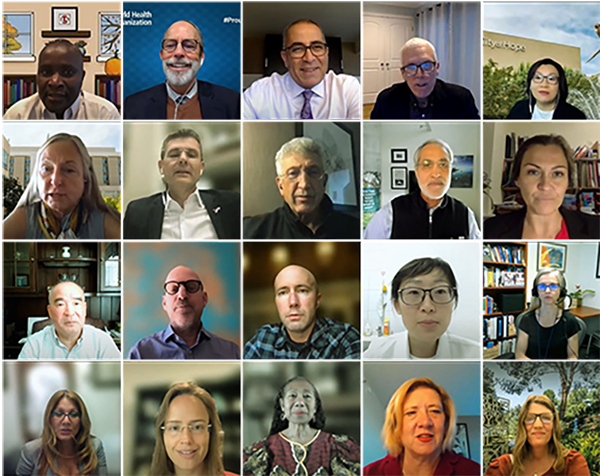 Past Forums 
2/11/2022
Steven Rosen, M.D., director of the comprehensive cancer center and Beckman Research Institute of City of Hope, and the Irell & Manella Cancer Center Director's Distinguished Chair, moderated the second Global Oncology Forum on topics related to precision medicine, including genetic ancestry and the impact of genetic variation across populations, population sciences, genetic risks and biomarker testing. Panelists included Jeffrey Trent, Ph.D., Stephen B. Gruber, M.D., Ph.D., M.P.H., Stacy W. Gray, M.D., Rick Kittles, Ph.D., M.S., and Nicholas Schork, Ph.D.
7/29/2021
Javier Gordon Ogembo, Ph.D., director, Global Oncology Initiative, and associate professor, Department of Immuno-Oncology, Beckman Research Institute of City of Hope, introduces the inaugural topic of the virtual Global Oncology Forum: COVID-19: Where Are We Now and What's Next? Panelists: John Zaia, M.D., Randy Taplitz, M.D., Don Diamond, Ph.D., Sanjeet Dadwal, M.D., and David Engelthaler, Ph.D.
Global Oncology Initiative Committee
Research and Training Subcommittee
City of Hope Comprehensive Cancer Center